Her custom-made engagement ring from Prince Harry may be the most prized piece in her jewellery collection, but Meghan Markle also wears plenty of covetable jewellery that you can get your hands on right now…
Any time Meghan Markle steps out in public, every detail of what she's wearing can be found on the internet within minutes. Like her fellow royal in-law Kate Middleton she's a constant feature on style blogs, and if any item of clothing she's pictured in is available to the general public, you can bet on it selling out very fast indeed.
Obviously Meghan is very aware of the powerful influence she has in her new public role, and she seems to be determined to use it for good. She's regularly seen wearing sustainable (albeit still super stylish and luxurious) clothing, like shoes made from recycled plastic or jeans from Outland Denim, who employ formerly enslaved or exploited young women as seamstresses.
And the same is true of her jewellery collection. Her engagement ring from Prince Harry was created using a centre diamond from Botswana, a country with a sterling reputation for mining diamonds with minimal social and environmental impact. The side diamonds belonged to Harry's mother Princess Diana (i.e they were upcycled), and the yellow gold band came from the royal collection, too.
But stunning engagement ring aside, Meghan has also worn plenty of sustainable jewellery that ordinary people all around the world can order online in a flash. Here are three brands the Duchess has worn recently that all have stunning collections of rings available to buy online.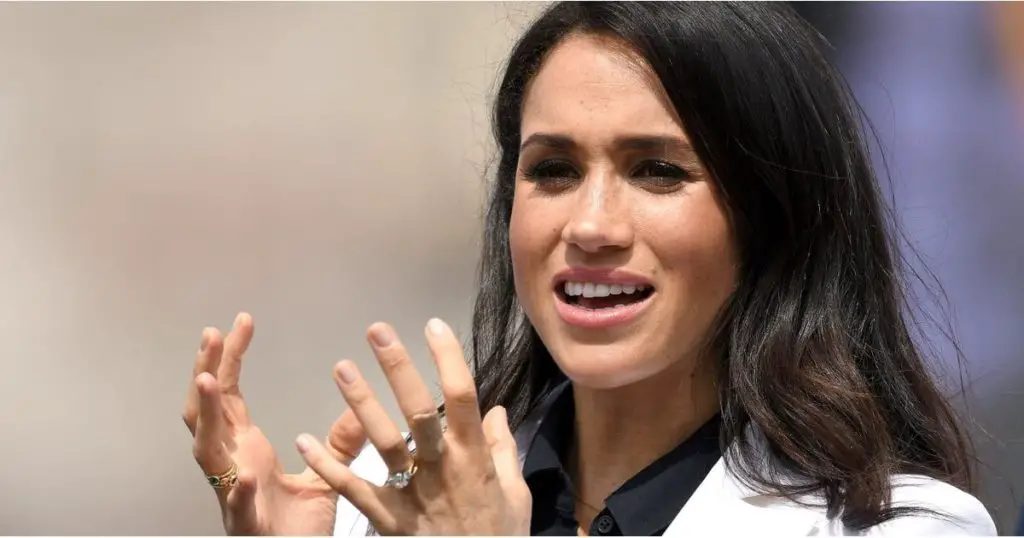 Before she moved to the UK to officially join the royal family, Meghan was living in Toronto while filming Suits. Maybe she's remembering her Canadian home, or maybe she just loved Montreal-based Ecksand's gorgeous pieces as much as we do. Established in 2010, the brand uses only conflict-free gemstones and recycled precious metals, with all pieces hand-crafted in Canada. This three-stone engagement ring is reminiscent of Meghan's own, with prices starting from just $2800.
https://www.ecksand.com/en/cushion-cut-three-stone-engagement-ring.html
Jeweller Pippa Small grew up travelling the world and making jewellery from shells and pebbles. Now she's equal parts human rights activist and jewellery designer. She has a long established reputation for creating sustainable and beautiful jewellery, so it's no wonder Meghan Markle is a fan. Her rings are definitely more suited to the non-traditional bride and are not engagement rings per se. But for the bride-to-be in search of something completely unique, they might be just the thing. Our favourite is this Lotus Bud Ring, made in Myanmar using traditional goldsmithing techniques.
https://www.pippasmall.com/product/lotus-bud-ring/
London-based Kimai has a new local fan in Meghan Markle – she wore their Felicity earrings around the capital to kick off her 2019 style. Specialising in lab grown diamonds and contemporary design, their beautiful collection is small, but now that the Meghan Effect has taken hold, we're sure it'll expand. Their Lady ring is one for the woman who loves to stay on-trend, and it can be stacked to her heart's content to create totally versatile and customised looks.