In Love With Meghan Markle's Engagement Ring?
We've found a lookalike that's pretty damn close…
2017 isn't even over yet, but we already know what the wedding of the year will be in 2018. After months of speculating when it would happen, Britain's Prince Harry and Suits actress Meghan Markle FINALLY announced their engagement this week. During a photocall for the media in the Sunken Gardens at Kensington Palace (where several members of the family live day-to-day), we got a first look at Meghan's gorgeous engagement ring. Naturally, it's stunning… and it's also caused a flurry of fiancees-to-be searching for similar styles. Never fear, we know exactly where to find rings like this. But first, some background information…
The Meeting
Harry and Meghan sat down with the BBC for a tell-all interview about their romance, their engagement and their upcoming wedding. So after a LOT of secrecy during their dating phase, we finally have the juicy details. As we already know, they've been dating for around a year and a half and it was very much a whirlwind romance. They were introduced through a mutual friend and the first time they met was a blind date. They knew nothing about each other, but it was soon pretty clear that they had a LOT in common. They both live their life in the public eye, they're both passionate about humanitarian causes, and they're both kind-hearted, fun-loving people. As Harry said 'the stars were aligned when I met Meghan. This beautiful woman just tripped and fell into my life, and I tripped and fell into hers too.'
After two dates they escaped to Botswana for a five-day camping trip, so they could get to know each other in one of the few places on earth where they could be truly private and alone together. From there, Harry says it was a matter of 'getting the diaries out and seeing how we could make this relationship work' around their busy (and public) schedules.
The Proposal
Well, it seems they were in fact able to make it work – and then some. After 18 months of dating Harry proposed at home in Kensington Palace, during a 'typical night' for the couple that involved making a tasty dinner of roast chicken. According to Meghan 'It was just an amazing surprise. It was so sweet, so natural and very romantic. He got on one knee.' Harry added that Meghan was so excited, he couldn't finish asking the all important question before she said yes. She also forgot entirely about the ring until he asked 'can I give you the ring now?'!
The Ring
And now for the best part (for us at least). Meghan's ring is classy, traditional, and absolutely gorgeous. Designed by Harry himself, this one of a kind piece was crafted by Cleave and Company, the royal family's personal jewellers. It features a large round diamond as the centrepiece, which originates from Botswana. This is a nod to the place where the couple first fell in love, and also a great choice for these two humanitarians – Botswana has a sterling conflict-free record when it comes to diamond mining.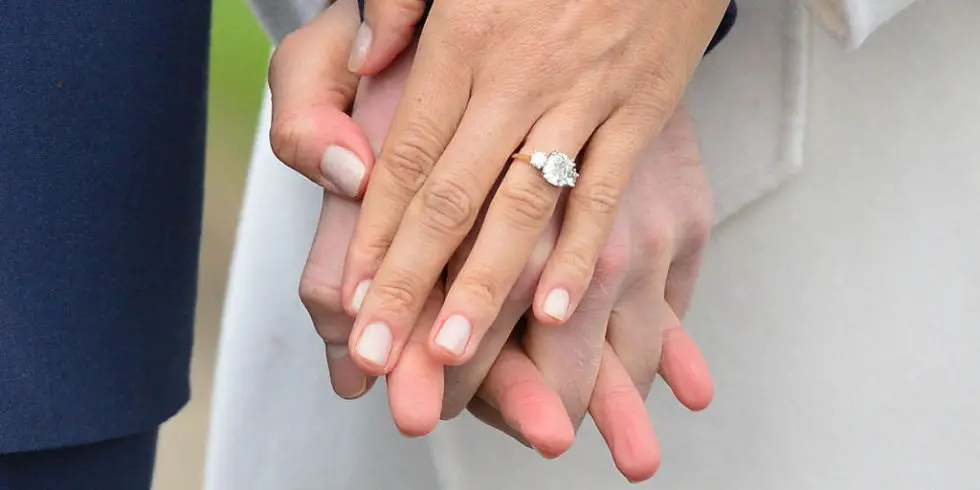 Flanking the centre stone are two smaller round diamonds, which belonged to Harry's late mother Princess Diana. A heartfelt way to ensure his beloved mother's legacy lives on, Harry specifically chose them from Diana's personal collection to ensure she was part of the happy occasion. He also noted that if she were alive today, his mother and Meghan would have been 'thick as thieves, without question. I think she would be over the moon, jumping up and down, so excited for me. They would probably have been best friends.'
The three-stone ring is set in yellow gold, for a traditional and classy finish. We LOVE it.

The Wedding
The newest royal couple have wasted no time it getting their wedding plans underway. We won't know full details until next year, but Harry's publicists have already announced that it will take place in St. George's Chapel at Windsor Castle, a royal residence in the heart of the English countryside. The chapel holds some 800 people, so it's going to be a big one – although not as big as Harry's brother Prince William and Kate Middleton's wedding. Theirs took place in Westminster Abbey with almost 2,000 people watching! If Meghan's current non-royal style is anything to go by, her wedding dress is going to be spectacular. We can't wait.
Want Meghan's Ring?
Have you fallen head over heels in love with Meghan's engagement ring, like we have? Good news. Her three-stone style is pretty easy to find – although diamonds from a world icon's private collection may not be so readily available. Our recommended jeweller partner James Allen has a whole section dedicated to three-stone and similar side stone engagement rings. Here's one we found that matches most closely to Meghan's sparkler. With prices starting at $1980 for the setting, we're guessing it's a lot more budget friendly than the princess-to-be's version too: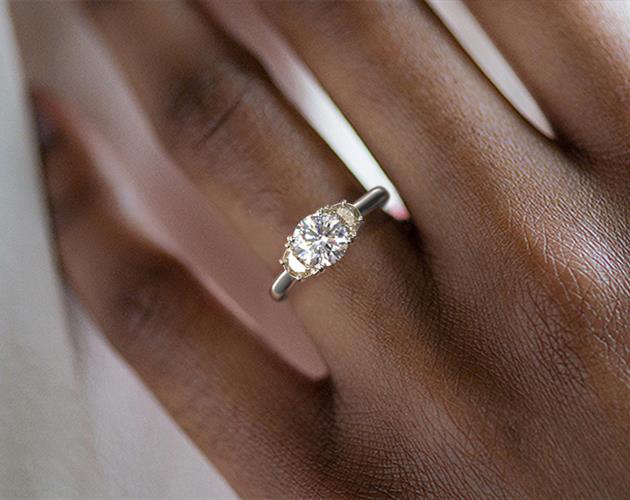 https://www.jamesallen.com/engagement-rings/three-stone/18k-yellow-gold-three-stone-round-trellis-engagement-ring-item-50307
If you're looking for something a little different, why not swap the side diamonds for coloured gemstones? Check out this sapphire and diamond version of Ms. Markle's bling. Pretty much identical designs are also available from James Allen with rubies and emeralds: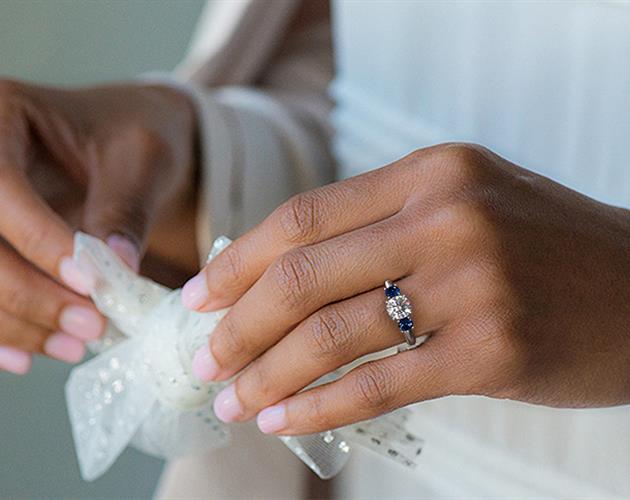 https://www.jamesallen.com/engagement-rings/three-stone/18k-yellow-gold-three-stone-round-blue-sapphire-engagement-ring-item-16643
You could also put your own spin on this design by choosing different shaped accent diamonds. We love trillion cuts for their contemporary look and sharp angles, like this glitzy design. It also has channel set diamonds in the band for a shot of extra glamour: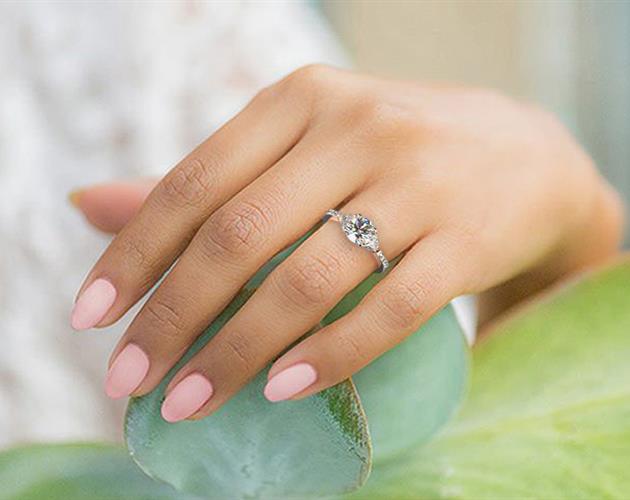 https://www.jamesallen.com/engagement-rings/three-stone/18kt-yellow-gold-three-stone-trillion-and-pave-set-diamond-engagement-ring-item-1745
Need more bling? You can keep Meghan's breathtaking design and add a halo around the stones, like so. It adds overall carat weight and makes your stones look bigger than they are – plus it adds plenty of sparkle too. This particular design has half moon side stones: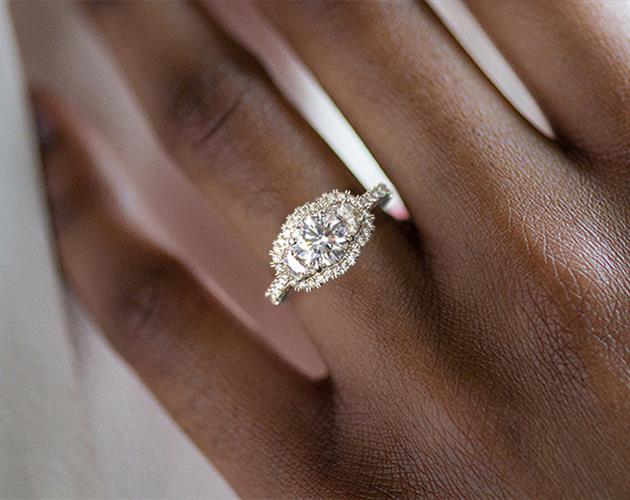 https://www.jamesallen.com/engagement-rings/three-stone/18k-yellow-gold-framed-three-stone-diamond-engagement-ring-item-49852
Why not head on over to JamesAllen.com and see what else tickles your fancy?