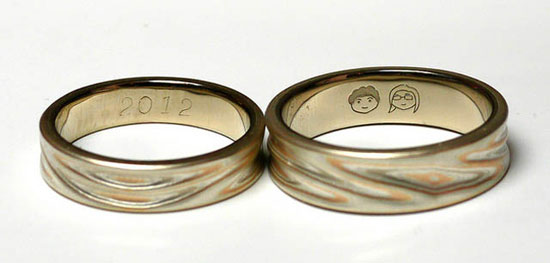 Your engagement ring is, of course, special to you. At the end of the day it doesn't really matter what it looks like, it's what it symbolises that matters most. That said, every bride wants their ring to be unique. Whether it's through a certain unusual design element, a personalised message, or even hand-selecting every single detail from start to finish, there are so many different ways to make your engagement ring unique. Here's 10 of our favourites…
1. Diamond laser inscription
If you're buying a new, loose diamond, you'll already be aware that diamonds these days can be laser inscribed. Many diamonds now come with a  laser inscription of the stone's serial number to help identify it and verify its quality. With that in mind, getting your diamond inscribed with a secret message along the girdle (the widest point where the top begins to taper to a point) is a fantastic idea. You'll always know it's there, but you won't be able to see it without a magnifying glass, so it's a great way to write something really personal and meaningful.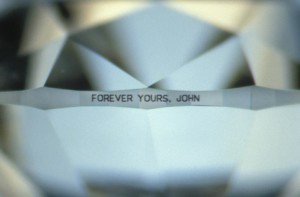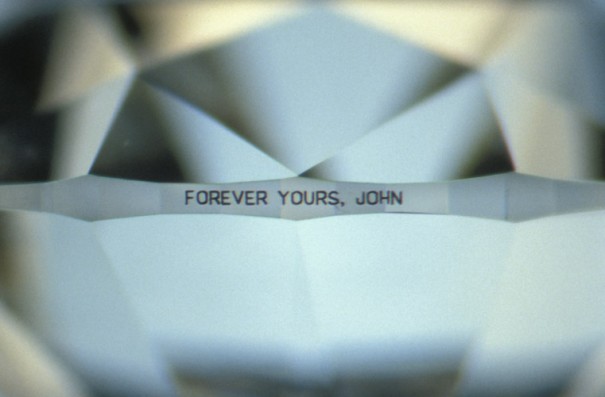 2. Fingerprint engraving
This is becoming a really popular idea of late, but that doesn't make it any less unique – every human on earth has a different fingerprint, after all (even identical twins!). If you're unfamiliar with the concept, a fingerprint engraving works by the jeweller taking a close up copy of your fingerprint and engraving it onto the inside (or outside if you prefer) of your ring. For brides' engagement rings it can be a portion of the groom's fingerprints, or their child's if they have one, or anyone else close to the couple and important to the relationship. It's also a popular idea for wedding bands – the groom's ring has the bride's fingerprint and vice versa.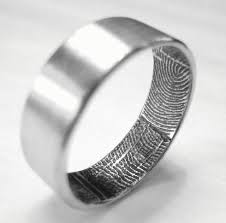 3, Your Heartbeat
Similar to the fingerprint idea, having your other half's heartbeat engraved onto your engagement ring is another way to make it personal and unique. To achieve this, your partner's heartbeat is recorded and turned into a visual representation of soundwaves – similar to what you'd see on a seismograph for earthquakes, or a heart-rate monitor. This particular idea offers more versatility than the fingerprint idea in terms of design, too – you can have it small and subtle as an engraving, opt for an ultramodern cut-out design, or even have your entire band formed into the shape of the heartbeat for a truly unique look.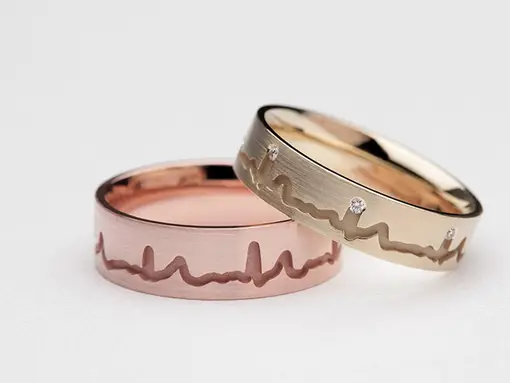 4. Imprint Rings
While engravings are a classic and meaningful choice for a lot of couples, for some they just won't cut it (excuse the pun). An imprint ring is an unusual and beautiful alternative. If you're wondering what it is, it's easily explained – it's the exact opposite of an engraving. Your message is moulded into the metal so that it is raised from it instead of cut into it. If it's on the inside of the band (which it will be in pretty much all cases, or else it's pointless!), then it will leave an imprint on the skin of your finger when you take it off.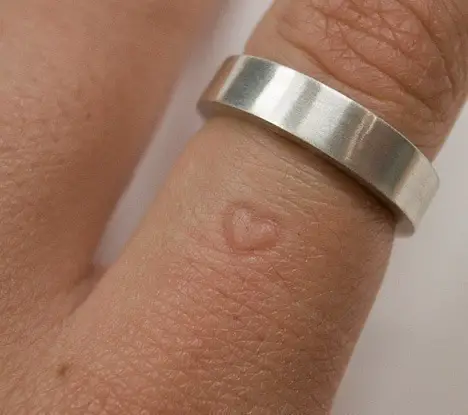 5. Rough Diamond
This is a trend that has really taken off amongst the more alternative brides out there, and it has some beautiful symbolism too. Start off your marriage with an engagement ring with a rough, uncut diamond. As your relationship matures over the years, so does your ring. get it cut and set at certain landmarks like the birth of your first child, then add more diamonds for more milestones such as more children, moving house, major anniversaries, and so on. In years to come, you have a beautifully transformed ring that reflects your long-lasting relationship. And on the plus side, rough diamonds are pretty cheap compared to their cut and polished counterparts, too.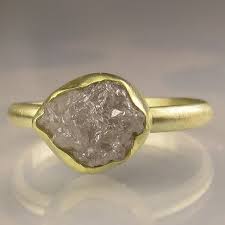 6. Remake Something Old
This one works perfectly well for both traditional and alternative brides. You know that old wedding tradition, 'something old, something new, something borrowed, something blue?' Well, let's you have an heirloom ring that has been passed down the family for generations but is in need of some reworking to make it last for another lengthy marriage. Or alternatively, a vintage or antique ring that you've purchased but want to modify. Add your own twist to it and it can serve as both the old and the new parts of this tradition – and if you have a blue stone, that's three out of four ticked off!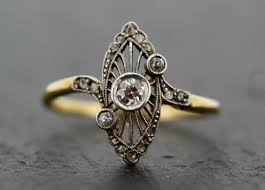 7. Cut-out detail
Best for those who appreciate a more modern look, cut-out details are perfectly on trend both in fashion and jewellery at the moment. This is another idea that offers heaps of creativity and lots of design options. Make the cut-outs have a big impact on the design, or contrast them with tiny stones, or make it into a more delicate open-work style design. The choice really is yours. One thing to note with this idea however; depending on the design you choose, cut-out portions can make your engagement ring a little more difficult to keep clean.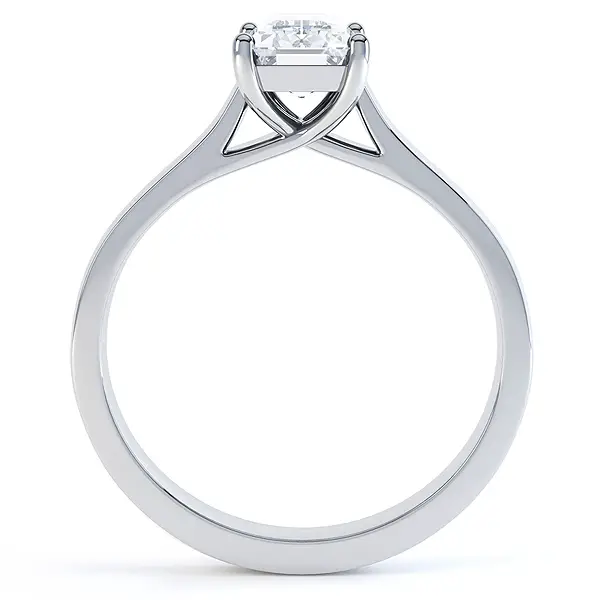 8. Choose a Custom Setting
A perfect balance of traditional symbolism and contemporary design – that's unique to you, of course – is choosing a custom setting for your diamond (or whatever stone you happen to choose). Choose a jeweller who's not afraid to get creative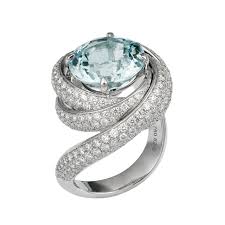 9. Old Fashioned Engraving
There's a reason this is still so popular – because it's good! Rather than going for the tried and tested engraving options like your wedding date, a generic 'i love you' message or your initials, we suggest thinking up something a little more heartfelt and personal. Consider nicknames, a place or quote that has special meaning for you, a memory, lyrics from a song you enjoy together, or something that will make your other half laugh every time they take their ring off – think outside the box with this one to make it unique!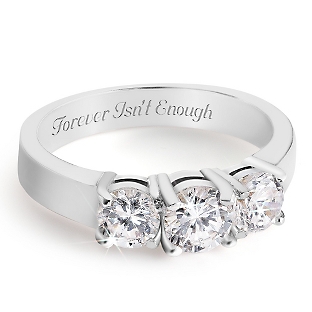 10. Add More Rings
If you can't make any modifications to your engagement ring for whatever reason, never fear; there's another alternative. Simply add some complimentary rings either side to make a bigger impact and give it an interesting spin. Play around with different metals (just beware of how they affect one another if rub against each other), designs like twists and curves, band thickness – anything you want. We love what Natalie Portman has done with hers – two curved bands either side of her diamond halo-setting make the entire piece look even bigger than it really as, and accentuates the beautiful central stone.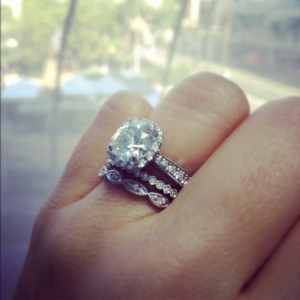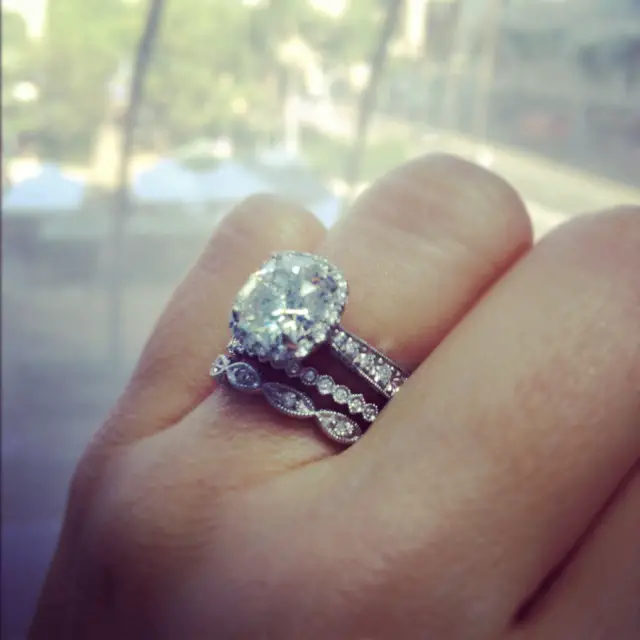 And a bonus one…
11. Design it Yourself!
If you want something that's truly one-of-a-kind and that reflects your style, personality and relationship down to a tee, why not design your engagement ring yourself? It's a once-in-a-lifetime opportunity to create something special that you'll have forever, and you can oversee as much of the process as you want – you can even make it a collaboration with your partner and design it together. If you choose one of the less expensive metals around or a stone such as moissanite, lab-grown diamonds or coloured stones, you can even end up paying less than you would for an already made ring from a jewellery store.