Thanksgiving, Christmas and New Year's Eve have one thing in common. No, it's not spending time with loved ones – it's a steady feed of people you know getting engaged! Popping the question around the holidays is a tried and true path to getting that 'yes' and celebrating in style. But we're big fans of the vacation proposal… especially when the January blues kick in and you can't help dreaming of sunny, exotic islands.
If seeing so many happy couples has spurred you on to propose to your other half this year, then now is the time to start planning. If all she ever wanted was a romantic getaway proposal and you're both overdue a once-in-a-lifetime vacation, here's where you should go to get down on one knee.
India
Full of colour, spice, amazing wildlife and frenetic cities, India is a country that you experience with all five senses. It's a once-in-a-lifetime destination, for sure, but take our advice; if you're planning a proposal here, splash out on a luxury hotel and fine restaurants. Facilities and quality at the cheaper end of the budget scale can be hit and miss. Top proposal spots: On safari in Ranthambore National Park, on the beach at Goa or in the shadow of the Taj Mahal (if she's okay with hundreds of onlookers).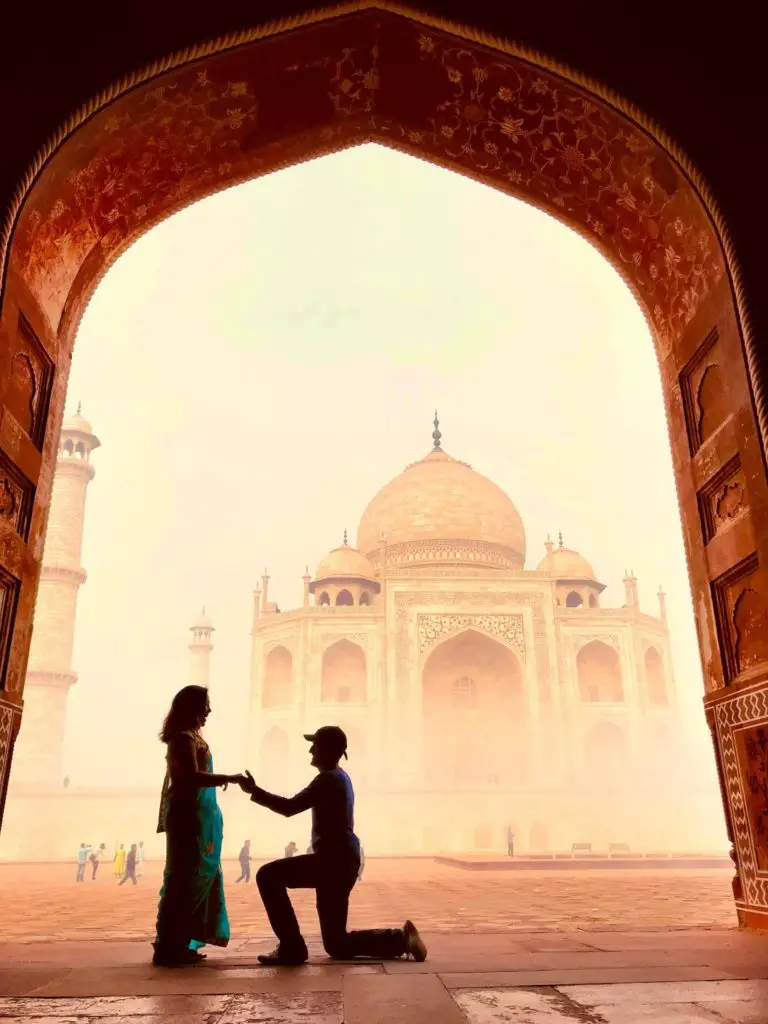 Hawaii
Hawaii is a tropical haven that's easy to get to from west coast USA, and it has something for everyone. If she loves lounging in the sun – check. Diving or sailing – check. Clubbing – check. What's not to love? Top proposal spots: Alii Kula Lavender Fields, under the stars on top of Mauna Kea, or on Oahu's North Shore.
The Canadian Rockies
For a beautiful backdrop to your proposal, there's no better place than the Canadian Rockies. And if she loves winter sports, all the better! In summer this place is still incredible though… not to mention much easier to get around without piles of snow everywhere you go. Top proposal spots: Medicine Lake Viewpoint, ice skating on a frozen Lake Louise, or at the top of the Banff Gondola.
Ireland
Centuries old fairytale castles; green hills as far as the eye can see; waves crashing from the Atlantic ocean; cosy pubs with warm fires… we dare you to find one reason why Ireland isn't a fantastic proposal destination. If she's the type of girl who enjoys long walks in fresh air, watching rain fall from under a warm blanket, and getting away from the rush of big city life, she'll love this friendly island on the edge of Europe. Top proposal spots: the Cliffs of Moher, anywhere in Donegal or the Wicklow Mountains.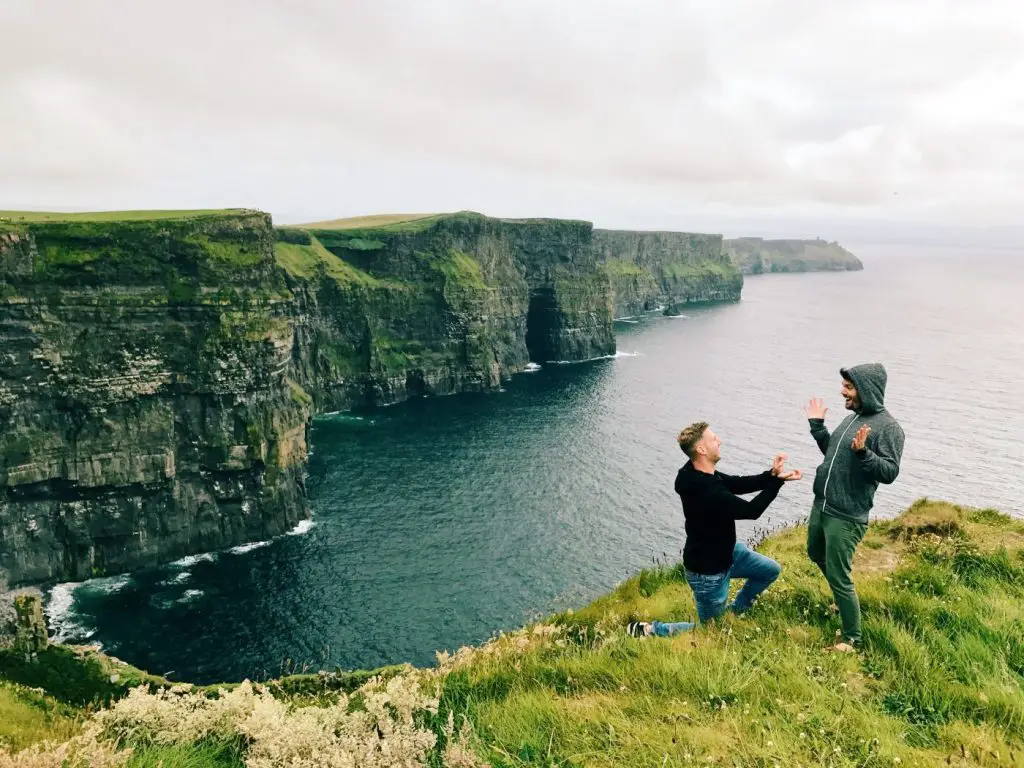 Japan
From the intense pace of life in Tokyo to the zen calm of a steaming onsen, Japan is a unique destination for any kind of getaway… but especially a vacation proposal. If she's a fan of anime, sushi or anything in between, it's the only choice worth talking about. Top proposal spots: under the cherry blossoms on the Shirakawa canal, Kyoto, or the shores of Lake Kawaguchiko looking towards Mount Fuji.
Iceland
What could be more magical than a proposal under the Northern Lights? Iceland is wild, rugged and not like anywhere else on the planet – so it makes for a proposal that's out of this world. You can trek across glaciers, soak in natural geothermal baths, or even dip your toes in volcanic black sand. When the aurora borealis come out to play, that's your cue to drop to one knee and pull out the ring. Top proposal spots: Vik or Gljufrabui Waterfall… or anywhere the Northern Lights are!  
Greece
It's on the blue shores of the Mediterranean, with unbelievably good food and captivating ancient history to get lost in. If you're headed to Europe for a surprise proposal, we'd place Greece at the top of the list. The best part? There's always a quiet island to sail off to if you want to snatch a private moment. Top proposal spots: Santorini (if you can get away from the crowds), the Acropolis looking over Athens, or one of the many sun soaked islands like Hydra.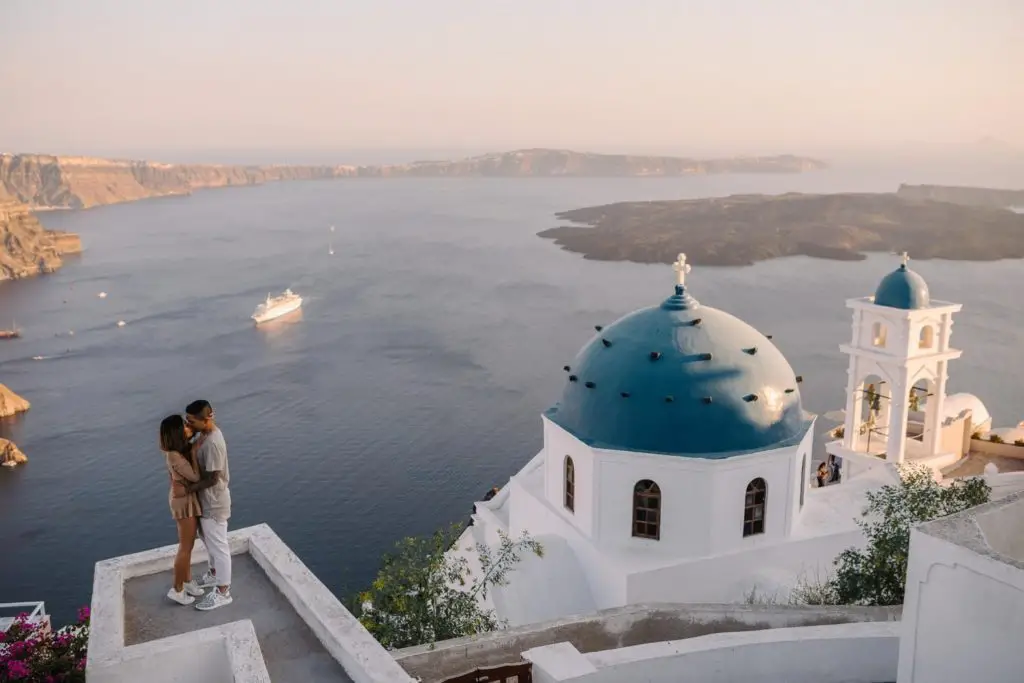 Kenya
Does she love wildlife? Has she always dreamed of getting close to exotic animals and sleeping under the stars? Kenya is the place to go. Or more specifically, a Kenyan safari. Don't worry, it doesn't have to mean no showers for a week and sweltering heat – there are romantic, secluded havens with five-star service in amongst the giraffes and tigers. Top proposal spots: Giraffe Manor, Lake Nakuru or Meru National Park.
New York
The city that never sleeps, the Big Apple, the concrete jungle where dreams of made of… there's a reason why New York is so iconic. Thousands of reasons, in fact. Do we really need to sell this one to you? If she's a city slicker, there's no better place for a proposal. Top proposal spots: Coney Island, any of the Manhattan parks, on a boat cruise floating along the Hudson, the Bronx Zoo… we could go on for a while!
French Polynesia
Paradise is real, and it's French Polynesia. This tiny cluster of islands in the middle of the South Pacific is nothing but crystal blue water, secluded beach huts and palm trees swaying in the breeze. This is the place to fully disconnect from the rest of the world and enjoy some quality couple time. Head to the shore at sunset, listen to the waves, then ask that big question. Top proposal spots: Pretty much anywhere on Bora Bora or Tahiti.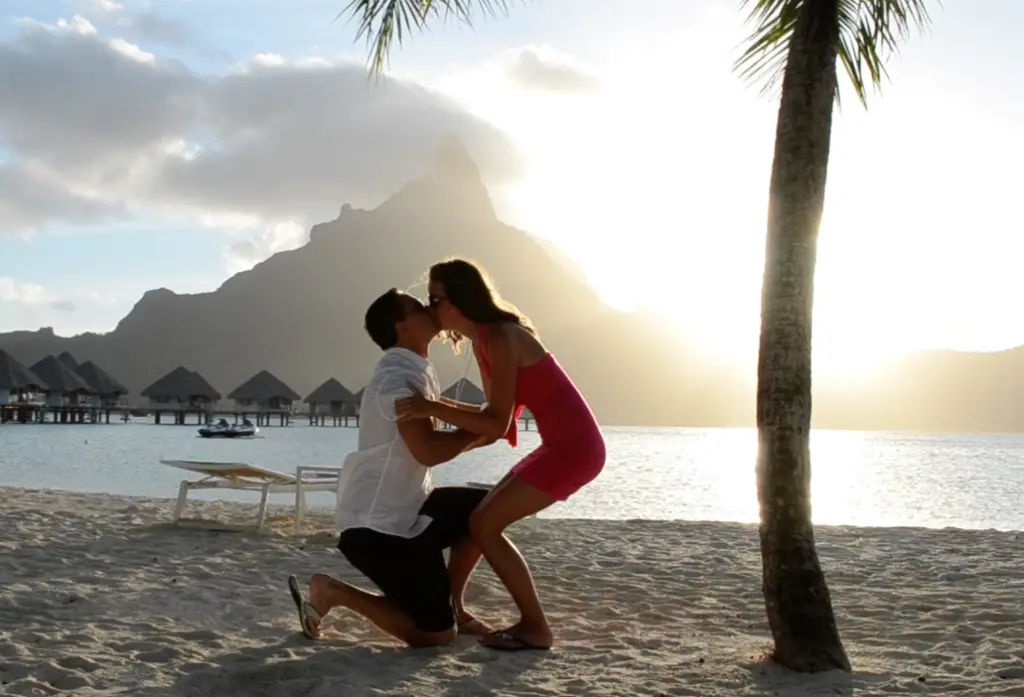 Remember if you're planning a vacation proposal, you'll need to do some extra preparations. Read our advice on how to get the engagement ring through airport security without her seeing, how to pack it securely, how to plan the logistics of the proposal, and much more in our Proposing On Vacation guide.
Congrats in advance!