Take a look at the forgotten engagement ring of the late Princess Diana.
If you have any idea of who's who in the British royal family, you'll definitely know all about Princess Diana and her engagement ring. The young courtier became engaged to Prince Charles (heir to the throne) in 1983 at the tender age of 20, and chose a knockout sapphire and diamond engagement ring from the catalogue of public jeweller Garrards, much to the shock of the country (royal family members had a long history of commissioning custom made, one of a kind jewellery pieces).
Sadly the marriage didn't last, due a multitude of factors including the 13 year age gap, personality differences, mounting pressure from the media and royal family, and allegedly the Prince's romantic feelings towards his now second wife, Camilla Parker Bowles. Charles and Diana separated in the early 1990s and finally divorced in 1996. Both moved on to other romantic relationships, Charles with Camilla and Diana with major James Hewitt, heart surgeon Hasnat Khan (said by many to be the 'love of her life'), and finally Dodi Fayed, son of Egyptian billionaire and Harrods owner Mohamed Al-Fayed.
Diana and Dodi were in the midst of a whirlwind summer romance in 1997. Having spent six weeks aboard his father's luxurious yacht in the French and Italian Riviera, they made a quick stop in Paris on the way home to London. While there, paparazzi picked up on their location and chased them while they were in a car on the way back to their hotel for the night. Their driver lost control while trying to shake off the cameramen on motorbikes, and Diana and Dodi (as well as the driver) sadly passed away in the subsequent crash.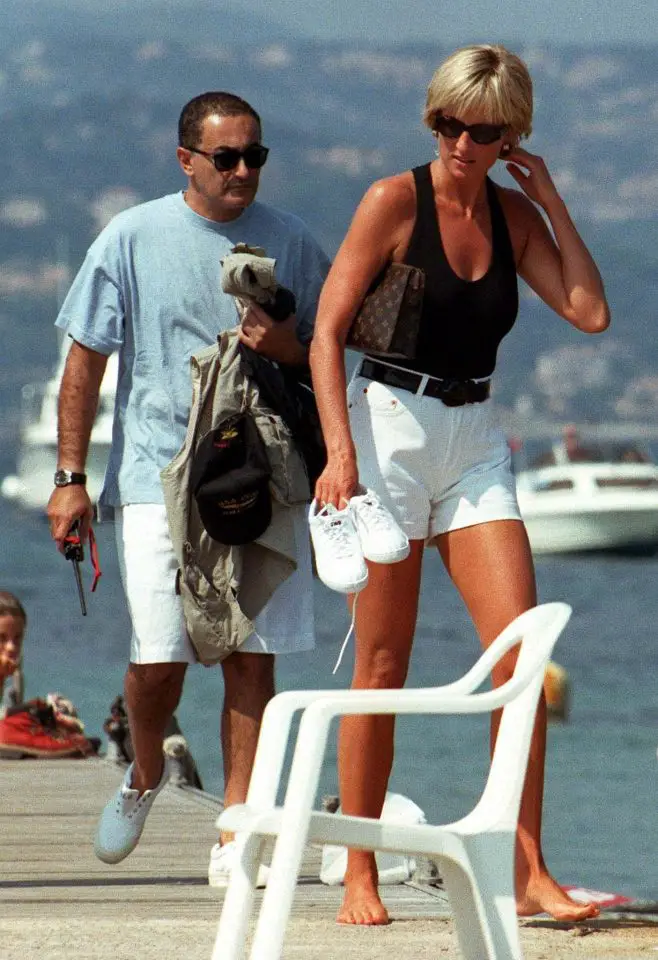 In the aftermath of the tragedy and the media storm that followed, speculation was rife that Diana and Dodi had gotten engaged that evening. During the inquest it emerged that Dodi had purchased a diamond and gold ring from a jeweller on the Champs Elysees, which was later recovered from the couple's Paris apartment along with its receipt. Let's take a look, shall we?
Dodi purchased this unique piece from Repossi jewellers for £11,600 just a few hours before the couple died in the car crash. He entered the store without Diana, and left with a brochure. His assistant later collected the ring and brought it to the couple's suite in the Ritz Hotel. The receipt was labelled 'bague de fiancaille' (French for 'engagement ring') and according to The Guardian, a ring (although not confirmed to be this same ring) from the couple's belongings was also engraved with the words 'dis-moi oui' – 'tell me yes'.  
The centrepiece of the ring is an emerald cut diamond accented with four trillion cut diamonds on each side. Those four stones are bordered by a gold trim, which is surrounded by a very wide band paved with at least 40 round diamonds. It's unique, flashy, glamorous, and definitely worthy of a Princess.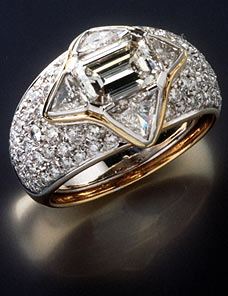 But is it really an engagement ring? The jury is still out. Dodi's family claim that it was, and that he was planning to propose that night – the last night of their summer holiday. As we all know, the media usually like to spin stories around celebrities' lives, so this is also something to consider.
Personally we find it hard to believe that Dodi – son of a billionaire and a very rich man in his own right too – would spent a mere £11,000 on an engagement ring. He most likely had access to much more valuable rings, as well as some of the best jewellers in the world. Then again, maybe he was honouring Diana's humility and status as 'the people's princess' by choosing a comparatively inexpensive ring. We think it was most likely a spontaneous gift, or maybe a promise ring to give until an 'official' engagement ring could be purchased or made.
Either way, we're seriously jealous of Diana's fairytale lifestyle and head-turning jewellery collection.