You can always count on a pop diva to have an absolutely stunning – and huge – engagement ring. We've previously looked at the best bling belonging to Oscar winning actresses, so it's only fair to give the music queens their moment in the diamond spotlight too. Here are 10 of our favourite 'diva' engagement rings from some of the world's biggest music stars.
Beyonce
Queen Bey herself is one half of music's greatest power couple – she is of course married to hip hop superstar and business man Jay Z. The couple's romance started way back in 2002 when they collaborated on the song '03 Bonnie & Clyde' and on Beyonce's debut solo album. Six years of private dating later, they finally revealed their marriage 2008. We mere mortals didn't get a look at her engagement ring until September that year however, but it was worth the wait. She wear an 18-carat emerald cut diamond of flawless quality, set in a prong setting on a split shank platinum band. This jaw-dropping jewel was designed by Lorraine Schwartz and is said to be worth over $5 million. Wow.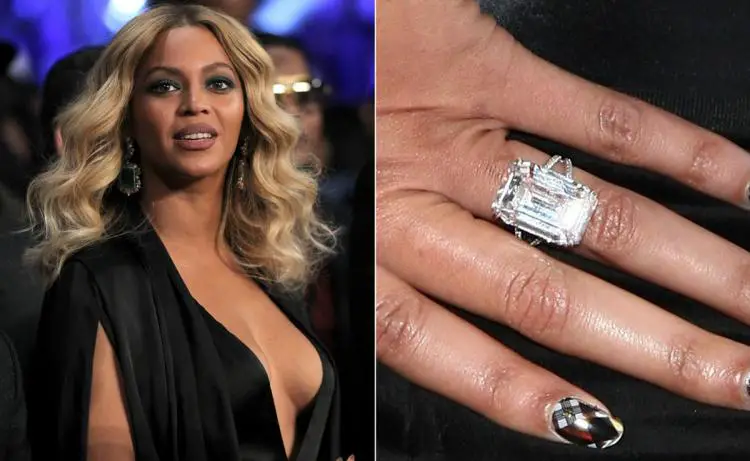 Mariah Carey
Being the ultimate Diva that she is, Mariah Carey has has more than a couple of engagement rings in her life so far… three, to be exact. The most diva-like one however is the most recent one, which she received from investor James Packer. She later made headlines after the couple broke off their engagement, but she continued to wear the $10 million dollar ring anyway. One look at this and you'll be thinking 'yep, I'd do the same thing'. Designed by Wilfredo Rosado, this bling is twice as big as Beyonce's weighing in at a mind-boggling 35 carats. It's design and construction took several craftsman two weeks to complete, working 12 hour shifts. It's an emerald cut diamond, again in a prong setting, with a baguette diamond on either side and a platinum band. Trust us – it's a giant.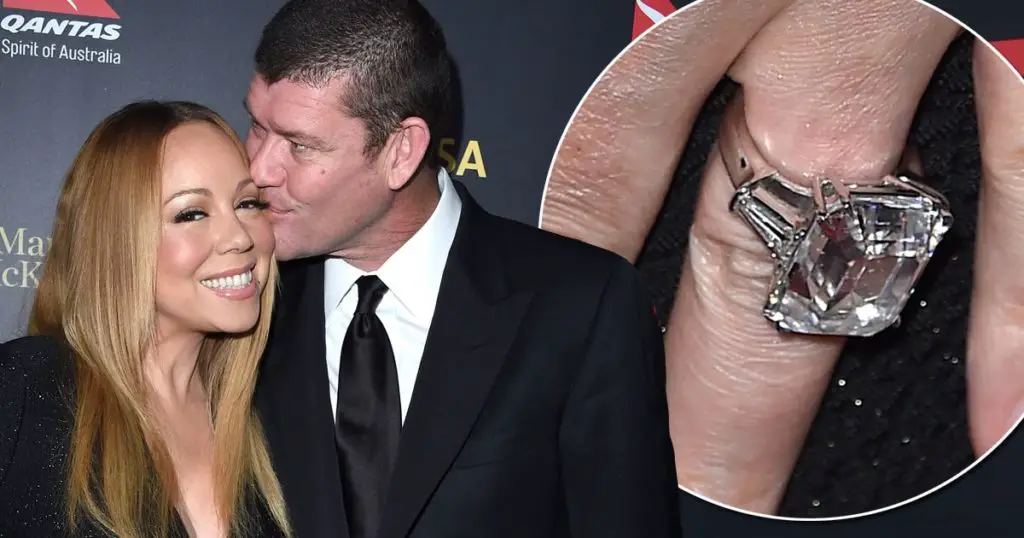 Kylie Minogue
Her relationships have always been widely gossiped about in the media, but believe it or not, Kylie Minogue has never actually been married. She has however been engaged to British actor Joshua Sasse, although the pair called it quits at the beginning of this year. Her engagement ring is one of our favourites from the last couple of years however, so we couldn't not mention it. It's an emerald cut diamond of around about 5 carats, surrounded by a rectangular double halo of even more diamonds. It's on a yellow gold band, adding a traditional finish to this very contemporary design. We see emerald solitaire rings all the time, so this is a refreshing take on the new classic. A+ from us.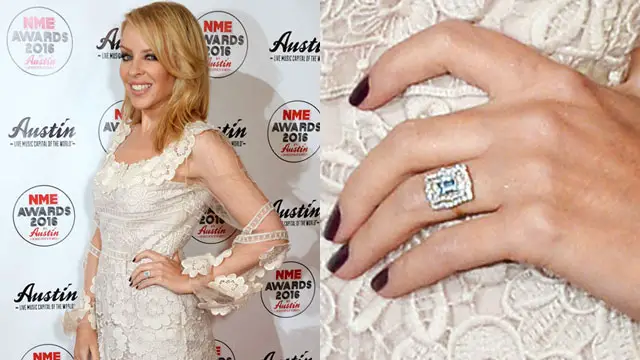 Jennifer Hudson
Jennifer Hudson's life story has more highs and lows than her awe-inspiring singing voice – and that's saying something. She went from singing in local church choirs to starring in American Idol, and even has an Oscar to her name for her part in Dreamgirls. But she also lost her mother, brother and nephew after her ex-brother in law murdered them in 2008, and more recently has had to get a protective order placed on her one-time fiance and father of her child David Otunga. We wish the story of this engagement ring was a happier one, but oh well. Designed by Neil Lane, this bling is a round brilliant diamond surrounded by a glitzy double halo of diamonds, sitting on a split shank, diamond-pave band. Basically, it's all about the dazzle and we love it.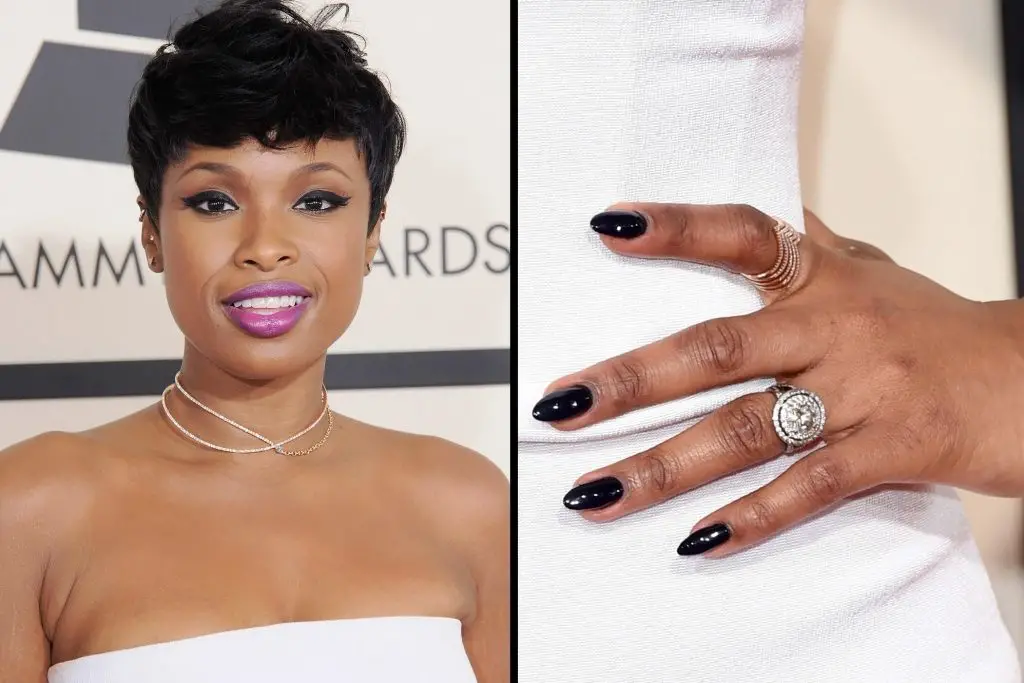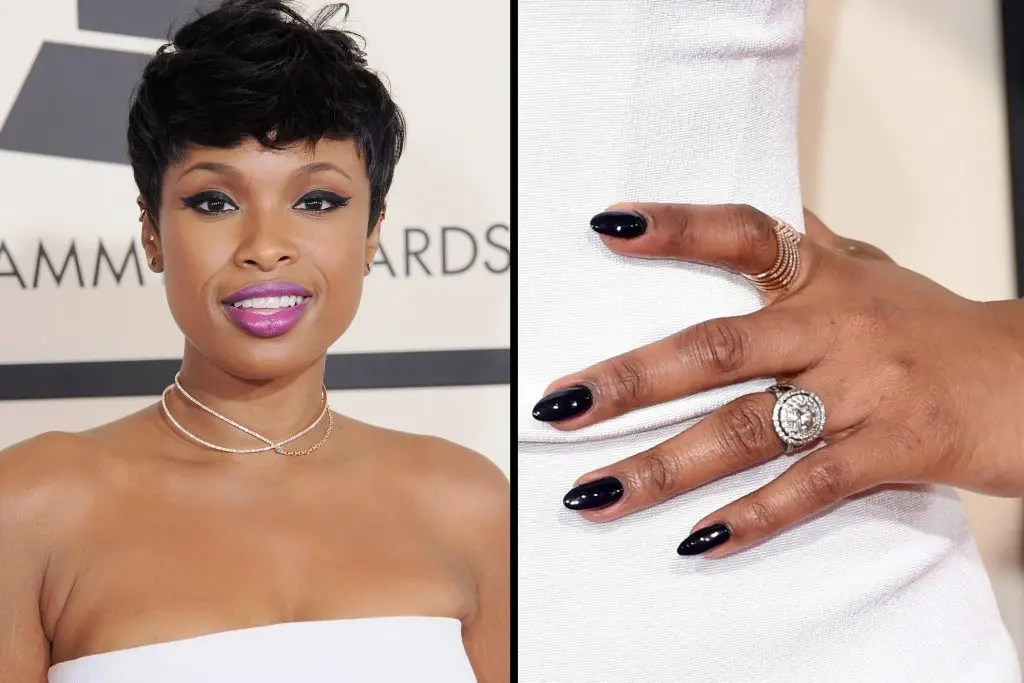 Lady Gaga
Another engagement ring that is sadly no longer with us is the suitably crazy bling that Lady Gaga once wore. She became engaged to boyfriend of five years, actor Taylor Kinney, in 2015 but their hectic schedules and public careers led to them calling it off 18 months later. As you would imagine with Gaga, her first engagement ring was very out there, and very unique. Taylor chose a heart shaped diamond (expensive AND rare) with a pave diamond set prong setting and pave diamond set band. At the bottom of the band directly opposite the heart shaped stone are the letters 'T&S', also set with diamonds. Interestingly enough, rumours are no circling that Gaga is engaged again celebrity agent Christian Carino, so we're expecting another insane engagement ring very soon.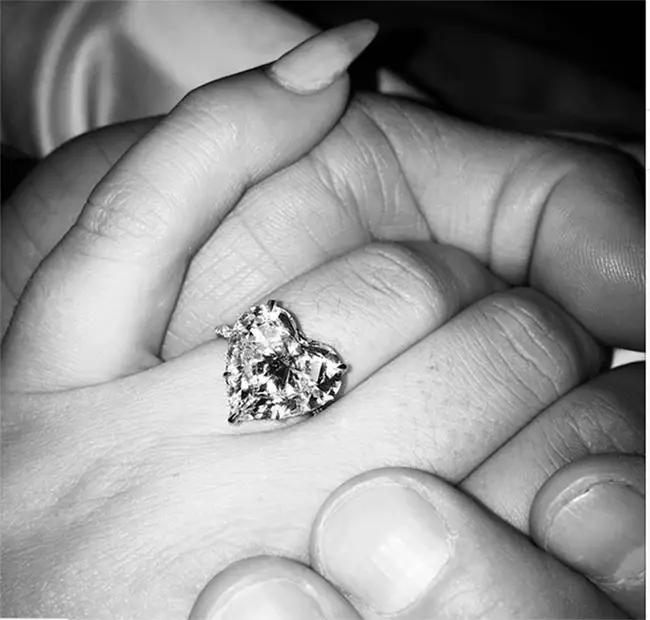 Janet Jackson
It looks like third time's the charm for Janet Jackson, at least when engagement rings are concerned. Having been married twice before, she walked down the aisle for a third time with Qatari business magnate Wissam Al Mana in 2012, but announced their separation in September of last year. Janet's engagement ring from the billionaire is, naturally, pretty amazing. You're looking at a 10 carat princess cut diamond in the centre, in a mixed metal setting of yellow gold and platinum. Diamonds are set around the setting and along the band, too. Actually now that we think about it, this is a pretty low-key design for a couple that probably has more wealth than a small to medium sized country combined! Apparently Janet and Wissam's marriage was not a happy one, so it's probably best that this ring isn't around anymore.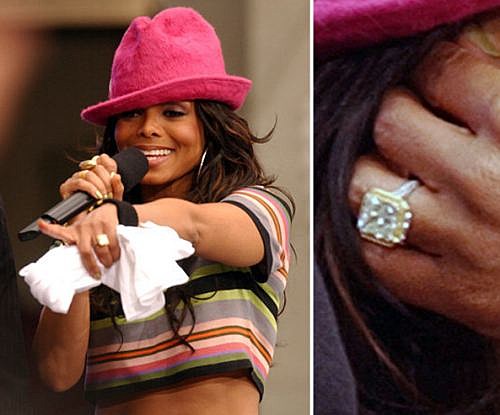 Jennifer Lopez
Another diva who is no stranger to engagement rings, Jennifer Lopez has been married three times but engaged four times. That's a lot of engagement rings to choose from, so we've picked our personal favourite; the stunning pink diamond she received from Ben Affleck (yep, remember when they were a couple??). It's a 6.1 carat square cut pink diamond flanked by baguette diamonds on either side, sitting on a platinum band. The bling was designed by Harry Winston and allegedly cost $2.5 million. Pink diamonds are very, very rare, so they don't exactly come cheap. They are however impossibly beautiful, so this piece is definitely our favourite diamond design from this list. No question.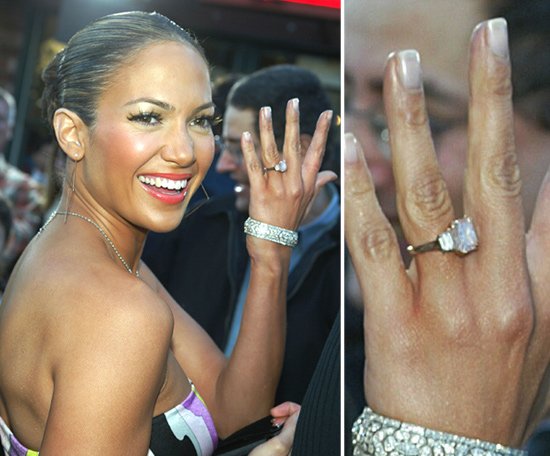 Iggy Azalea
Another gorgeous but ill-fated fancy colour diamond belongs to a relative newcomer to the music scene; Iggy Azalea. The Australian rapper got engaged to L.A. Lakers star Nick Young on his birthday in 2015, but Iggy called it off a year later after revelations about his infidelity came to light. She took a while to give back her engagement ring though, and it's easy to see why. Nick designed the piece himself with the help of Jason Arasheben, from Jason of Beverly Hills. It's an 8.15 carat fancy yellow, cushion cut diamond with a white diamond halo. The thick band is white gold and is set with more white diamonds. Simply put, this is a serious piece of bling. Fancy yellow diamonds come with a pretty hefty price tag too, so we're sure Nick is regretting his mistakes now.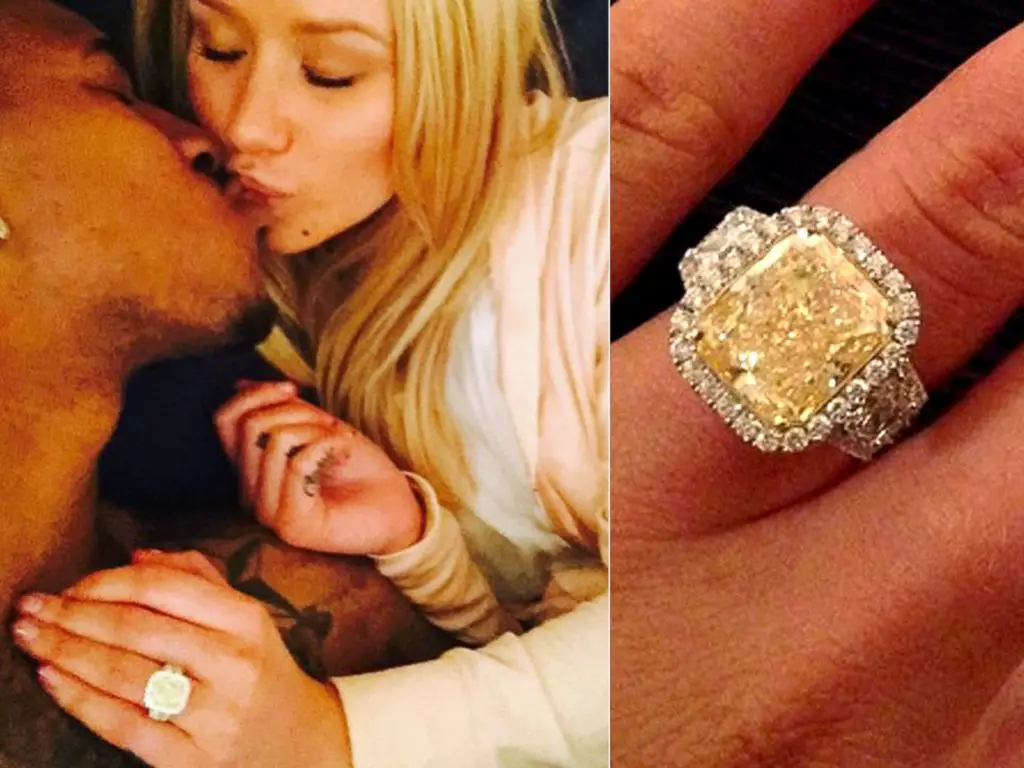 Kelly Clarkson
She's been a fixture in pop music since her American Idol days all the way back in 2002, but Kelly Clarkson is still as loved and successful as ever. Behind her enduring career is a loving marriage with Brandon Blackstock, the son of her manager Narvel Blackstock, and their two young children. They started dating in 2012 and were married the following year, and thankfully since this is one of the few marriages on this list that has lasted, we regularly catch a glimpse of her gorgeous engagement ring. Designed by Blackstock with the help of jeweller Jonathan Arndt, this gigantic design consists of a canary yellow cushion cut diamond weighing in at 5 carats and surrounded by a white diamond halo. The thick band is also set with diamonds on three sides. How's that for 'bling'?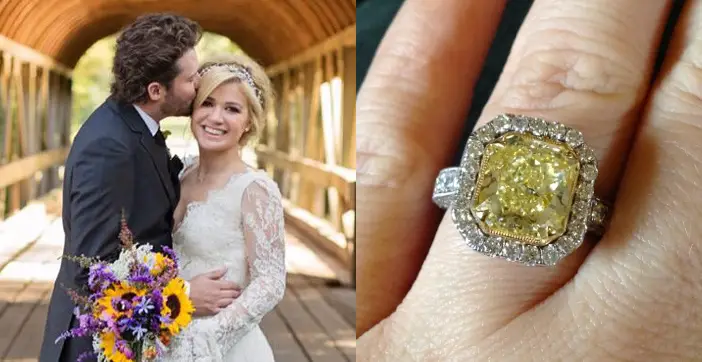 Fergie
One quarter of the Black Eyed Peas and a solid solo singer in her own right, Fergie definitely wins the title of 'Most Unique Engagement Ring On This List'. Now separated from husband and self-confessed 'normal guy' Josh Duhamel, this pair were once everyone's favourite showbiz couple. When they got engaged in 2007, Josh picked out what can only be described as the most 'Fergie' engagement ring there ever was. He custom designed it in partnership with H.Stern, choosing a four carat round brilliant diamond for the centre. It's the setting that really steals the show however; the super thick yellow gold band is engraved and detailed with an awesome starburst pattern. Fergie wore it with a matching (much thinner) wedding band, and the two combined are pretty much a dream team of non-traditional style.