Believe it or not, an engagement ring is a lot more than a shiny diamond on top of a shiny gold ring. There are a LOT of things to consider; carats, cuts, colour and clarity (also known as the 4Cs), your budget, diamond shape, accent stones, metal, detailing, her ring size, and plenty more besides!
Of the above list, the single most important thing that gives an engagement ring its overall look and feel is the shape of the diamond. Once you've chosen a shape, the rest will come (relatively) easily. Every bride-to-be has their favourite diamond shape, but if you have no idea what that could be, we've created a helpful guide. The descriptions below speak in very general terms, but hopefully this will help you make the first of many engagement ring decisions.
Round brilliant: This is the traditional diamond shape for engagement rings, so it will probably be the top choice for traditional brides. If her dress sense could be described as classic, understated or timeless, a round brilliant engagement ring will most likely be a winner. For the ultimate classic look, choose a simple solitaire diamond with a yellow gold band. For a more modern take on the style, consider platinum/white gold or some pave stones along the band.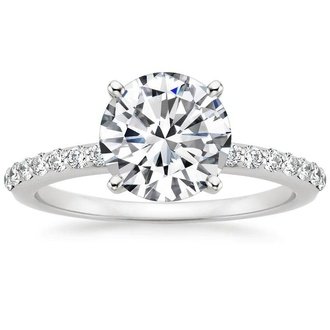 Princess (aka square): The second most popular diamond shape is the princess cut, which is a square shaped diamond. Princess cut engagement rings have a more contemporary look, but they're guaranteed to look classy for decades and still have a traditional feel to them. If your other half wants a balance between traditional and modern, this is likely to be the perfect choice.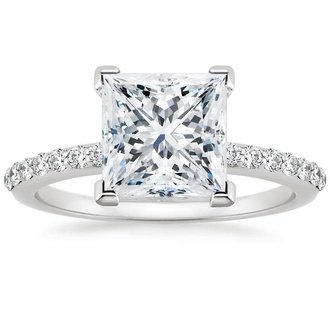 Pear: Pear shaped engagement rings are hugely popular right now, so they make a fantastic choice for trend-loving brides. The overall look of a pear shaped engagement ring is golden age Hollywood glamour – especially when paired with matching earrings. Pear shaped diamonds look undeniably fabulous with a pave diamond halo.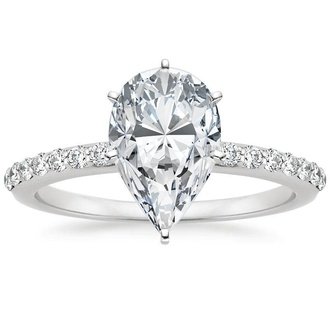 Oval: Another trending diamond shape at the moment is the oval. Ladies who love delicate, feminine styles will adore this shape – it's very flattering and gives fingers an elongated look. Oval diamonds make great solitaire engagement rings too, so this could be an ideal solution for women who want a traditional engagement ring with a non-traditional update.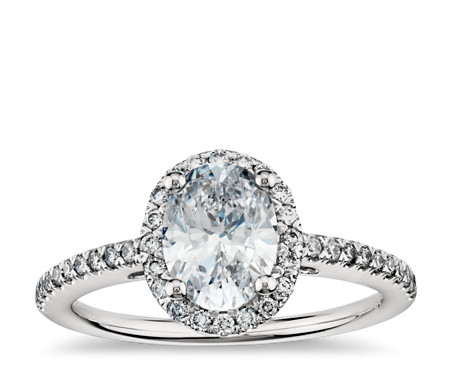 Cushion: A top choice among today's a-list celebrities is the cushion cut engagement ring. Shaped like a cushion (duh) – i.e. square but with rounded corners, cushion cut diamonds are big, bold and mean business; a definite choice for someone who likes the finer things in life and has no problem showing them off. For maximum bling, choose a cushion engagement ring with a pave halo or side baguettes.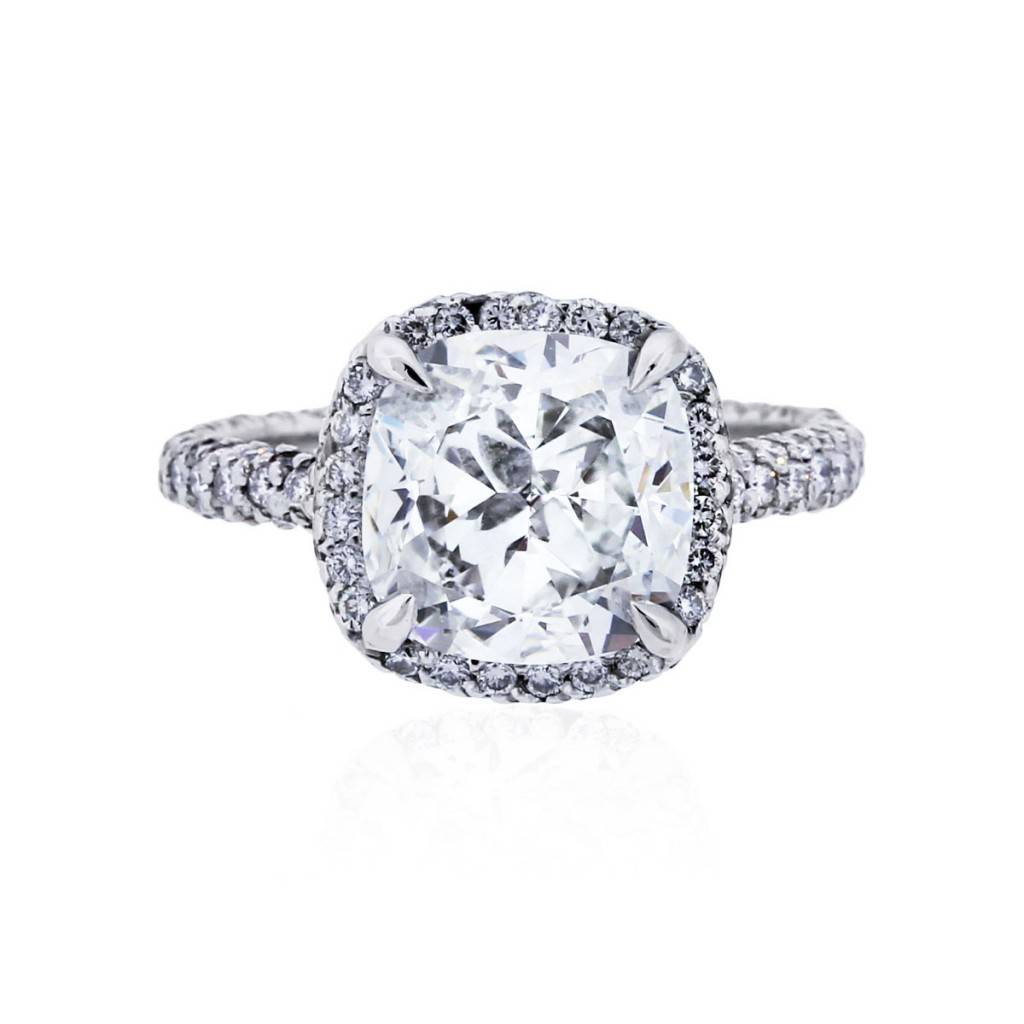 Marquise: Another shape that's high on glamour, marquise diamonds are a lot like pear shaped diamonds, but with added sophistication (and two pointed ends instead of one). While pear engagement rings may suit everyone from the girl next door to the red carpet diva, marquise engagement rings lean more towards the latter. Lovers of vintage style are guaranteed to welcome a marquise diamond with open arms.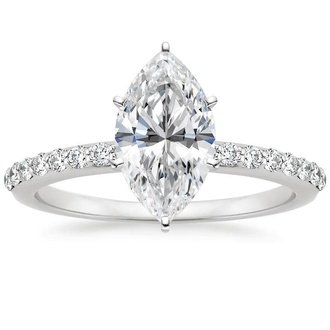 Emerald: If it's good enough for Beyonce and Amal Clooney, it's good enough for your soon-to-be-fiancee! By nature emerald (aka reactangular) shaped diamonds must be top quality in order to get that trademark dazzle, so if your better half wants nothing but the best, this is just the thing. Paired with simple, small baguette diamonds on either side, this style is a guaranteed winner.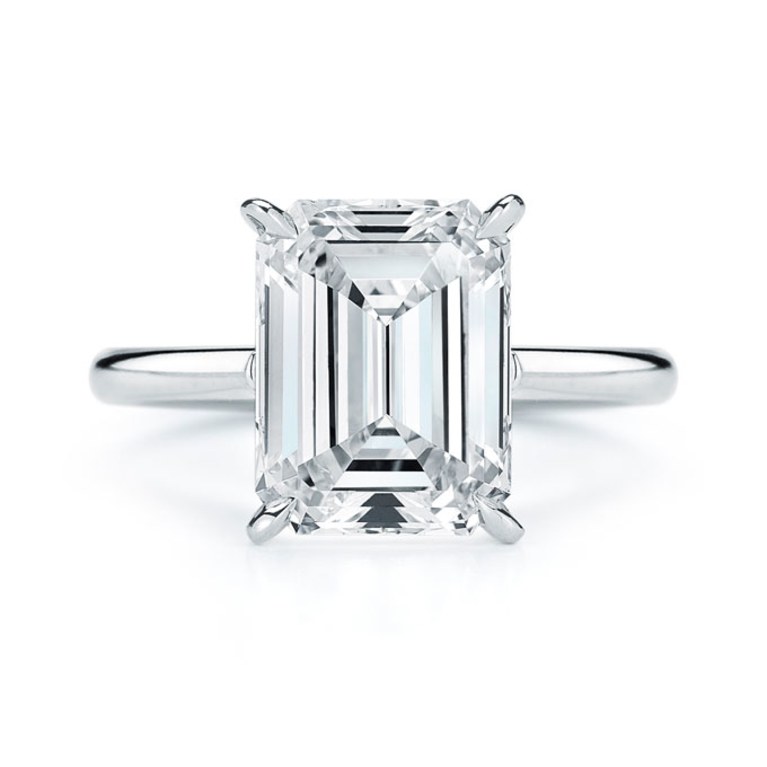 Asscher: One of the more unusual diamond cuts around, asscher engagement rings are full of vintage flair and often seen in art-deco pieces. Like an emerald cut but with a squared instead of rectangular silhouette, asscher diamonds are a fantastic choice for a non-traditional bride. For something truly unique that starts endless conversations, this is the ultimate.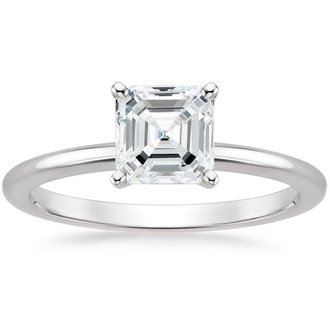 Trillion: Alternative, ultra-modern women will surely identify with a trillion cut engagement ring. A trillion cut diamond is, in layman's terms, a triangular diamond. They're often used as accent stones, but are seen as the centrepiece in contemporary engagement rings more and more these days. For a totally non-traditional look, team a trillion diamond with coloured side stones.