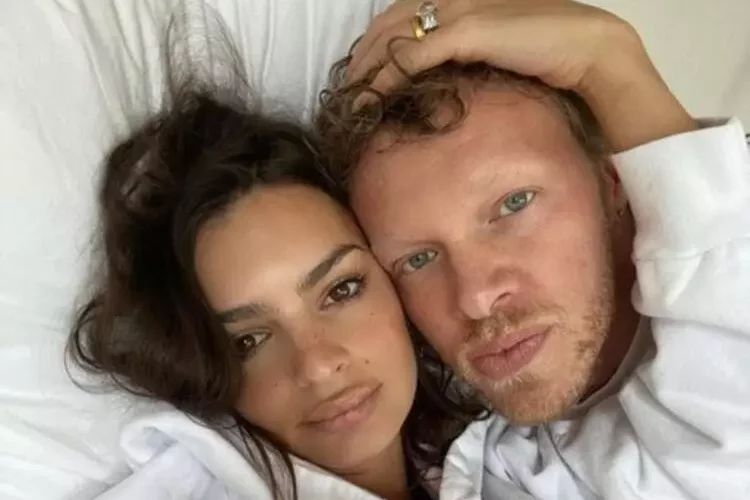 Square-cut or pear-shape, these rocks don't lose their shape!" Could this verse from Marilyn Monroe's "Diamonds Are a Girl's Best Friend" be the inspo for Emily Ratajkowski's engagement ring? Set with gigantic square princess-cut and pear-shaped diamonds on a gold band, we've been dreaming of this ring ever since we first saw it in 2018. 
The ring was given to her by her husband, Sebastian Bear-McClard, after they got married. Yes, after. In February 2018, Sebastian proposed to Emily at Minetta Tavern, a French restaurant in New York City. He didn't have a ring, so grabbed a paperclip from their dinner bill and crafted a temporary ring. Emily accepted, and the rest was history. 
The couple tied the knot in a surprise wedding a few days later at City Hall in New York City. Sebastian then gave Emily her dream engagement ring whilst on their honeymoon. 
Here's everything you need to know about the incredible 2-stone diamond ring.
What Does Emily Ratajkowski's ring look like?
Emily Ratajkowski's engagement ring boasts a captivating toi et moi design. The term "toi et moi" is French, meaning "you and me" in English. It refers to a style of ring where two gemstones, typically diamonds, sit side by side. This design concept gained popularity during the late 18th and early 19th centuries, particularly during the Romantic era.
This exquisite piece features a striking combination of diamonds, including a mesmerizing 2-carat princess-cut diamond gracefully placed alongside a tilted 3-carat pear-shaped diamond. The choice of these diamonds holds particular significance due to their enduring popularity and unique characteristics.
Princess-cut diamonds are renowned for their modern brilliance and geometric elegance, reflecting a contemporary style that perfectly complements Emily's individuality. Meanwhile, the pear-shaped diamond, with its graceful silhouette and timeless appeal, adds a touch of romance to the ring. This union of two distinct diamond cuts symbolizes the coming together of two souls, celebrating the unity and eternal bond shared between Emily and her partner.
The diamonds rest upon an 18-carat yellow gold band, adding a touch of warmth and richness to the ring's overall design.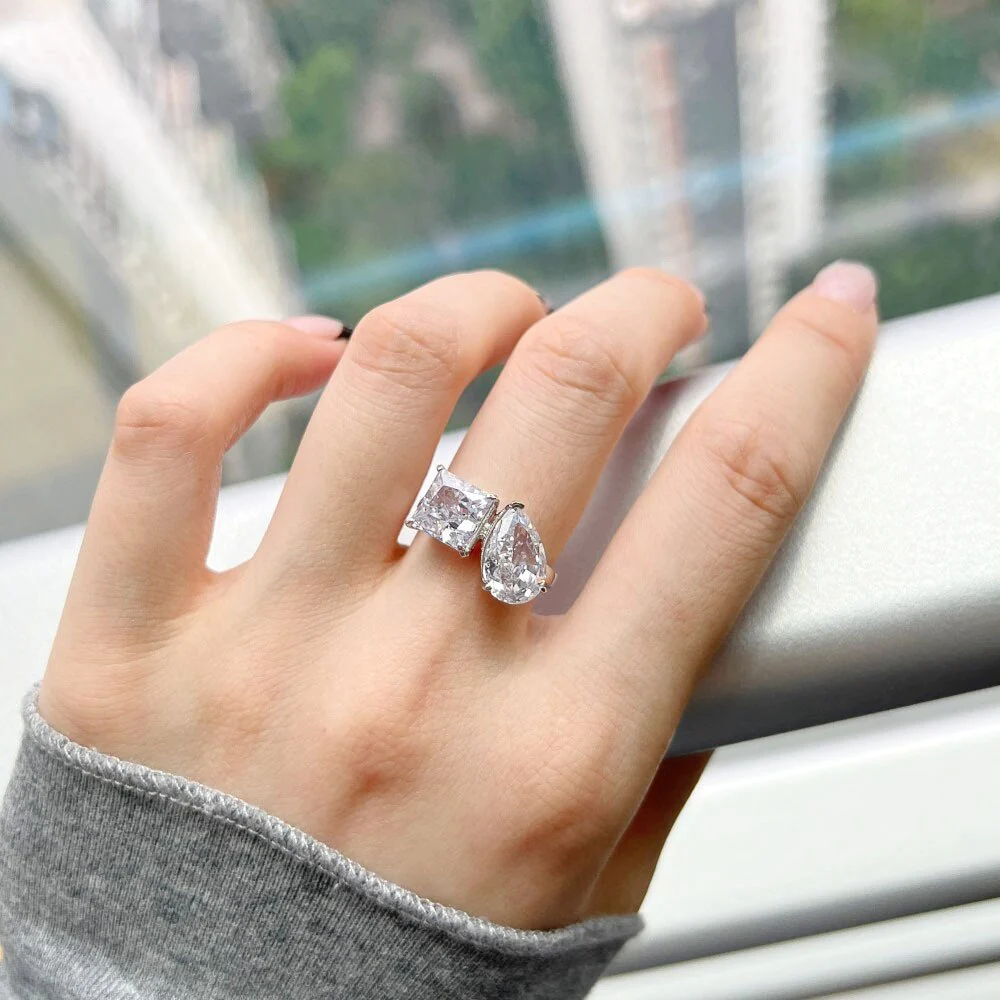 Who Designed Emily's Engagement Ring?
Emily Ratajkowski's engagement ring was a collaborative creation between Emily and her friend, Alison Chemla, the talented jewelry designer behind Alison Lou. 
Working closely together with Sebastian, the trio went through 50 sketches before arriving at the ideal design for the custom-made piece. Given the cost of the ring, getting it absolutely perfect seems only right. Experts estimate the value of the engagement ring to be somewhere between $50,000 and $90,000. 
Now, it is worth mentioning that while "Toi et moi" rings symbolize the union of two individuals and the eternal bond they share, Emily and Sebastian's relationship wasn't so eternal. The two split shortly after, but Emily held on to the beautiful engagement ring. And are we surprised?