More than ever before, we've noticed that every time we open up Facebook or browse some news websites, there's another viral video about a marriage proposal. Whether it's super sweet and romantic, a complete disaster, or downright hilarious, it doesn't take much to make your question popping go around the world wide web. With that in mind – and just because it's fun – we've rounded up three of the best viral proposals we've seen over the past month or two.
The Super Sweet Skateboarder's Proposal
The Vans Combi Bowl is a skatepark in Orange, California that hosts a number of high-profile skateboarding events throughout the year. One of those is the Vans Pool Party. This unique event brings professional and aspiring pro skateboarders to battle it out in the Combi Bowl, and two of the pros in this year's competition were Alec Beck and Amelia Brodka.
While Alec was preparing for his turn in the bowl, Amelia gave a TV interview where, among other things, she was asked about her fellow skater boyfriend. It turns out the pair met at the Combi bowl, return there every year to celebrate their anniversary, and Alec even made Amelia a necklace from the floor tiles! The interviewer then beckons Alec over to join Amelia, so he skates his way down one side of the bowl and up the other…. Then expertly lands down on one knee to pop the question! You have to see the incredibly cute suprised look on Amelia's face:
Naturally, the happy couple were then presented with a pair of custom Vans. If you ask us, the Combi Bowl would make an awesome wedding venue!
The Farmer's Ploughing Proposal
You've seen the question written in sand and snow, but have you ever seen the words 'marry me' ploughed into a farmer's field? Well, now you have! Tom Plume, an agricultural engineer from Devon, asked his girlfriend Jenna Stinson to be his wife in the only way he knew how… by painstakingly ploughing the words.
Tom took the traditional route and travelled to Jenna's father's farm to ask for his blessing, but it just so happened he had a trick up his sleeve – he also asked for permission to plough his question into one of his fields. The reason? It's where Jenna grew up, and she loved it there. How sweet!
Jenna said she was ordered to keep her eyes closed while Tom drove her to the location, and when she heard cows mooing, she was worried that he'd bought some livestock! When she finally opened them, she was speechless… until she said yes, of course. The couple have been married for 10 years and plan on tying the knot in 2018. Congrats, guys!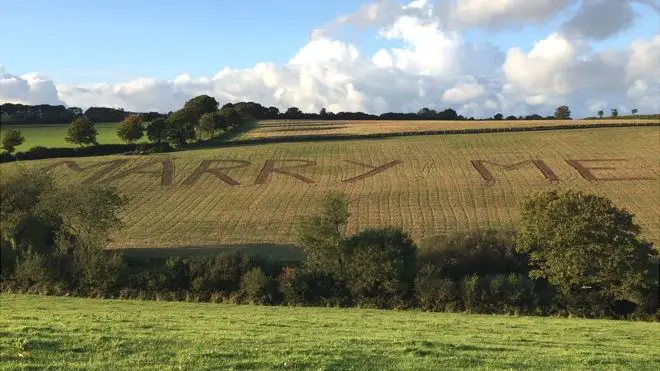 http://www.bbc.com/news/uk-england-devon-41293984
The Virtual Reality Proposal!!
This is hands down THE best proposal we've ever seen… seriously. Let us set the scene:
Zero Latency is a Melbourne based tech company that's doing something really cool; they have a giant warehouse-type space in the city where they let people play a virtual reality 'Zombie Outbreak' game. You strap on a VR headset, arm yourself with a gigantic VR gun, and shoot your way out of a zombie apocalypse. It's pretty fun, and it's where carpenter Alex Lackovic decided to celebrate his birthday with girlfriend Kelly Lynn Norman.
Unbeknownst to Kelly however, Alex was already very familiar with Zero Latency. He had been working with them for weeks leading up to the day, creating something super special. At the end of the zombie game, the ZL team (with Alex's input) arranged for Kelly and Alex to be virtually transported to Kelly's happy place; her grandparent's house in South Africa, with a big tree in the garden that she fondly remembers from childhood.
Once Kelly realised where she was, Alex got down on one knee and quipped 'I know we have a joke that we virtually feel as though we're already engaged. So I thought, why not make that a reality'. Puntastic! When Kelly took off her headset, she not only found Alex down on one knee, but all of their family and friends (who had been hiding until the big moment) around them too waiting to congratulate the newly engaged couple. Seriously… try beating that!
The Football Team's Proposal
Footballer Thomas Harvey is the proud captain of the Carmarthen Stars AFC, a local team in Wales. He's also the proud boyfriend of Nia Wyn Thomas. Nia suffers from an immunodeficiency disease and was recently scheduled in for a significant operation; a bone marrow transplant. So Thomas decided to take her mind off things…
Nia and Thomas' family showed up to watch his team's match against rival team the Baglan Dragons in the town of Llanelli. They won 5-4, so naturally to honour the victory they decided to take a team photo afterwards. However, Thomas had contacted the team beforehand for a special request.
While Nia was preparing for her surgery, Thomas' parents were busy making t-shirts for the team. Before the match, Thomas wrote a single letter on each of their wrists so they would know what order to stand in for the photo. Lo and behold, when the photo was taken they ripped off their jerseys to reveal the t-shirts underneath that spelled out 'will u marry me'! Somewhere in between all of that, Thomas's mother also managed to slip him the ring he had picked out. How's that for teamwork?

http://www.bbc.com/news/uk-wales-south-west-wales-41386033