Who in their right mind would lose something like that??
Glenn Weddell was having a pretty average day recently in Sacramento, California. He had just parked his car at a sidewalk, opened the door and looked down to put his foot on the ground. Then a glint caught his eye, and he noticed a beautiful diamond engagement ring just sitting there. Although he didn't know it at the time, it was actually an exquisite ring by none other than Vera Wang!
After almost stepping on the bling and 'freaking out a little', Glenn thankfully decided to keep the ring and attempt to find the owner. This unlucky lady was Jessica Gorski, who still doesn't know how exactly she lost her stunning piece of jewellery. Her boyfriend John had proposed just a month before, so our guess is it was a tad too big or she just wasn't used to wearing it yet. Either way, she didn't realise it was missing unless the next day, when she woke up and it wasn't on her finger!
Needless to say Jess was also freaking out (a LOT), and spent several frantic days searching for her lost engagement ring – while fiance John tried not to be mad at her for losing a piece of designer bling that clearly cost more than a few dollars. Just when the pair were certain they'd never see it again, they decided as a last resort to retrace her steps from the day she lost it.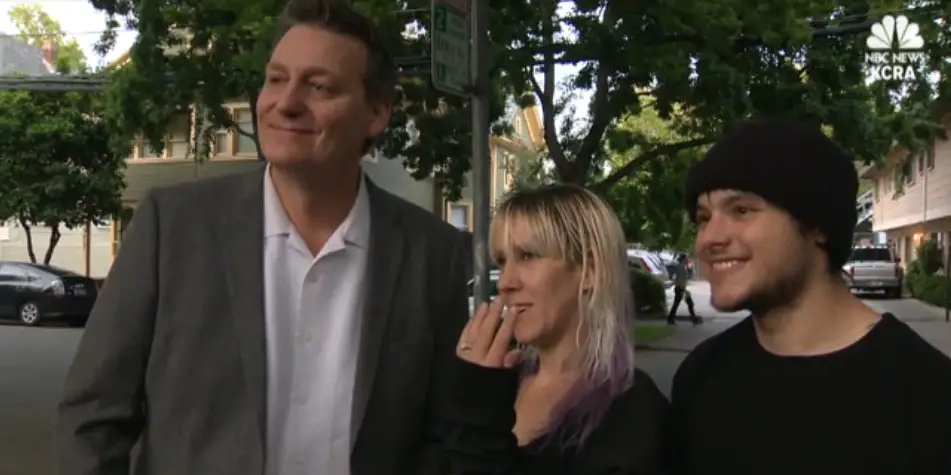 Meanwhile, Glenn decided to use some old school tactics to help reunite Jess with her ring – even though he wasn't sure if 'there was a distressed woman out there or someone who threw it away and is happy'. He got a sharpie, a piece of paper and a nail and wrote a note saying 'I found your wedding ring!' with his phone number, pinning it to the tree at the spot where he made his discovery.
When Jess retraced her steps and came across the note, she was both in shock and overjoyed all at the same time. She immediately ripped it off the tree and ran at full speed to find her fiance, who was searching another part of the street – we're pretty sure we'd do the same!
A few phone calls later and the now infamous Vera Wang ring was back on its rightful owner's finger, with a TV news crew capturing the reunion to boot! After getting her bling back, Jess vowed never to shake her hands ever again, and also said her faith in people has been restored. Well done Glenn!
Check out the video for a close-up look at the engagement ring in question – it's worth it: http://www.nbcnewyork.com/news/national-international/Good-Samaritan-Returns-Vera-Wang-Diamond-Ring-to-Owner-420638823.html