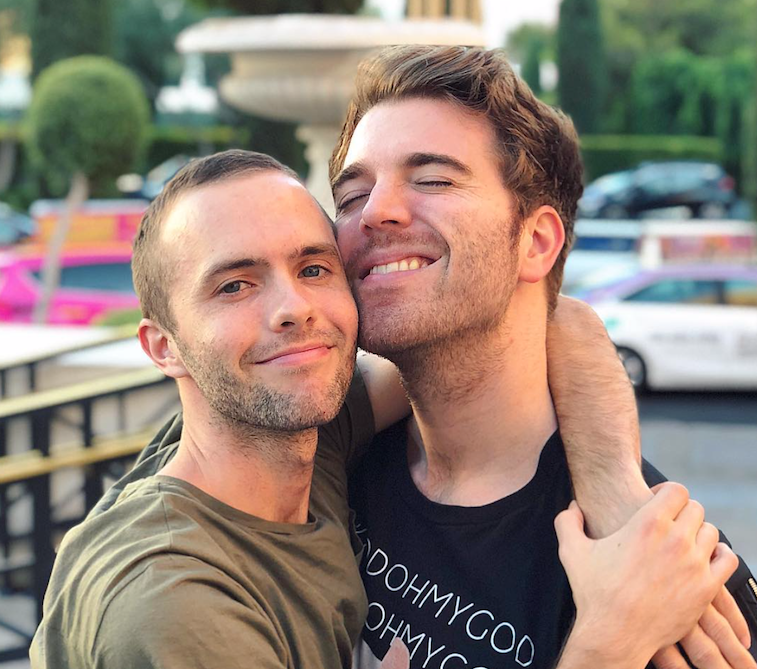 Shane Dawson and Ryland Adams got engaged.
If you've been living under a rock (or perhaps just not keeping up with your YouTube subscriptions), let me fill you in on what you've missed. Shane and Ryland have been together since 2016 and have been serving up relationship goals ever since. They took the world by storm with their quirky, endearing personalities and their adorably unconventional romance. 
And now, they're getting married. Here's everything you need to know about the engagement.
Shane Dawson and Ryland Adams engagement
Ryland and Shane Dawson got engaged on March 19, 2019, after dating for three years. Shane planned an elaborate proposal that involved a scavenger hunt visiting places that were significant in their relationship, a custom-made video, and a final clue that led Ryland to a room filled with candles and rose petals, where Shane got down on both knees and popped the question.
Ryland was completely caught off guard, and the emotional moment was captured on camera for all of their fans to witness. He posted a photo of him and Shane embracing with the caption, "We're engaged!!"
But let's get down to the nitty-gritty: the ring. 
What does Ryland's engagement ring look like?
Ryland's engagement ring is simple yet striking. It looks to be a platinum 3mm band with a full circle of round brilliant diamonds.
Ryland's engagement ring is from Tiffany's, a jeweller renowned for its ability to do understated and elegant well. And that, it does.
But let's be real, the burning question on everyone's mind is, how much did this thing cost? 
We estimate the ring to cost around $15-20,000 depending on the carat weight. 
The Wedding
Shane Dawson and Ryland Adams tied the knot on April 20, 2023, at a courthouse in Colorado. The couple opted for a simple and intimate ceremony, with only a few close friends and family members in attendance.
Despite the small guest list, the wedding was still a star-studded affair, with many of the couple's fans and followers eagerly following along on social media. The hashtag #ShaneAndRylandWedding quickly began trending on Twitter, with fans able to get a glimpse.
All in all, Shane Dawson and Ryland Adams' love story is one for the books. The two have been through thick and thin together, and their engagement is a testament to their strong bond. We stan.