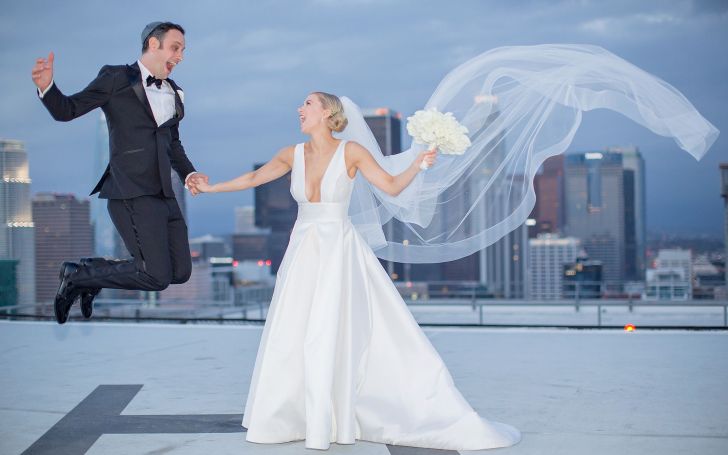 Source: Celeb Suburb
I don't know about you, but I can't stop thinking about Iliza Shlesinger's engagement ring.
The brilliant comedian and actress, has wowed me many a time with her brilliant performances, but this time, it's for her her stunner of a ring.
Today, we'll explore the mesmerizing aspects of Iliza's striking ring, delving into its design, the designer and everything in between.
Here's everything you need to know.
What makes Iliza Shlesinger's Engagement Ring so unique?
Iliza Shlesinger's engagement ring is a true testament to her bold and sophisticated taste. 
The ring showcases a breathtaking emerald-cut diamond, beautifully set in a platinum band with a hidden halo of pavé diamonds.
 The harmonious blend of timeless elegance and modern glamor creates a statement piece that perfectly captures Iliza's vibrant personality.
Why an emerald-cut diamond?
The emerald-cut diamond is revered for its understated elegance and captivating depth. With its elongated, rectangular shape and step-cut facets, the emerald-cut diamond offers a unique allure that is both timeless and sophisticated. This cut is ideal for those seeking a distinctive engagement ring that exudes an air of refined luxury.
What makes the choice of a platinum band special?
The platinum band of Iliza Shlesinger's engagement ring adds an air of enduring elegance and durability to the design. Platinum is a strong and long-lasting metal, making it an ideal choice for a ring that symbolizes a lifetime commitment. Its natural, silvery-white hue perfectly complements the dazzling emerald-cut diamond, enhancing its beauty and creating a stunning effect.
Who is the jeweler behind Iliza Shlesinger's engagement ring?
Iliza Shlesinger's engagement ring was masterfully crafted by Marvel Jewelry.
The founder of Marvel Jewelry, Harry Vartanian, moved to Los Angeles from Varna, Bulgaria with nothing but determination. At the age of 21, he borrowed $800 in order to pursue his business dreams in the land of opportunity. In 1971 he opened a jewelry store that succeeded against the odds through many years of dedicated effort and perseverance. Today Harry is one of the most reputable, highly recommended jewelers in Los Angeles, California striving every day to satisfy each and every client.
It's safe to say, Iliza was definitely satisfied with her ring.
Iliza Shlesinger and Noah Galuten's love story is one of shared humor, passion, and unwavering support. Their bond is a testament to the power of laughter and love. The exquisite design of Iliza's engagement ring, with its timeless elegance and modern glamour, perfectly captures the essence of their unique connection.