So cute, and pretty damn brave too!
We always expect a few shockers at major award shows like the Emmys, but we've never expected to see a surprise proposal! At last month's ceremony director and producer Glenn Weiss was crowned Best Director of a Variety Special, winning for his work on the Oscars (yes, you can win awards for awards ceremonies, apparently!). No offence to Glenn, but it's one of the less interesting categories of the night… so nobody was waiting with bated breath to hear his speech.
Glenn took to the stage and started the usual round of thank yous, but then things took a more emotional turn. He spoke beautifully about how winning the award was a bittersweet moment for him because his mother had passed away only two weeks previously. If you weren't already on the brink of tears, get ready to reach for the tissues when you read what he said next:
"Mom always believed in finding the sunshine in things, and she adored my girlfriend Jan. Jan, you are the sunshine in my life, and Mom was right, don't ever let go of your sunshine. You wonder why I don't like to call you my girlfriend? Because I want to call you my wife."
Here's Jan's reaction to that line: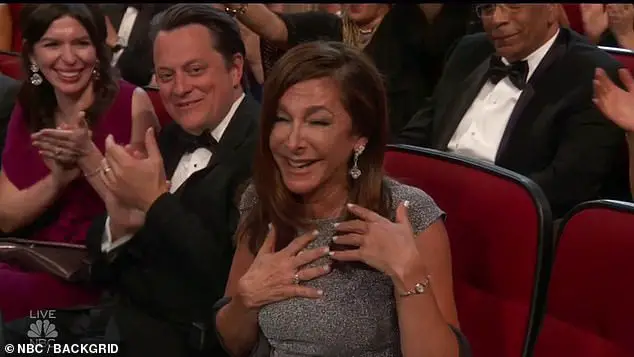 The crowd erupted in cheers, and the cameras caught more than a couple of celebrities' reactions including a delighted Benedict Cumberbatch and flabbergasted Leslie Jones. Jan eventually made her way up to Glenn on stage, where he continued his speech with even more tear-inducing words;
"This is the ring that my Dad put on my Mom's finger 67 years ago. And to my sisters and brothers I didn't swipe it, Dad knows I have it, okay?! Jan, I want to put this ring that my Mom wore on your finger in front of all these people, and in front of my Mom and your parents watching from above. Will you marry me?"
Cue this face from Leslie Jones: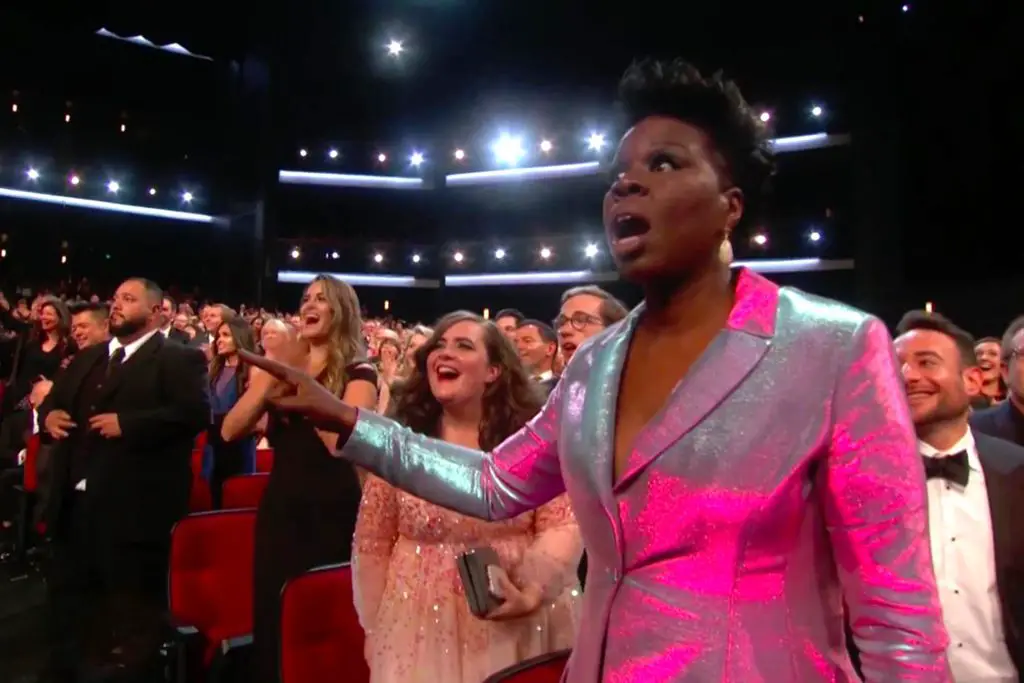 Afterwards at a press conference, Glenn revealed that he hadn't planned on proposing at the Emmys, but during the tumultuous two weeks since his mother's passing the thought came into his head and 'picked up steam'. "This was coming", he said "but the timing just lined up really nicely and it was a magical moment."
We also got some details on the ring; it's NOT a diamond engagement ring, but Glenn's mother's wedding band, which he says is 'more valuable to him than the Hope Diamond'. Jan admitted she had absolutely no idea that Glenn was about to pop the question, and Glenn admitted that he told nobody except his Dad. He couldn't even give the director of the Emmys, Hamish Hamilton, a heads up of his plan to propose during a live TV show. Hamish was nominated along with Glenn in the same category and he didn't want to be disrespectful!
Glenn and Jan have both worked behind the scenes at award ceremonies for many years – they met while working on the Tonys – so the happy couple both said that it felt right for them to get engaged this way. We think it's pretty awesome too.
Watch the happy moment from 1:27 below: