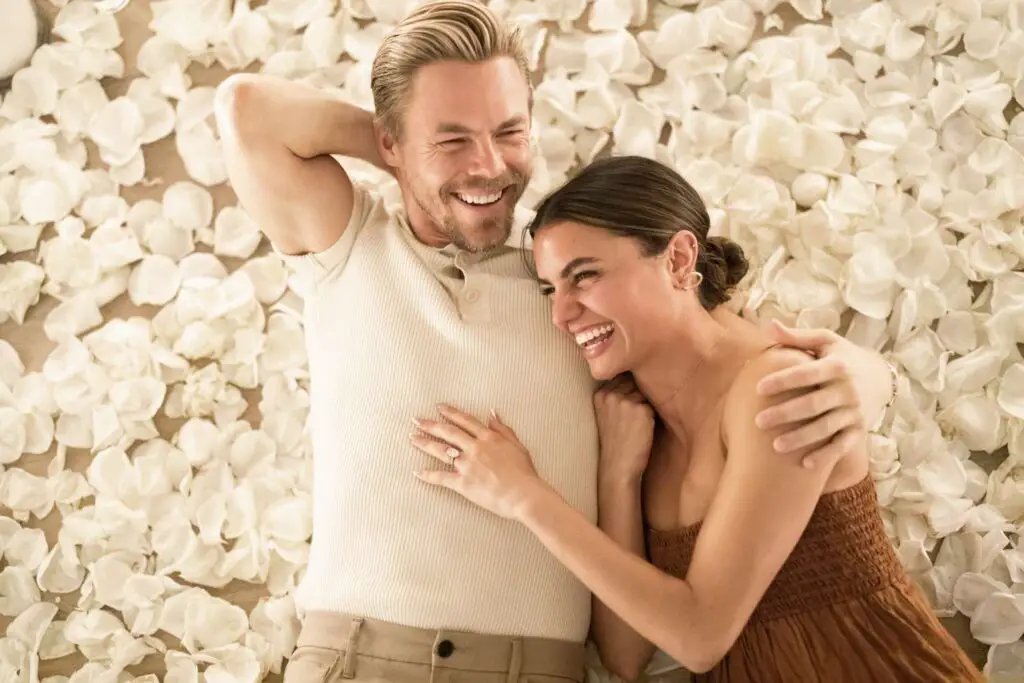 Dancing With the Stars judge, Derek Hough, recently popped the question to his longtime girlfriend and fellow dancer, Hayley Erbert. The couple took to Instagram to share the exciting news with their fans, showing off Erbert's custom engagement ring.
The Emmy Award-winning choreographer wanted to create something "extraordinary and rare" for his fiancée, and let me tell you, he's done just that. The oval-shaped diamond is stunning
Here's everything you need to know about Hayley's engagement ring.
What Kind of Ring Is Hayley Erbert's Engagement Ring?
The centerpiece of Hayley's ring is a rare oval-cut diamond that is estimated to be around 5 to 6 carats. 
Oval cut diamonds are known for their exceptional brilliance. Like round brilliant cuts, oval diamonds are faceted to maximize light reflection and refraction, resulting in impressive sparkle and fire. Their elongated shape can create a flattering effect on the finger, making it appear more slender and elongated.
The diamond is set in a platinum band and surrounded by a hidden halo of smaller diamonds. The halo setting gives the illusion that the center stone is larger than it actually is, adding to the ring's overall beauty and value.
The overall design of the ring is classic and timeless, with a touch of modern elegance: a perfect example of how a custom-designed ring can reflect a couple's unique style and personality. 
Who designed Hayley's ring?
Hayley Erbert's engagement ring was designed by Derek Hough himself. The Emmy Award-winning dancer worked with Chau Lui, co-owner of Paris Jewellers, to create a custom diamond engagement ring that is both extraordinary and rare.
In an interview, Derek said that the ring is a symbol of his love for Hayley. He wanted to create something that would be timeless and elegant, just like their love for each other. 
According to Chau Lui, the diamond is "one of the most beautiful and rare diamonds" he has ever seen. The ring is a testament to Derek Hough's love for Hayley Erbert and his commitment to making her feel special.
How much is Hayley's ring worth?
With one of the most beautiful and rare diamonds the jeweler had ever seen, Hayley's ring wasn't going to come cheap.
While the exact cost of the ring has not been disclosed, experts estimate that it could be worth anywhere from $200,000 to $250,000. The value of a diamond ring is determined by several factors, including the quality of the diamond, the setting, and the brand of the jeweler. This engagement didn't come out of the blue for Derek though, he's had plenty of time to save.
Derek and Hayley had been dating for five years before he popped the question. The proposal was a complete surprise to Hayley, who had no idea that Derek was planning to propose. 
On the day of the proposal, Derek took Hayley on a romantic hike in the hills outside of Los Angeles. The couple had been hiking for a while when Derek suddenly got down on one knee and pulled out a small box. Hayley was completely surprised and overwhelmed with emotion when she saw the beautiful ring inside.
And wouldn't you be too with a ring like that? Congratulations to the happy couple!