The evenings are getting shorter, there's a slight chill in the air and golden brown leaves are falling everywhere. It can only mean one thing… autumn is here! Are you a fan of this beautiful season that turns parks into colourful wonderlands and wild nights out into cosy nights in? Are you getting engaged or married in fall, or was it when you first met your spouse-to-be? Does it have some other special meaning to you? Here's how to incorporate your love of fall into your engagement ring!
Choose Warm Coloured Gemstones
Tones of amber, yellow, earthy brown and even deep red are synonymous with fall. The good news is, these shades are abundant in the gemstone world. Some of our favourites are morganite (orangey-pink, very similar to rose gold), citrine (fire orange), and an up and coming gem making waves in recent months; padparadscha sapphires (ranging from blushed pink to deep amber).
Of course if your budget allows, you can always go big and choose a warming fancy diamond in yellow, or a brown shade too. For full autumnal effect we suggest a coloured gem as your centrepiece – it is a big trend right now, after all – but accent stones are always good too if you're a little more traditional.
Go for Rose Gold
There's no doubt about it. Rose gold is the only metal choice for autumnal themed engagement rings. This alluring rosey shade is created by adding a little copper to yellow gold – the more copper added, the more 'rosey' the shade will be. Rose gold also suits any and every skin tone, without fail. Seriously – try it. It looks fantastic with morganite in particular, but also works with bold coloured gemstones and diamond too. Depending on the tone of rose gold and the tone of your autumnal gemstone, the two may not go so well together – so we'd advise to choose one or the other. But hey, don't let us stop you if it's what you really want!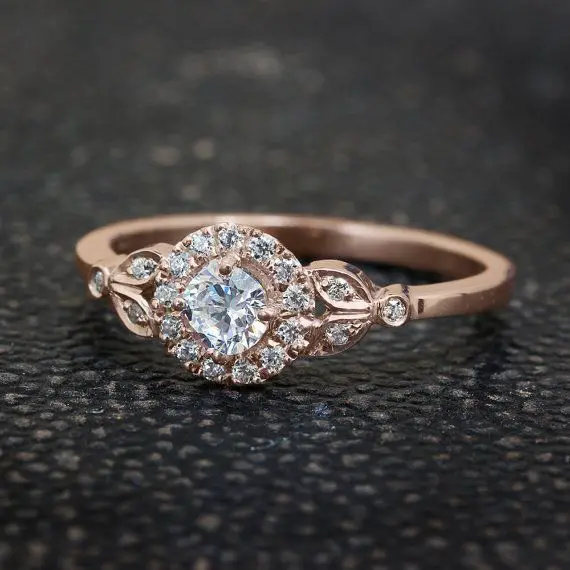 Get a Halloween Ring!
The highlight of autumn has to be the biggest fancy dress night of the year – Halloween, of course! Fans of this spooky night have to be fans of autumn by default. For something quirky and non-traditional, why not consider a Halloween themed ring? It doesn't need to be an overly corny design with pumpkins and witches hats – we love gothic spider rings or even skull shapes if you're so inclined. If that doesn't float your boat, you could work the traditional colours of Halloween – black and orange – with a combination of citrine and tungsten or black carbide in the band.
Leaf Motifs
For basically everyone in the world, the one unforgettable symbol of autumn is falling leaves. This lends itself nicely to those who like vintage style or embellished engagement rings. Embossed or engraved leaf motifs are a regular theme in vintage and antique rings, particularly those from the Victorian era. Think shoulder accents, intricately decorated bands or even elaborate settings. For a truly autumnal feel, combine this with autumnal coloured gemstones as tiny accent stones. Top it off with a diamond and you have the perfect balance of traditional style with a unique twist.
All you need now is a beautiful mother earth outfit and a peaceful forest to show off your new autumnal engagement ring!