Because as the wise man Justin Bieber once sang, 'you should go and love yourself'.
Valentine's Day can be a lonely time for the singletons of the world. Whether you've just broken up with someone, you're searching for that special person or you're taking a break from romance, seeing loved up couples everywhere can be a drag.
Enter Fred and Far, and their Self Love Pinky Ring. It's the brainchild of Melody Godfred, and it's been on the go since 2015. We'll let her explain it in her own words:
"By the beginning of 2015, I had hit every milestone I had ever dreamed of: a great career, husband, kids, a home. And yet, I was lost, unhappy, and disconnected from my true, authentic self due to a profound lack of self love and self care. I desperately needed a bold, beautiful daily reminder to choose, honor and remember myself. So I created one.
This is how the very first Self Love Pinky Ring came to be. I never set out to start a business. I set out to change my own life. Since this was the biggest commitment of my lifetime, I wanted it to be to as significant in style as an engagement ring. I wore it on a finger I had never worn a ring on before, my pinky, because I wanted this ring to make a bold statement that was instantly recognizable."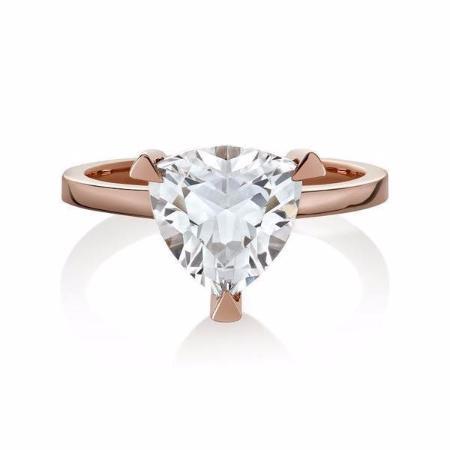 It seems Melody wasn't the only one thinking this way, because four years later women in over 40 countries have treated themselves to this special self-engagement ring. Each one is made in LA using lab-created, conflict-free and environmentally friendly gemstones, and the business is headed up by a 'small but mighty' team of women. Each ring is beautifully packaged and sent with a Pinky Pledge card that reads 'I _ pinky promise to honour myself, to choose myself, to remember myself on a daily basis'.
The rings themselves feature an inverted triangle gemstone to symbolise womanhood, with a range of gems and colours on offer; white, pink or blue sapphire; emerald; ruby; opal; garnet; amethyst; and black spinel. The settings are either prong or bezel, and the bands are either yellow gold, white gold, rose gold or sterling silver. Oh, and the price? Very affordable indeed, ranging from $219 to $419.
It's not just about the ring, however. What started out as a cool business idea has grown into a whole movement, with ring owners sharing their pledges on social media and owner Melody Godfred speaking at conferences, writing self-love books and collaborating with female-led projects all over the world.
However. If you're sold on the Self Love Pinky Ring and want to make your own pinky pledge, you'll need to act fast. The business is 'taking a break from production' next month and as of yet, there's no specified date of return. So if you want to get your own pinky ring, you'd better to it now! It's all here: https://fredandfar.com/