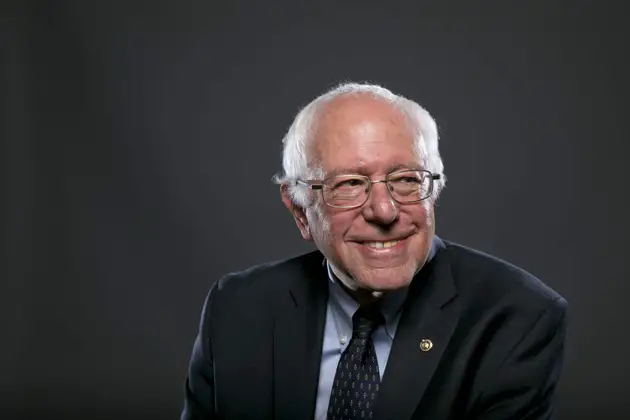 When he's not trying to win the American public's vote for the upcoming US Presidential election, Bernie Sanders apparently has a part time job as a marriage proposal helper…
Hector Sigala is the social media director of the Bernie Sanders campaign team. He's been creating content and videos for the campaign non-stop for over a year now, and has been pretty busy to say the least.
But that didn't stop his plans to propose to his long time girlfriend Kimberly 'Rio' Riofrio around the same time that the campaign hit fever pitch (i.e. right now!). And since the couple's lives has pretty much been taken over by all things Bernie of late, it only seemed right to get the man himself involved.
So, Sigala and Rio went to the park to enjoy a sunny Sunday afternoon. He asked her to take a look at the latest video he'd made for Bernie's social media – a very regular occurrence, so nothing unusual there.
Sanders appears on screen and begins talking about the progress the campaign has made so far, before suddenly changing the subject and saying directly to the camera; 'Wait a second. Hey Rio, Hector has a question for you. He's a good guy, why don't you help him out?'
Thanks for the assist, Bernie. #Engaged pic.twitter.com/1lSD7TXj99

— Hector Sigala (@hgsigala) May 9, 2016
Before Rio could start wondering why Bernie was talking directly to her, Sigala was down on one knee asking the all important question complete with an engagement ring in hand. Of course she said yes!
Sigala said 'whenever I see Bernie, one of the first things he asks – right before asking how our last social media post is doing – is about how Rio is doing. I was really glad he was willing to film this short video and be part of the proposal despite his very busy campaign schedule'.
We hope Bernie gets an invite to the wedding!