Popping the question while on a romantic getaway is fast becoming one of the most popular ways for guys (and gals) to propose. If you're planning a vacation engagement, then here's what you need to know…
It's all in the packing
Whatever you do, do not pack the ring in your checked luggage. That baby needs to stay in your carry-on, and your carry-on needs to stay with you at all times. Put it inside a bigger, non-ring box shaped container – or even stuff it inside a pair of socks – so that if it falls out when you're pulling out your laptop or change of clothes, it's not conspicuous. Keep it away from liquids too, just in case.
Plan your way through customs
This will probably be the trickiest part of getting your ring onto your bride-to-be's finger. If possible try to pass through a different security queue to your significant other. If your bag is searched, explain the situation to the customs official and ask if they could be discreet about it. If it seems like that kind of request might not be received kindly, ask to be searched in a separate room while your partner waits outside.
Don't skimp on safety
When you get to your destination, figure out where the most secure place to stash the ring will be. If she needs to store valuables in your hotel room safe, keeping the ring there isn't a good idea. Ask hotel management if there's a secure safe 'backstage' that you could use. In the majority of places, they'll be happy to help out.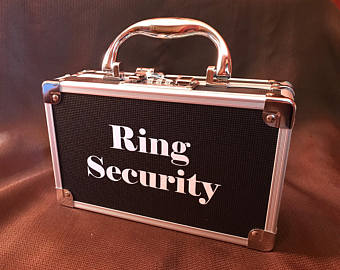 Outsource as much as possible
While we're on the topic of hotel staff, don't be afraid to reach out to them if you need help with any aspect of the proposal. Plenty of hotels in proposal hotspots offer engagement packages which will include discreet assistance with whatever you need. Finding fresh flowers, champagne on ice when you return to your room, planting a photographer behind a tree to capture the big moment… literally anything!
Have a Plan B
This goes for any kind of proposal, but especially a vacation proposal. Sometimes the weather will refuse to cooperate, or the spot you planned to visit will be closed, or fate will work against you in a host of other ways. Have a Plan B ready to go if this happens (see our previous tip). If your romantic dinner wasn't so romantic after all, have an intimate breakfast instead. If it's too windy for the beach, watch the waves from your window with champagne… small modifications are usually all it takes to save the day.
Don't wait 'til the end
Trust us on this; it's so much better to propose towards the beginning of the trip than the end. If you wait until the last night, you'll have all those jitters with you throughout the vacation. Plus, you'll have to keep the ring safe and hidden for longer. Remember you'll need some time for just the two of you to enjoy the moment, too. You'll want to celebrate before the stress of flying home and the whirlwind of family and friends waiting to congratulate you. So don't hang around – just go for it!
Good luck!