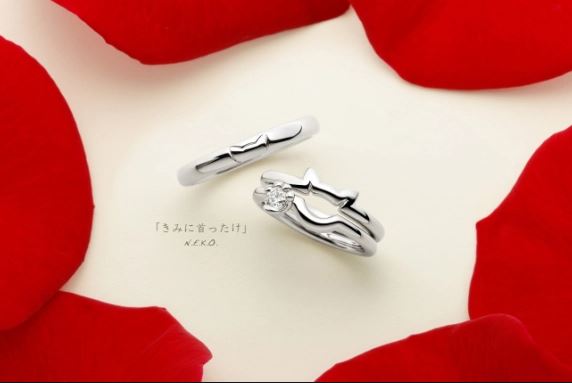 Meanwhile, in Japan…
The Japanese are known for a vibrant popular culture that is well, not exactly what westerners would consider the norm in some ways. From spending Christmas at KFC to sleeping in capsule hotels, they certainly have some quirky ideas… and that's why we love them. A certain kind of engagement ring has enjoyed a boost in popularity recently for that same typical Japanese quirkiness… it's a cat engagement ring!
No, this is not an engagement ring for your cat before you ask (it's not THAT weird). It's a platinum engagement ring for the cat lover in your life, and it's actually pretty cool. They're part of the N.E.K.O collection (a play on 'neko', the Japanese word for cat) by Afflux, a bridal jewellery company based in Osaka. And in case you want to take the kitty tribute a step further, they're available in engagement ring and wedding band designs.
Each design has impressive customisable details like a diamond set within the 'cat' paw, a yellow gold ear for mixed metal magic, all out pave diamond on the face or a matte texture. The men's design is a little more subtle and abstract while the women's is… well… most definitely a cat shape.
If you're an unconventional bride with a love of animals and well made jewellery, this could just be the ring for you. Prices start at around $1000 (which for a beautiful platinum ring, isn't bad at all) and there are stockists all over Japan.
What are you waiting for? Book your flights right meow! (See what we did there?)