If it was anyone else we'd say probably not, but this is Posh Spice after all…
For most of us, one engagement ring is enough. Maybe if your first one wasn't quite up to scratch or your circumstances change, you get an upgrade after a couple of years. But according to Harper's Bazaar, former Spice Girl turned fashion designer Victoria Beckham has 13 – yes, thirteen – pieces of bling from her footballer husband David Beckham.
The power couple have been married for almost 20 years and have an estimated family net worth of $1 billion. So it's possible, but there's no concrete evidence to confirm that these are ALL engagement ring upgrades. They may not even be gifts from David. Victoria could have bought them for herself, she may have received them as gifts from others, or she may have just received them on loan for red carpet events. Whatever the story behind each piece however, they definitely provide some top engagement ring inspiration – and they'd probably make Liz Taylor jealous if she could see them! Let's take a closer look, shall we?
Ring #1
This is the only confirmed engagement ring of the bunch and the first one Victoria received from David. Ring number one is a three carat marquise cut diamond, set in a yellow gold band with a bezel setting. According to Harper's Bazaar it cost $85,000 at the time of their engagement (1998).
Ring #2
Ring number two is most likely an eternity ring given by David after their marriage. She was spotted wearing it around 2001, by which time two of their four children had been born – sons Brooklyn and Romeo. It's a platinum set, diamond paved eternity band with a bevelled edge.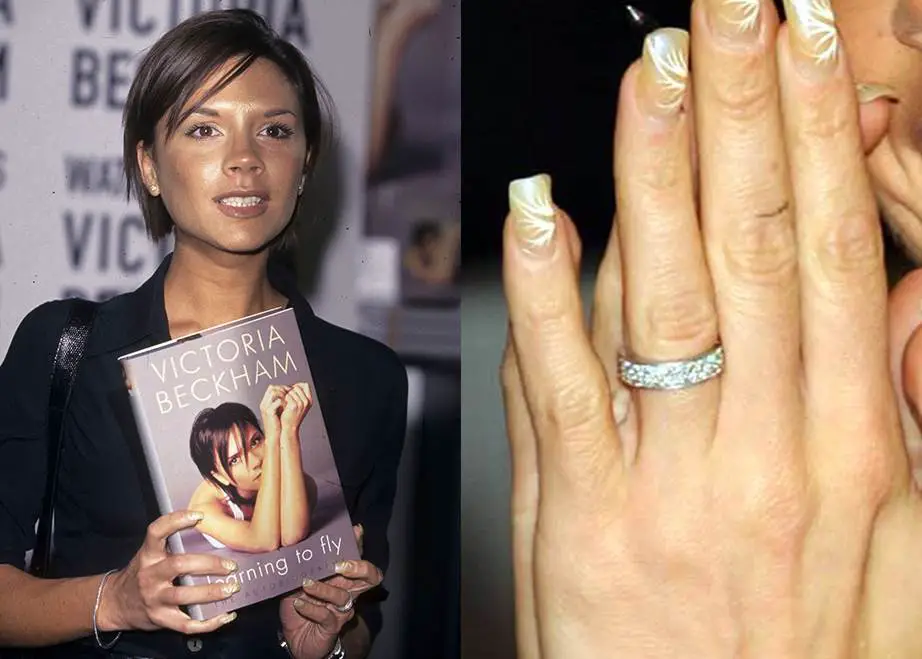 Ring #3
By 2003 David's football career was right at its peak, and Victoria was finding her feet in a post-Spice Girls world. They were very much a power couple of the sporting and entertainment worlds, and both were already worth millions. So ring number three is more than likely an upgrade; a huge emerald cut diamond with side baguettes, set in platinum.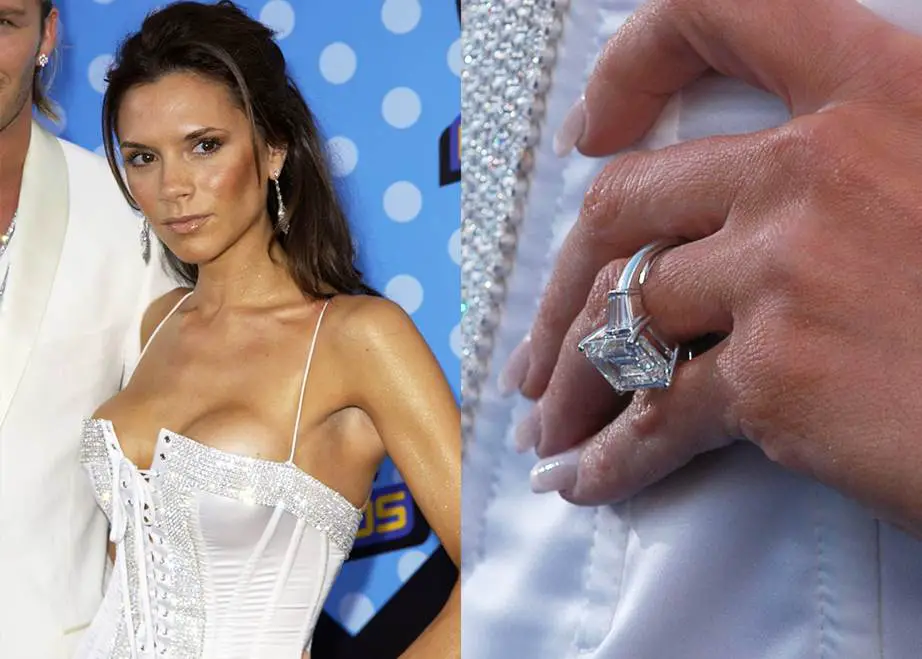 Ring #4
The following year was Victoria's 30th birthday, so what better gift than another stunning ring from David? She was spotted wearing an oval cut diamond with a gorgeous pink champagne hue, topped off with a diamond halo setting and allegedly worth over £1 million.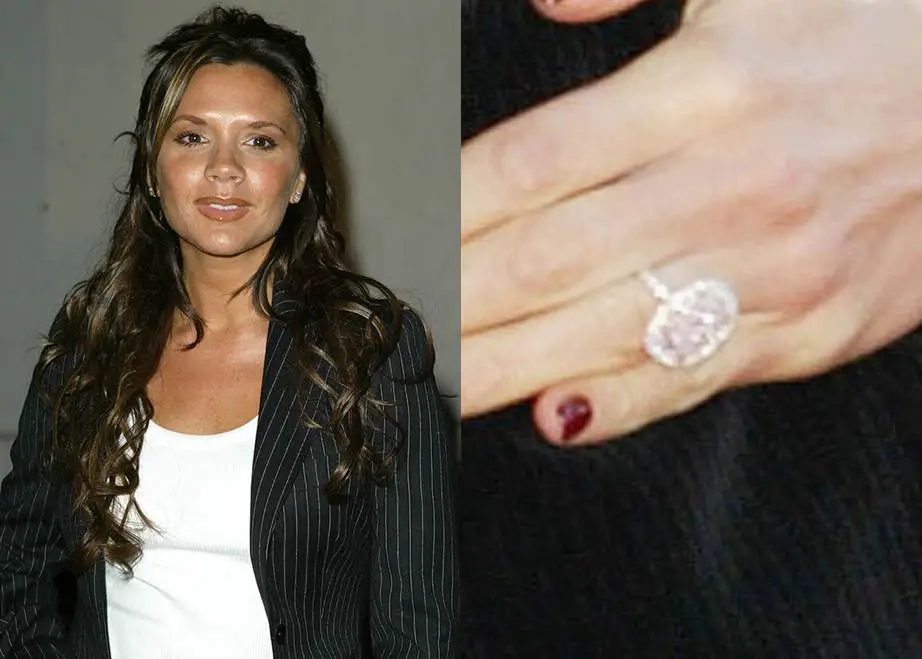 Ring #5
Apparently one of Victoria's favourites and definitely one of the biggest, she's still regularly seen wearing this ring from 2005. Clocking in at a massive 17 carats, this pear shaped diamond is set on a diamond pave band with a simple prong setting to let the rock speak for itself.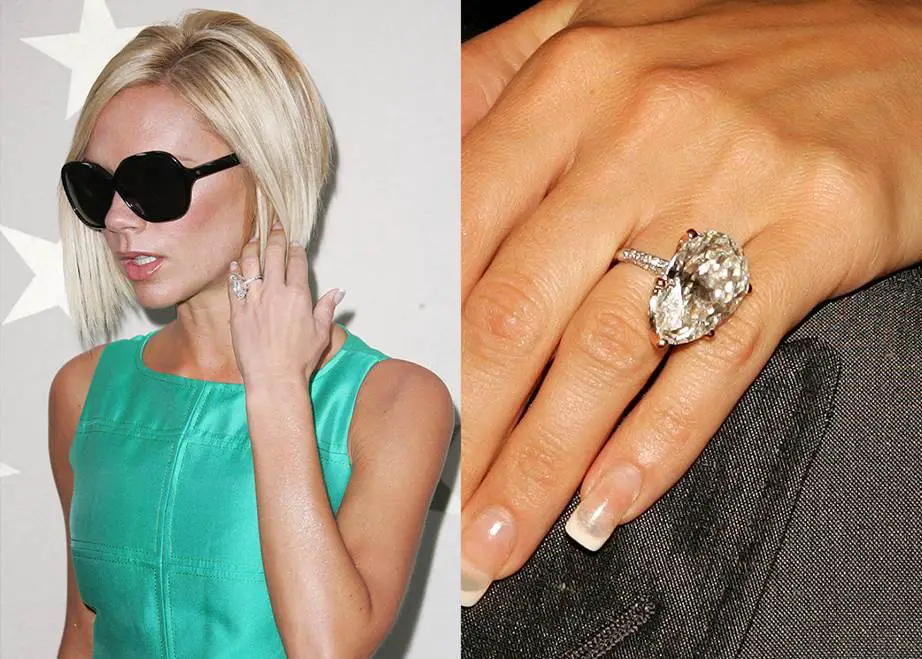 Ring #6
Continuing the trend for serious bling, this ring from 2006 is Victoria's second coloured diamond. An emerald cut yellow diamond, it's not quite as big as the 17 carat pear diamond – but it's still pretty frickin' huge. It sits on a yellow gold pave band to enhance the stone's colour, and she wore it with two matching eternity bands either side.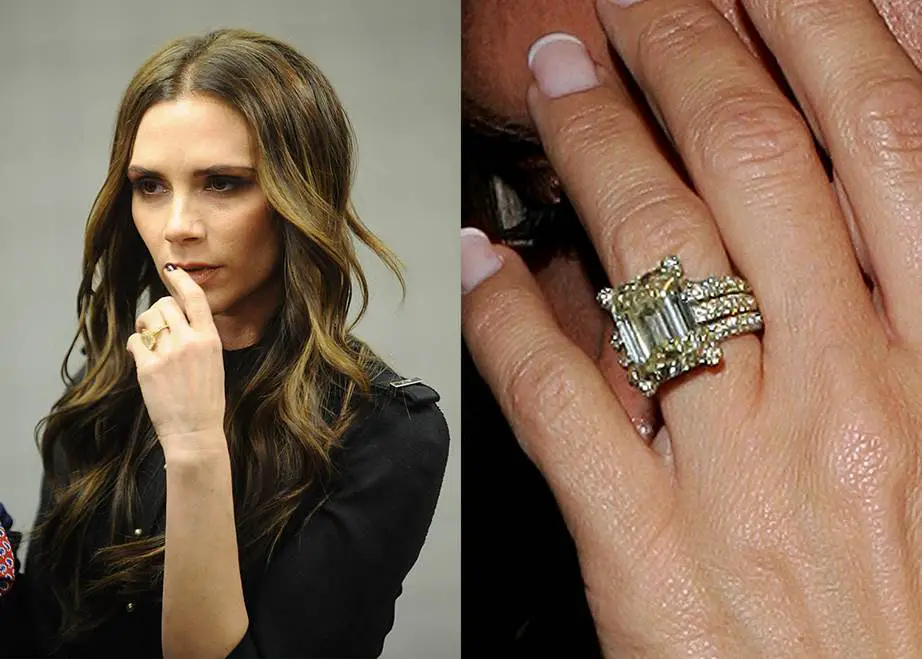 Ring #7
By 2007, Victoria was well established as a style icon and on the way to launching her extremely successful fashion label. So it's no surprise that her jewellery took a bold and stylish turn. This giant cushion cut emerald gemstone rests on a stunning spiral diamond setting, with tiny diamonds all over the band too.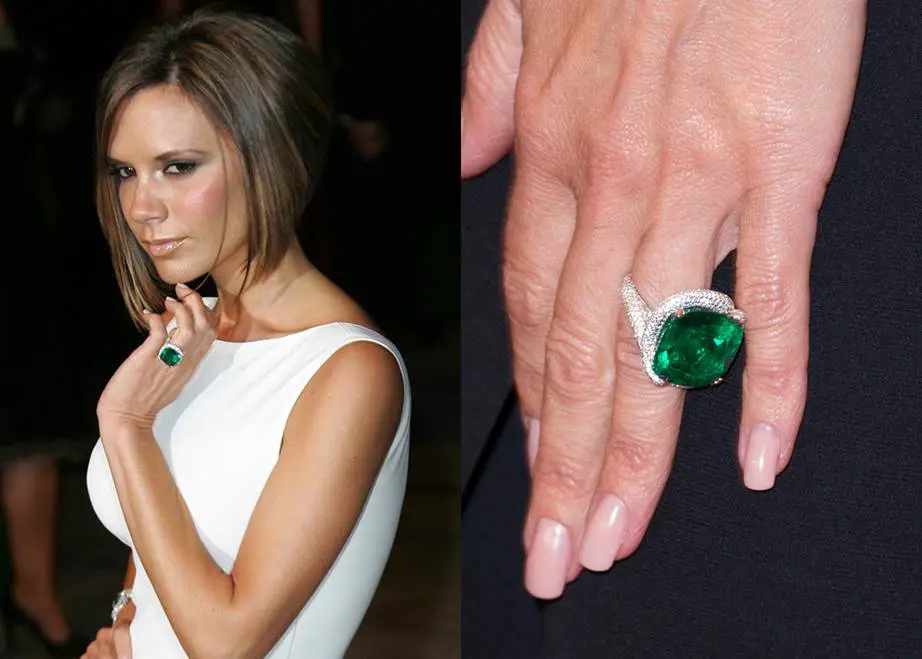 Ring #8
Often mistaken for her previous yellow diamond ring, this emerald shaped diamond is colourless and bigger than the yellow version. Measuring 15 carats, it was created by Chopard and features a channel set diamond band.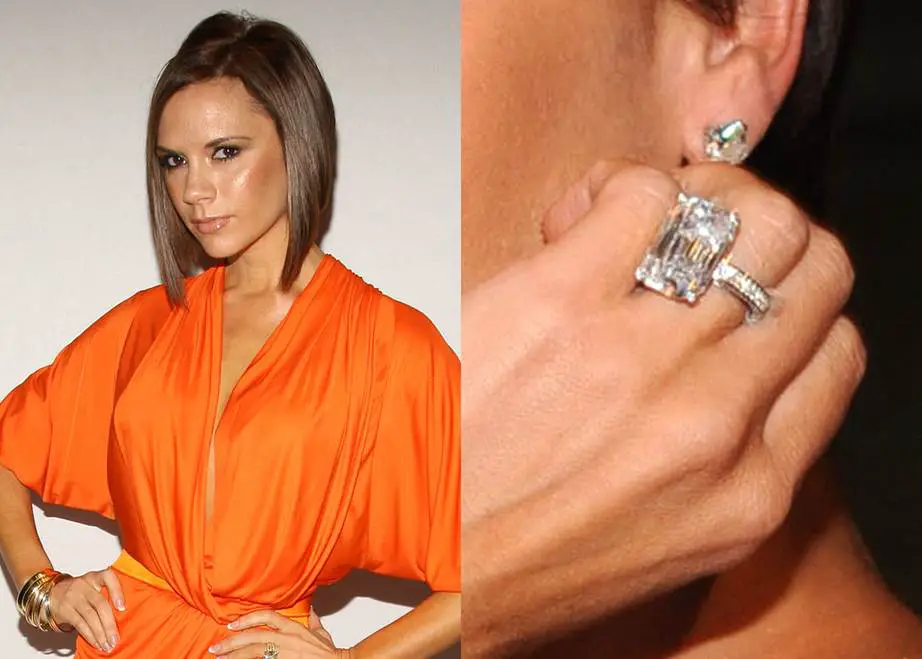 Ring #9
The foray into precious gems didn't stop with diamonds and emeralds. Victoria rocked this jaw-dropping ruby ring in 2009. In an oval cut and sizeable carat weight, this ruby gets plenty of added sparkle with an all over white diamond-encrusted setting.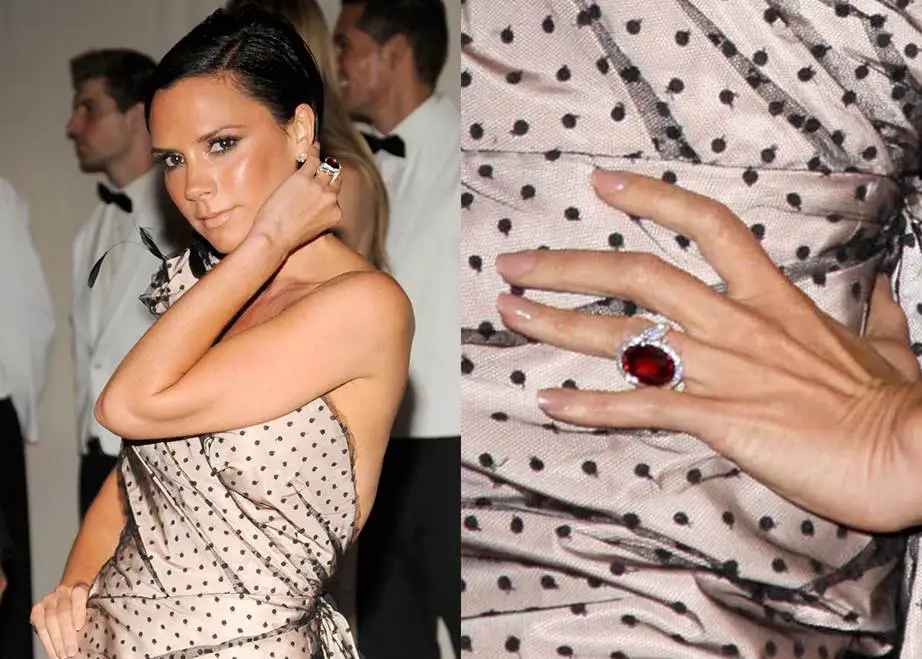 Ring #10
Completing her precious gemstone collection, Victoria's 10th ring is a deep blue oval sapphire measuring a minimum of 15 carats. The slim pave diamond band makes the stone look even more gigantic. We reckon she was trying to out-do Kate Middleton with this one; Prince William gave her his mother's sapphire ring when they got engaged in 2010, the same year Victoria wore this baby.
Ring #11
In an unusual move, one of Victoria's more recent rings is significantly smaller in size – but still super stylish. An oval cut pink diamond, it has a yellow gold pave band for a touch of classic elegance. We think she was inspired by Blake Lively's engagement ring with this one.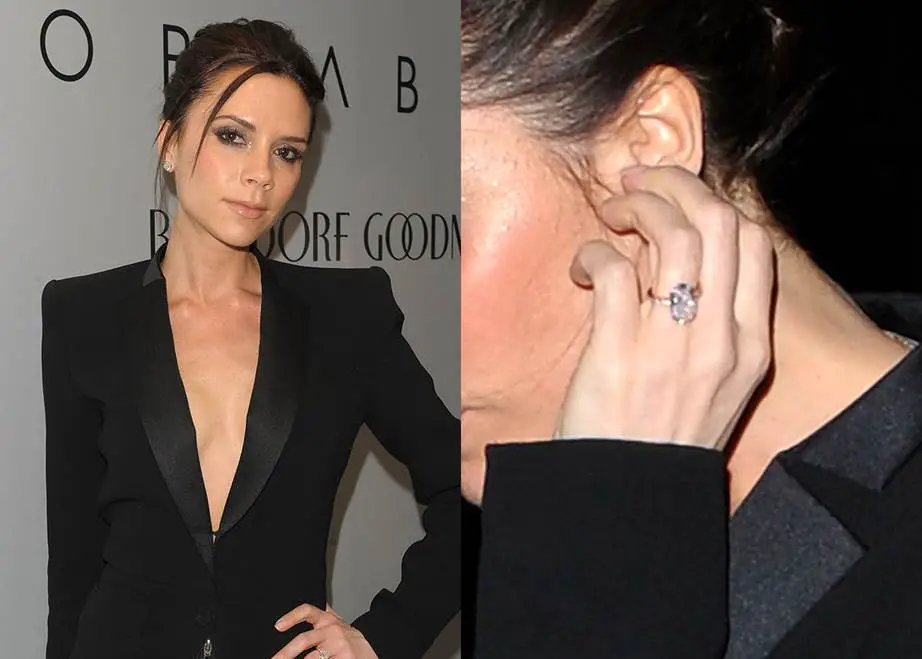 Ring #12
In 2015, Victoria wore ring number twelve steadily for several months. Full of bling but with plenty of chic too, it's a three stone design with white round diamonds, one large one in the centre and two smaller side stones. Each one has a tiny diamond halo, finished with a platinum band.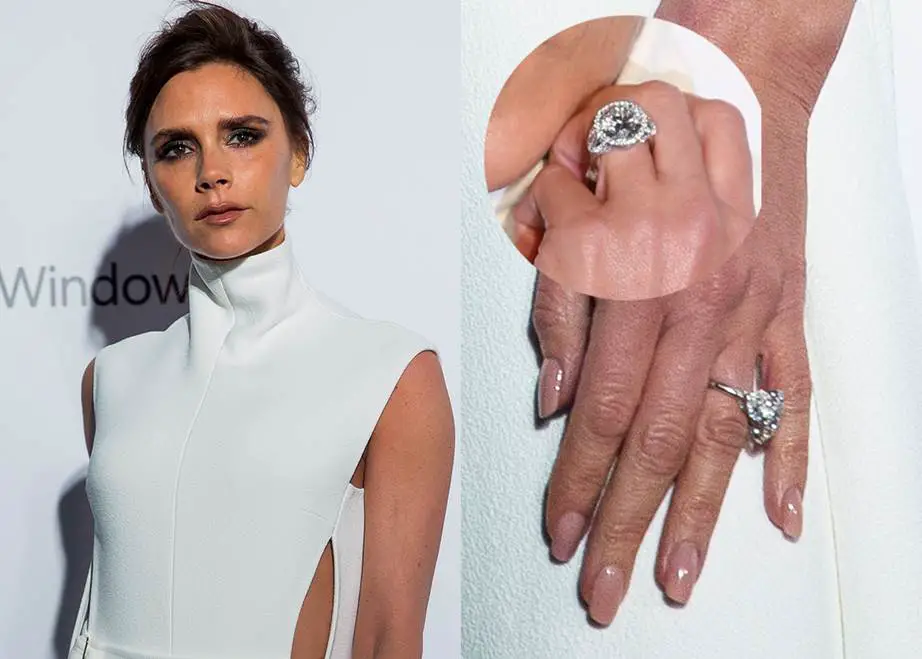 Ring #13
Ring number thirteen is the most recent bling, and probably our favourite from the entire bunch. Victoria was first spotted wearing it in Cannes in 2016. It's a simple princess cut diamond, relatively small compared to some of the others in this list, and is mounted on a platinum pave diamond band. Classic, glamorous and simple.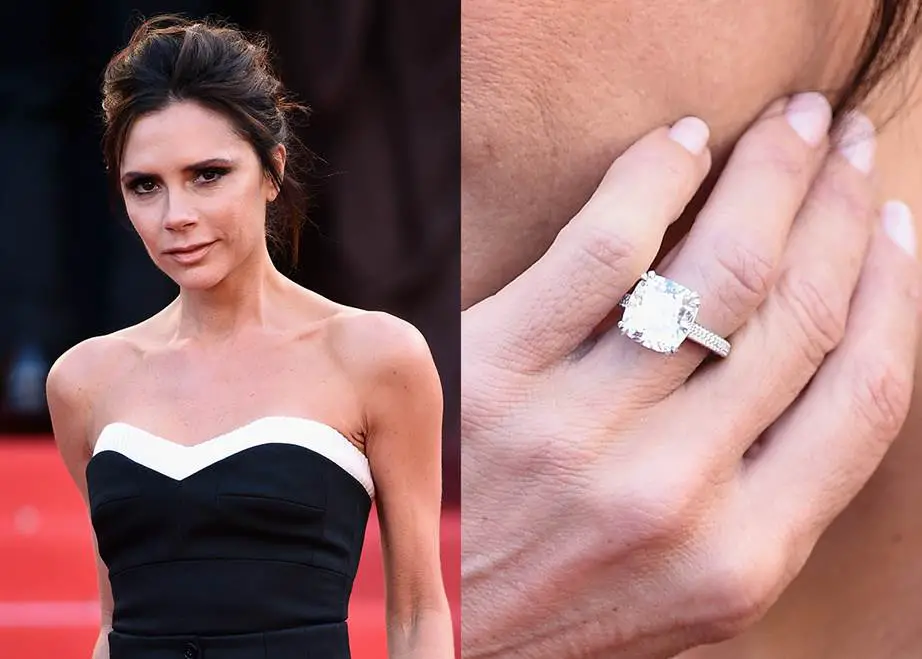 Read the original article here: https://www.harpersbazaar.com.au/bazaar-bride/victoria-beckham-engagement-rings-14835