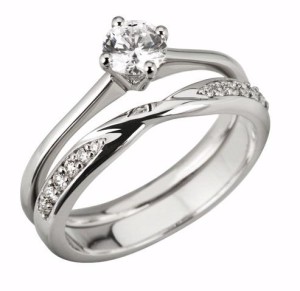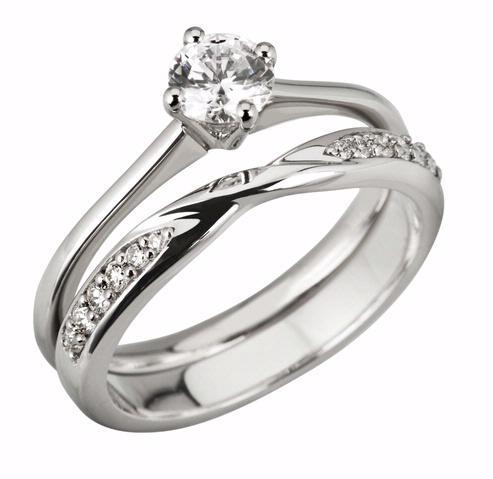 Getting engaged is a crazy time in your life. Most likely you're so excited about having a shiny new piece of jewellery on your finger – and all the love stuff that comes with it, of course – that practical concerns aren't exactly on your mind. Once the initial whirlwind dies down and the wedding date creeps ever closer however, one of the things on your increasingly long to do list in preparation for the big day will be getting some wedding bands. Depending on your circumstances, this could be somewhat problematic. Step right this way and we'll guide you through it…
Step 1: Metal
If you plan on wearing your wedding band and engagement ring on the same finger or side by side, then one important thing you need to keep in mind is metals. It's best to have both rings in matching metal – and not just because it looks better. When different metals rub off one another they can cause a chemical reaction that results in one or both of the bands tarnishing or oxidising. Even 9ct and 24ct gold paired together will do this to an extent. So unless you only wear one at a time or have them separated by at least one finger, choose the same metal.
Step 2: Stone and Setting
The stone and setting of your engagement ring is the next big thing to consider. A low setting or a large stone can create problems for wedding bands, as it won't sit flush with your engagement ring band. Many jewellers sell engagement rings and wedding bands in pairs so you can get around this problem easily; wedding bands that curve around the engagement ring stone are also becoming more and more popular. If you buy your wedding band separately or if you have an antique ring, it may take a little bit longer to find the perfect pairing. A high setting or a small stone (or both) should be fine for any kind of wedding band.
Step 3: Style
To keep the look consistent, you'll need to find a wedding band with the same thickness and profile as your engagement ring's band. Does it have a flat or rounded edge? Is it a 'D' shape (i.e flat on the inside and rounded on the outside)? Is it polished or textured? Of course this is also an excellent opportunity to add some complementing or contrasting elements to add a new dimension to the look. If you have a single central stone in your engagement ring you could add some extra sparkle by adding pave diamonds to your wedding band, for example, or if your engagement ring setting has some filigree work you  could complement it by engraving your wedding band with the same pattern.
Step 4: The Other Ring
Don't forget the third ring in the mix; your other half's! If you only plan to wear your engagement ring on special occasions or if you're not overly concerned with how they look together, getting matching or complimenting wedding bands is another beautiful way to show off your new partnership. You can choose the same style in different metals, the same metals with complimenting details like a hammered finish on his and matte finish on yours, or play around with differing thicknesses. There's a whole world of possibilities, and it means you can truly collaborate on something that you'll both have forever after.
So in four easy steps, you'll have a perfectly paired engagement ring and wedding band, with one for him thrown in too!