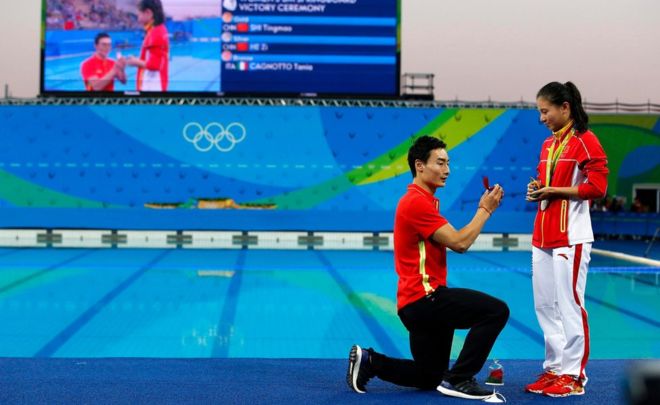 The Olympics are over with for another 4 years and, as ever, there were plenty of memorable moments. From elite athletes dominating their sports to the various stories about what happened outside the stadium, Rio 2016 got everyone talking. One particular incident got lots of people not just talking, but vigorously debating…
Chinese diver He Zi put on a sterling performance in Rio's diving pool at the women's three metre springboard final – so sterling that she got a silver medal for her efforts. Just after the podium ceremony as she had her medal around her neck, someone approached the podium, along with a jostling pack of photographers. Her boyfriend of 6 years, fellow diver and bronze medallist Qin Kai, got down on one knee in front of the entire world and asked her to marry him.
It would've been pretty awkward if He turned him down, but luckily she said yes and the happy couple embraced on the podium together as the world cheered. Pretty cute, right? Some people agree, many others don't.
In the blue corner – He's corner – people argue that her medal ceremony was hijacked, overshadowed, and that her moment in the limelight was stolen. Getting that medal is the pinnacle of 4 years of training and hard work, and gives athletes a much-deserved moment of glory where all of the attention is on them just for a minute.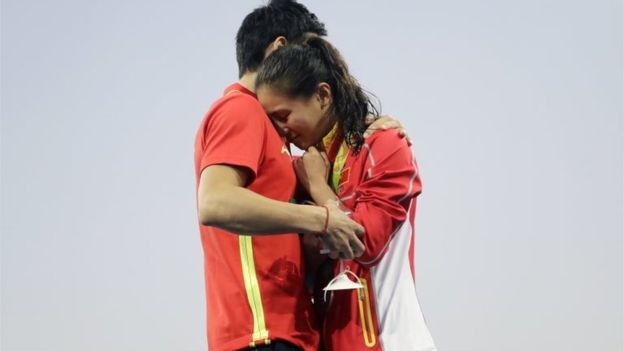 Furthermore, you can't get a more public proposal than in the middle of a stadium being televised all over the world.Public proposals aren't for everyone. It puts the proposee under enormous pressure to accept whether they want to or not. Some of the more nasty arguments even went so far as claiming her boyfriend wanted to take some of the attention for himself, and 'piggyback' on what is sure to be plenty of fame and fortune when the couple get back to their homes in China.
On the other hand, people are praising Qin for his bravery. You have to admit it takes guts to ask that question in private, let alone in front of the entire world at the highest profile event possible! It's also a pretty amazing romantic gesture, making what's sure to be one of the best moments of your loved one's life even better. Qin clearly had the best of intentions and chose a setting that meant a hell of a lot to them both as a couple.
Our view? He Zi and Qin Kai are the only two people in that relationship, so the rest of the world's opinion is pretty much irrelevant as long as they're both happy and not hurting anyone. And by the looks of it, they're delighted. Congratulations guys!