What's better than a diamond engagement ring? A double diamond engagement ring!
There has never been a better time to go engagement ring shopping. Compared to 20 or even 10 years ago, there's a much bigger and better range of designs on offer. From traditional to big and sparkly to ultramodern to totally unique, it's easier than ever to find the engagement ring of your dreams.
We really love seeing so many new engagement ring trends emerge, and now we've discovered one that may just be our top trend of this year. Two stone engagement rings!
Two stone designs open up a world of symmetric and asymmetric designs. Choose big gems of the same size and shape for satisfying symmetry and endless glamour, one big and one little gem for ultramodern beauty, or two different shaped gems for a striking, angular look. The world is your oyster, basically.  
It's not a revolutionary new design, however; two stone rings were very popular back in the late 19th and early 20th century, particularly in France. French jewellers called them 'toi et moi' rings, which means 'you and me'. Some historians claim that the trend was started by none other than Napoleon himself, who gave a ring of this style (two pear shaped gems side by side, one sapphire and one diamond) to his love Josephine in 1776.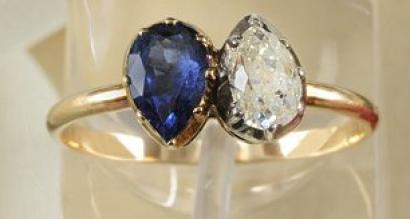 Popular two-stone styles we've seen around the web lately include open rings, where the band is open rather than a complete circle and the two stones finish off each of the open ends. This leaves a little gap at the top of your finger – a great choice for non-traditional brides. Solange Knowles (Beyonce's sister for the unfamiliar) rocks this style with an emerald shaped diamond on one end and a round brilliant diamond on the other.
The aforementioned big and little stone combo is also proving extremely popular; especially with a diamond as the larger stone and a coloured gem as the smaller one. In particular we've seen a lot of two-stone engagement rings with a pear-shaped 'centre' stone and a small round coloured gem at one end. This interesting choice combines three of the year's biggest trends in one; pear shaped stones, coloured gems AND two stone rings all wrapped into one!
As for symmetric two stone designs, they have a clear benefit. Two half-moon diamonds placed side by side creates the appearance of one giant round diamond. The same can be said for any stone shape with flat sides – emerald cut, trillion cut, princess cut… you get the idea; it's a clever way to make a two stone design look like a giant engagement ring any celebrity would envy.
Sold on the two-stone engagement ring idea? Good! Here's some inspiration…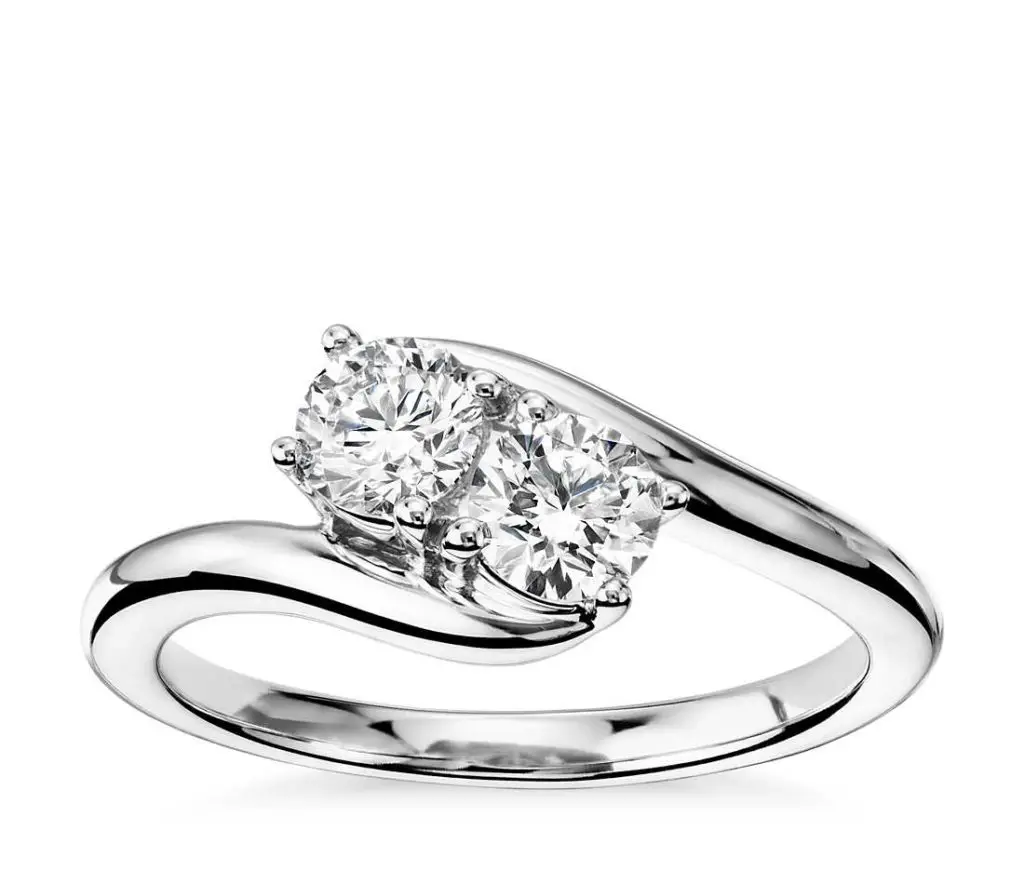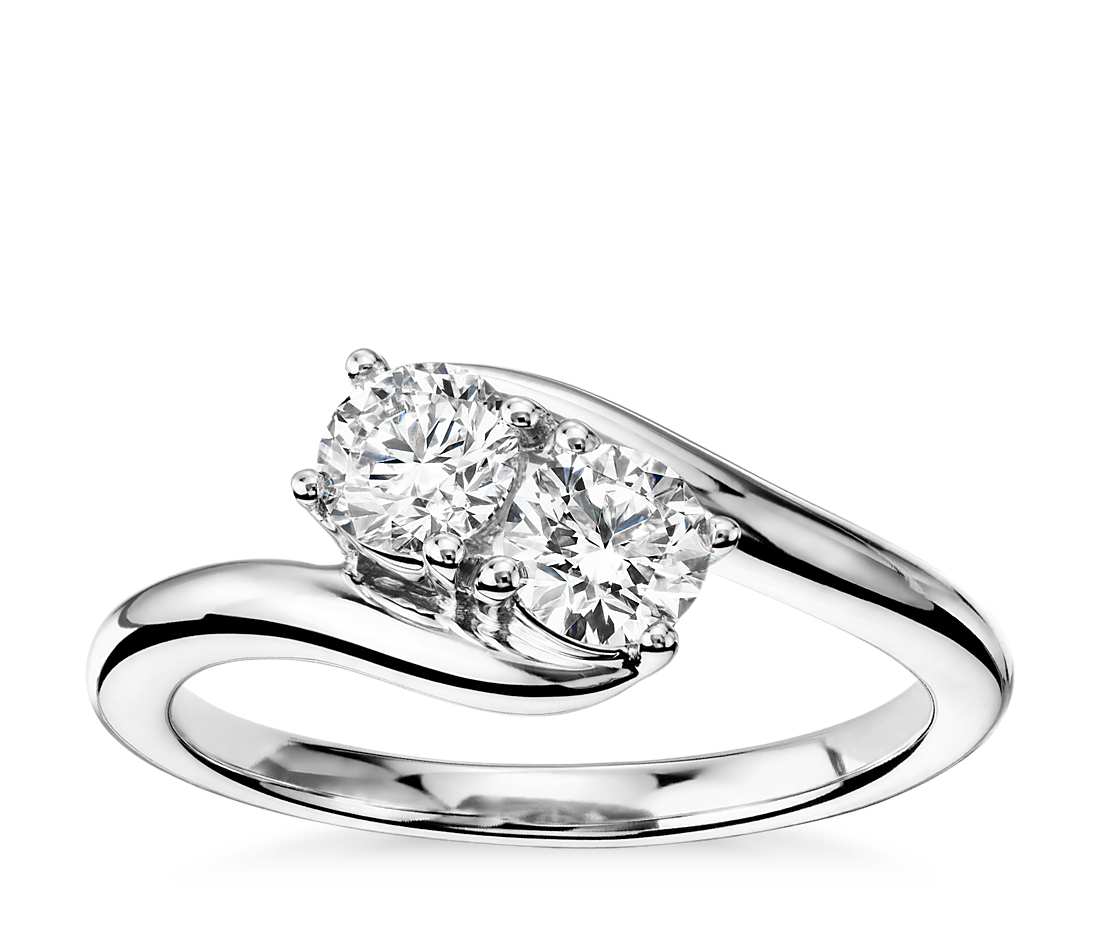 This Blue Nile design gives the classic solitaire engagement ring a two stone twist. The band and setting gives it an intertwined look that offers plenty of 'perfect union' symbolism, and the diamond and white gold combo is of course timeless and elegant.
We love this vintage style ring we spotted on Yates Jewellers website. It features two round diamond side by side in a squared off and heavily detailed setting, with open work embellishment on the shoulders and around the setting.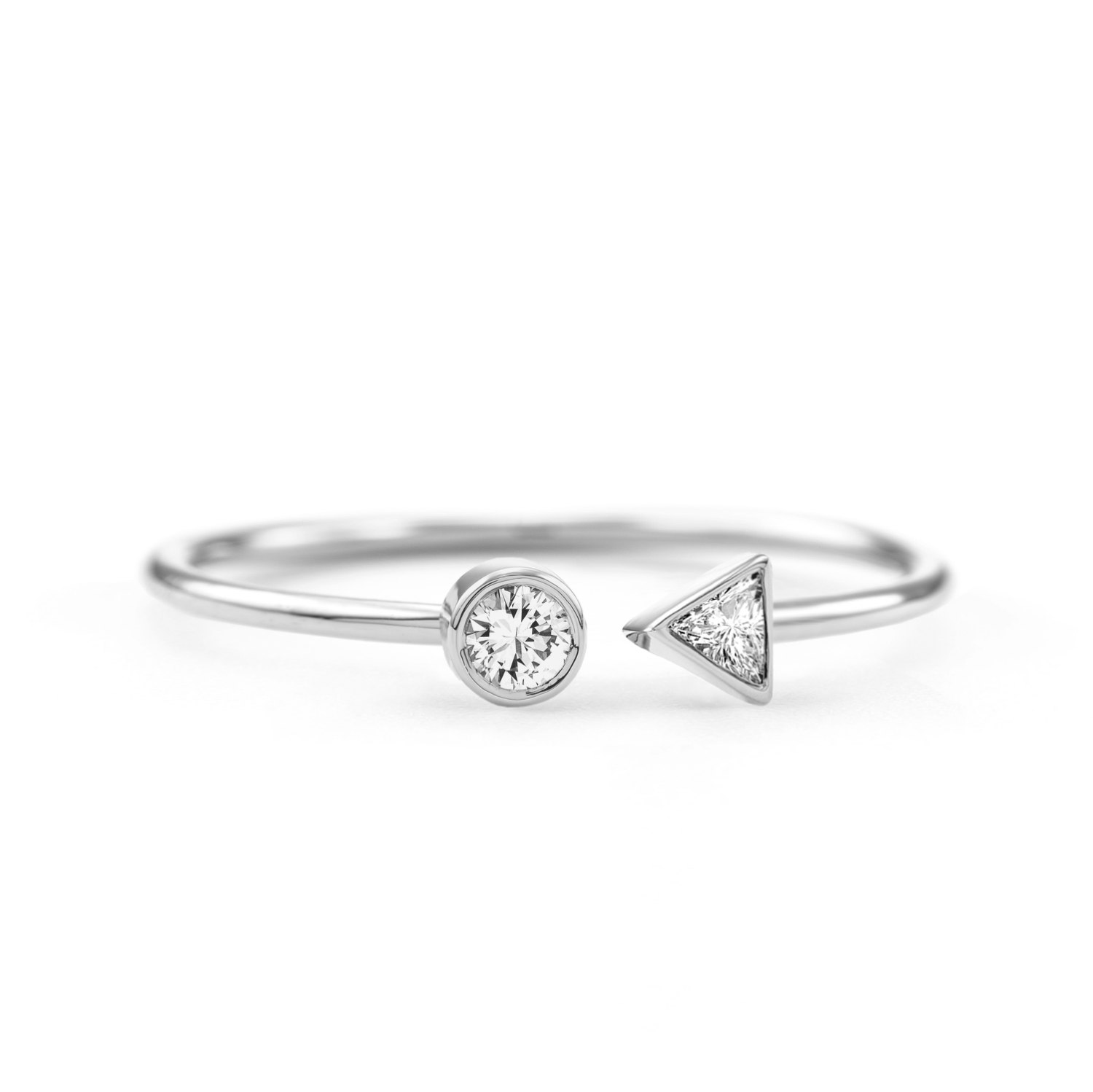 One for brides seeking an ultramodern and delicate engagement ring. This open ended ring has a round diamond and a trillion diamond at each end, and is presented in a 14 karat white gold band. Better yet, the diamonds are completely conflict-free.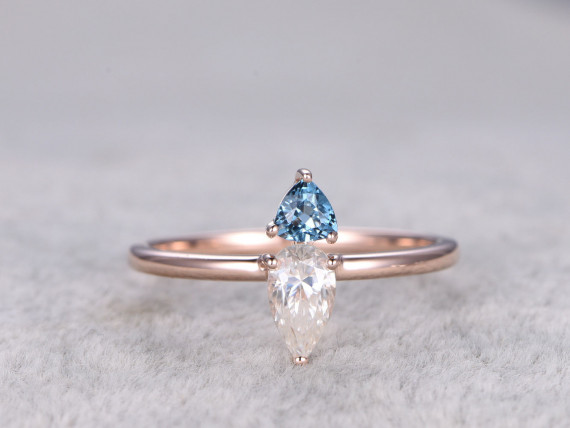 Ultramodern with a touch of colour, this pear and trillion ring works perfectly. The rose gold band adds a further on-trend twist, while the prong setting keeps the look minimalist and simple. The stones on this particular design are moissanite and topaz.