One thing that we really love about engagement rings these days is that there is so much more choice. While different gemstone cuts are nothing new, in the past few years we've seen a sharp increase in brides choosing really creative, unique and forward thinking designs instead of a plain old solitaire ring (not that there's anything wrong with that, either).
So when we saw this latest trend, we got really excited to see where it might go in the near future. Introducing… linked engagement rings!
This new design was dreamt up by Los Angeles jewellery designer Yves Spinelli of Spinelli Kilcollin, when he was creating rings for himself and his wife-to-be, Dwyer. The symbolism of linked rings is pretty obvious; you're connecting your lives, your love, your friendship and your trust for the rest of your existence. But it's a beautiful idea, don't you think?
After creating a pair for him and his wife, Spinelli found he was fielding questions left right and centre about the unique design. The only solution was to make a full wedding and engagement jewellery collection to meet the clearly significant interest! The result is a stunning selection perfect for non-traditional brides who still want a ring full of symbolism.
Linked engagement rings take the increasingly popular stacked rings trend to a whole other level, by linking them with additional small plain metal rings. Spinelli has created three capsule collections; the Core collection, the Stellar collection and Astral collection, but there are endless customisation options too.
The Core collection 'represents the purity and strength of commitment' using plain metal bands in white, yellow and rose gold with single, double or triple ring links. The Stellar collection is composed of linked rings set with pave stones 'which symbolise light and interconnectedness'. And the Astral collection is linked rings with one solitaire stone band in the middle, representative of 'the one'. Mixed metals and styles are available throughout.
If you don't want to commit to a linked design straight away, you can always start off with a single ring from the collection and add more rings to the links later. Or alternatively, rock the stacked trend just like Audrey Hepburn did.
Here are some of our favourite from Spinelli's collection, but we bet it won't be long before other jewellers are following his footsteps.
Atria Gold: It looks like a diamond, but this is actually a solitaire aquamarine on yellow gold, with two linked yellow gold bands either side. You could always swap it out for a diamond, though.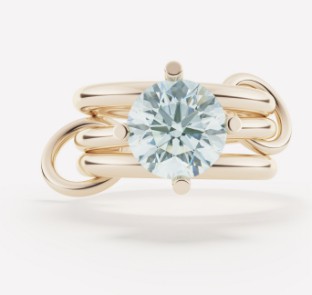 Equinox: four mixed metal rings with micro pave white diamonds and multi-link chain connections. It's definitely not for the traditional brides, but it absolutely makes an impression.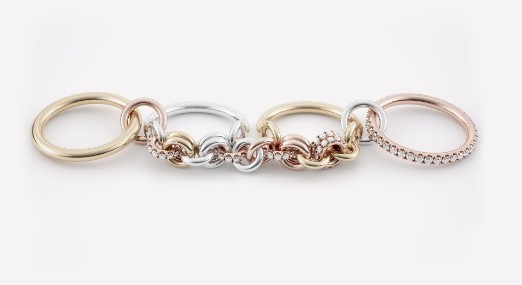 Sirius Blanc: This is contemporary and really interesting new take on the traditional solitaire ring. Three annulets set with micro pave white diamonds sit on a simple yellow gold band.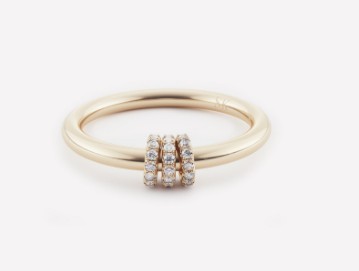 Aries: How about a splash of colour? This vibrant design contains five linked rings set with blue, golden and lilac sapphires, rubies and emeralds. Again, it's not exactly traditional, but so what? It's cool!