Whether they've graced magazine covers in the last couple of months, years or decades, there are certain engagement rings that spark major trends in what brides-to-be all over the world choose to wear on their ring fingers. From Hollywood glamour to vintage chic to modern sophistication, we've rounded up 10 influential celebrity engagement rings from this century and last. Enjoy!
1. Meghan Markle
Since rumours first circulated that Suits actress Meghan Markle had started dating Britain's Prince Harry, her name has rarely been absent from gossip headlines. Whether we want it or not, there is an abundance of information about how the Duchess of Sussex's pregnancy is going, how her beautiful wedding dress was made, and what her relationship with the Prince is like. We usually ignore all that, and focus instead on drooling over the engagement ring Harry gave her back in November 2017.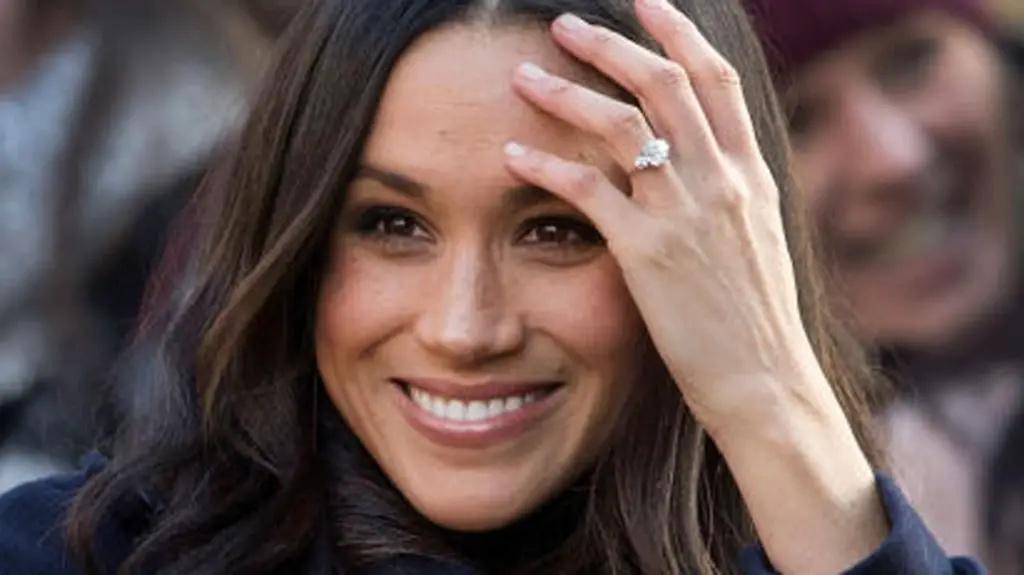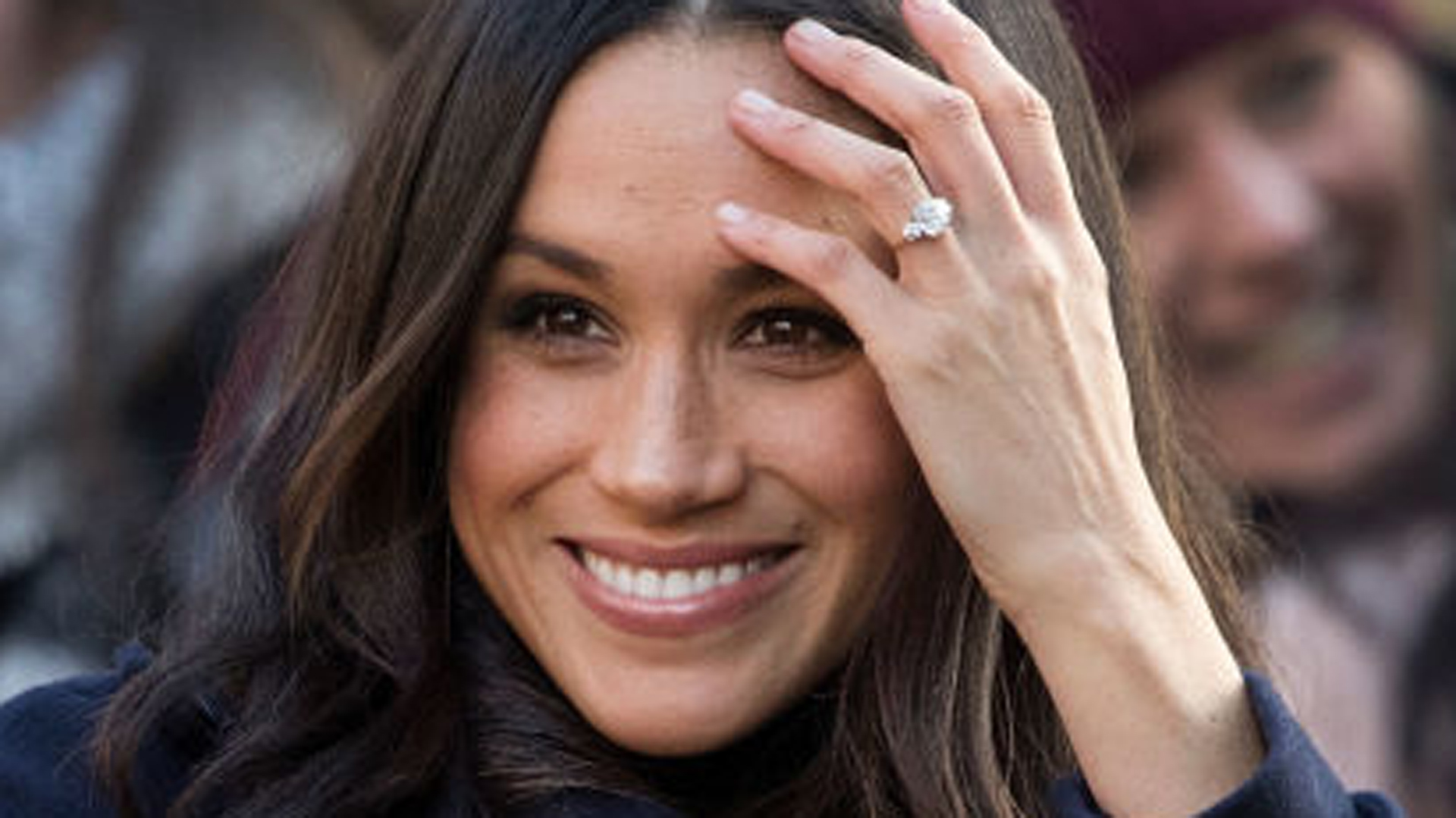 He got down on one knee during a quiet night in at home in London, so we already like his laid-back style. But this ring really is something girls everywhere can only dream of. It's a three-stone design, with the centre diamond a large cushion-cut stone sourced from one of Harry's most beloved places on the planet – Botswana. The two smaller round diamonds on either side belonged to his late mother, Princess Diana, and the band it sits on is Welsh gold donated by none other than his grandmother, the Queen. It's a one of a kind piece that he was fully involved in creating. We love that he made it personal as well as beautiful.
2. Kate Middleton
That other royal that's always in the news is Kate Middleton, aka the Duchess of Cambridge, aka Prince William's wife. William and Kate were college sweethearts, and like Meghan and Harry their relationship has withstood constant media scrutiny and invasions of privacy. To get away from prying eyes, William took Kate on a getaway to Kenya in 2010, carrying the engagement ring in his backpack for three weeks while waiting for the perfect moment and setting to propose.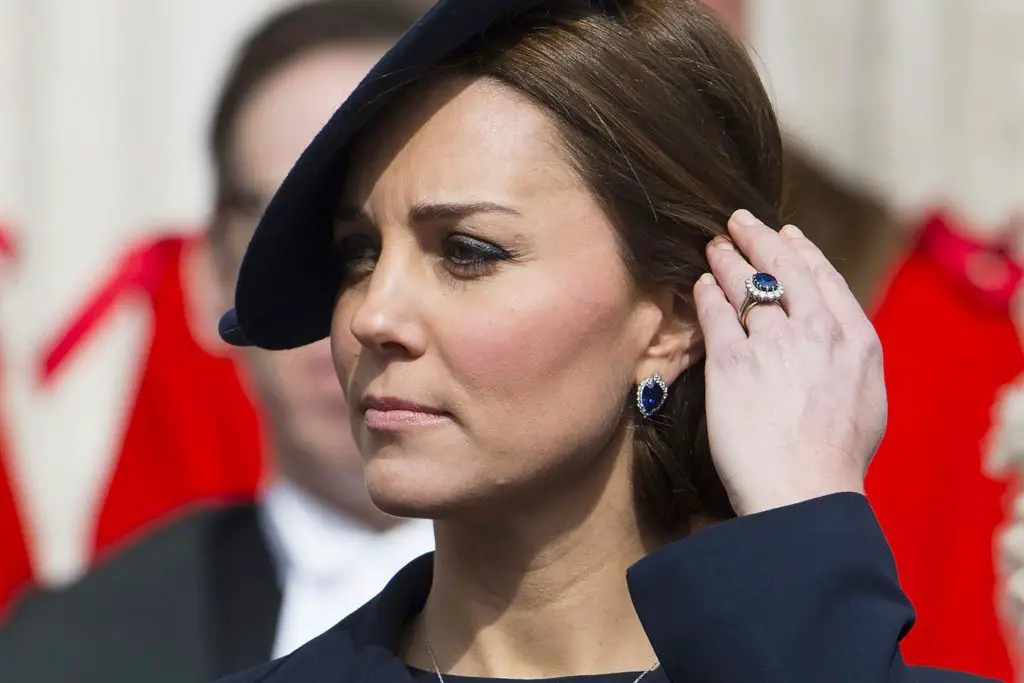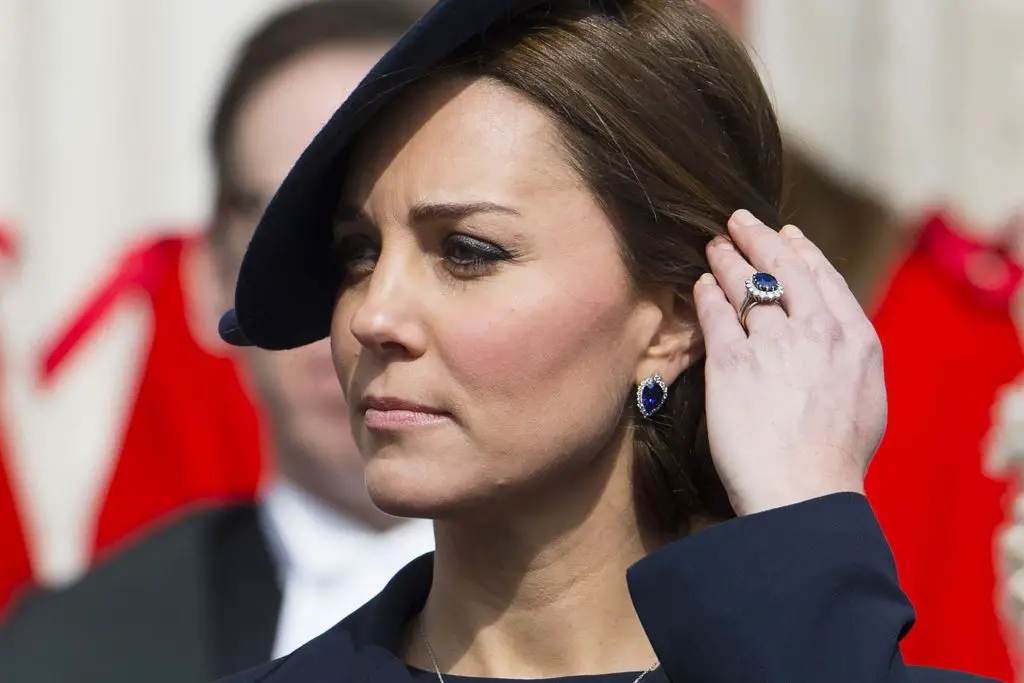 This particular engagement ring has had some time in the spotlight before, however – it belonged to William's mother, Princess Diana, and its story is quite unusual. Rather than having a custom-made engagement ring designed by a world class jeweller as is royal custom, Diana walked into Gerrard's jewellery store in London in 1981 and just picked the ring she liked the most. At the time it was available for anyone with several thousand pounds to spare to buy for themselves, but now it's priceless. It's an oval sapphire surrounded by white diamonds, sitting on a white gold band that Kate had resized to fit. In total it weighs 18 carats. We're delighted to still see its modern-turned-vintage glamour on a regular basis.
3. Katie Holmes
Moving from real royalty to Hollywood royalty, one of the most influential celebrity engagement rings on the other side of the Atlantic belonged to Katie Holmes. Growing up in the 1980s, a young Katie had a crush on the already famous actor Tom Cruise… little did she know that 20 years later, she would be married to him! It was a whirlwind 2000s romance that led to a storybook proposal at the top of the Eiffel Tower after just eight weeks of dating. Unfortunately it didn't have a fairytale ending, but if nothing else, we'll always have Katie's stunning engagement ring to remember fondly.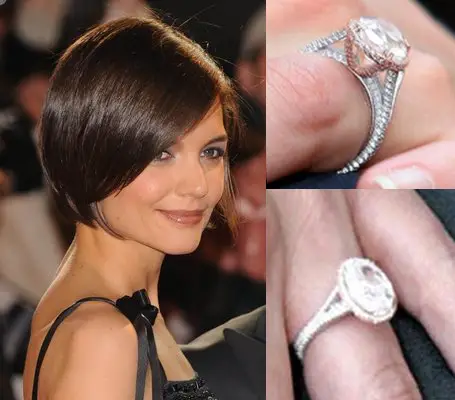 The ring that started the mixed-metal trend that's still going strong today, Katie's engagement ring is a modern take on Edwardian style. The centrepiece is a 5.5 carat oval diamond, with an additional 6 carats worth of tiny diamonds covering the setting and band. It sits on a split shank and features both rose gold and platinum. If this ring was unleashed today, we guarantee it would have 'broken the internet'.
4. Elizabeth Taylor
The most influential style icon – especially where jewellery is concerned – of the past century simply has to be Elizabeth Taylor. The Cleopatra actress amassed a jaw-dropping collection of gems and jewels throughout her lifetime, including one of the most famous diamonds in history – the Taylor-Burton Diamond. She was also married eight times, so no doubt she knew a thing or two about what makes a good engagement ring.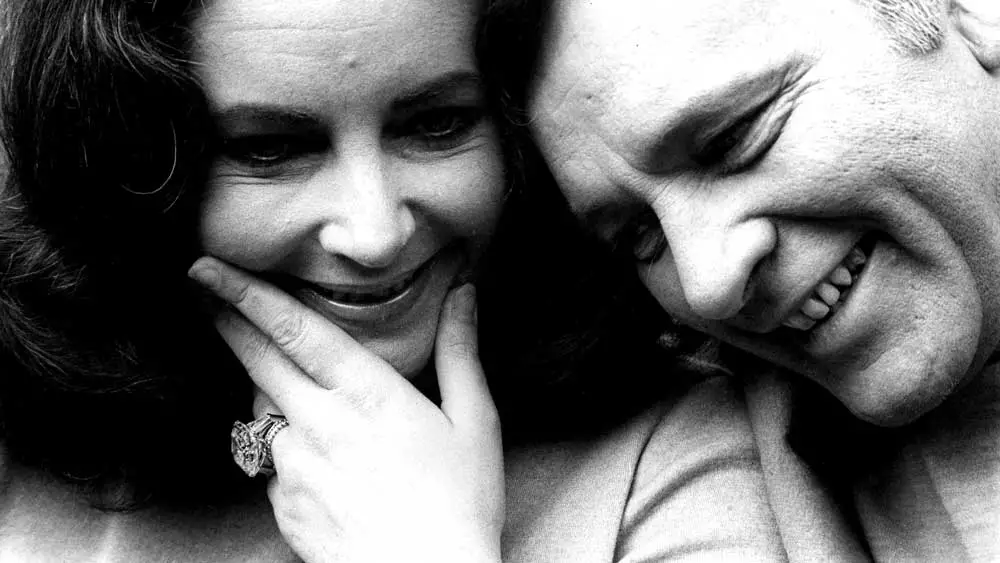 However, the ring we've chosen for this post isn't 'officially' an engagement ring – but it is impressive. Five years into her first marriage to Richard Burton, Elizabeth received the Krupp Diamond, one of the most renowned in the world, from her doting husband. It clocked in at 33.19 carats and had a stunning asscher cut, flanked with two baguette diamonds and set in platinum. Of the many, many pieces of precious jewellery she owned, this ring was reportedly the one that meant the most to her, and she wore it almost daily. So sweet.
5. Kim Kardashian
The original 'influencer', Kim Kardashian is famous for… well, being famous. Her engagement ring is equally as famous as she is, thanks to an armed robbery in Paris that made headlines around the world in 2016. It was given to her by none other than hip hop superstar Kanye West, but in fact this is an 'upgrade' to her original ring – which was already 15 carats in size! Presenting Kim with that ring involved renting a baseball stadium and a brass band, but this second ring is slightly more low key (emphasis on 'slightly'). Kanye had just finalised a multi-million dollar deal with Adidas, so he bought Kim a new ring with 'Adidas' engraved on the inside. We're not even a little bit surprised.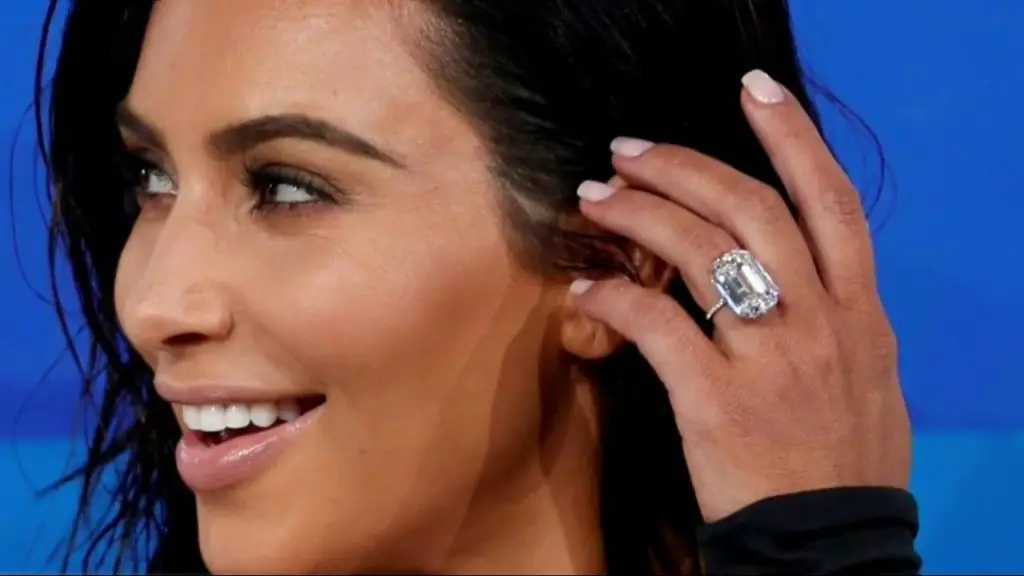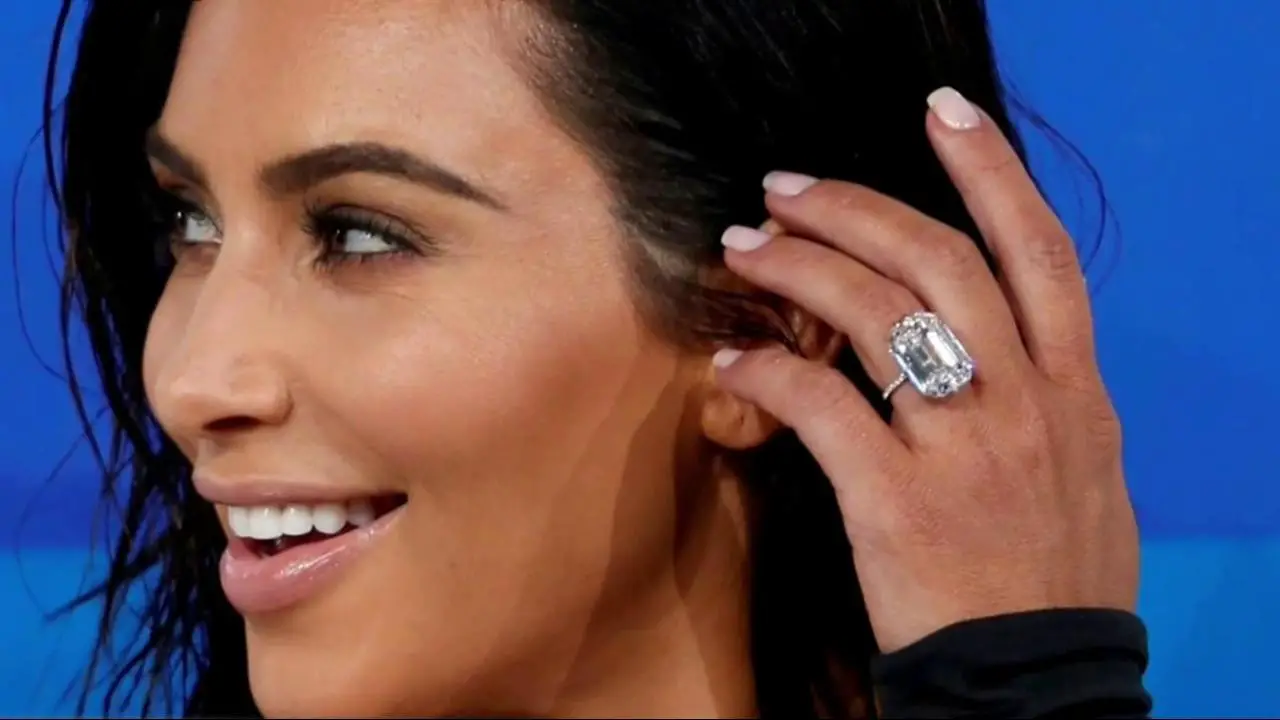 The ring was designed by Lorraine Schwartz and is a whopping 20 carats, which blows Kim's previous 15 carat ring out of the water. The main event is a cushion cut diamond, which sits on a thin and delicate platinum band encrusted with more teeny weeny diamonds. Because it was such a distinctive ring, after the robbery experts have suggested that the metal was probably melted down and the diamond re-cut into smaller stones to destroy any recognisable features. That's got to hurt for poor Kim!  
6. Natalie Portman
She's been a vegan since way before it was mainstream, and she cares deeply about humanitarian and environmental issues too. So when dancer and choreographer Benjamin Millepied decided to propose to his now wife Natalie Portman, he knew her engagement ring must cause no harm to the planet or any of its residents. Not an easy task given the still very real problems of conflict diamonds in the jewellery industry. But Ben came through, proposing in 2010 after the pair met on the set of Natalie's Oscar-winning movie, Black Swan.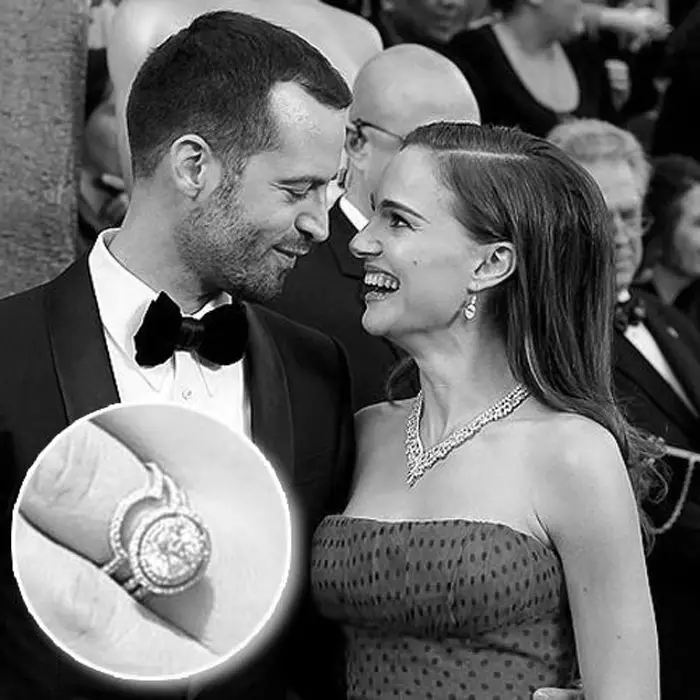 So what is Natalie Portman's engagement ring like? It has an antique old mine-cut round diamond as its centrepiece and is surrounded by a diamond halo, the stones for which are all certified conflict-free. To further boost its environmental credentials, the band and setting are made of recycled platinum. It was created by jeweller Jamie Wolf with Ben staying heavily involved throughout the process. When they married, Jamie also created two curved wedding bands for Natalie to stack with the engagement ring, also with conflict-free pave diamonds and recycled platinum. The effect is, we believe, drop dead gorgeous.
7. Priscilla Presley
One of the biggest cultural game changers of the 20th century, there was a time when Elvis Presley was the most famous person on the planet. So naturally, any partner he chose to spend his life with was world famous by default. The partner he chose was Priscilla Beaulieu, who was just 14 years old when they first met as friends and just 21 years old when Elvis proposed. Despite the hectic and glamorous lifestyle this power couple led, Elvis actually proposed in their bedroom in Graceland without any fan-fare whatsoever.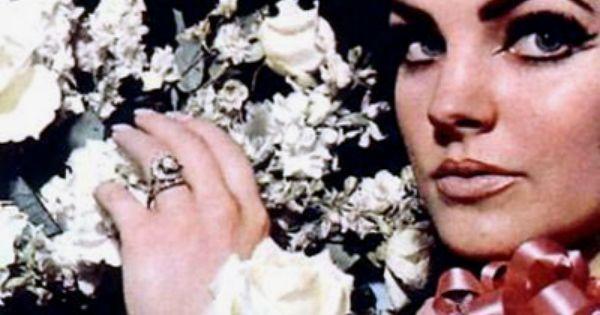 For an engagement ring fit for the one of the most famous women in the world, Elvis turned to Memphis jeweller Harry Levitch. He selected a 3.5 carat diamond for Priscilla, surrounded by a detachable halo of 20 more diamonds. That's right – Priscilla was the one who started the hugely popular halo trend… or at least popularised it. Two days before their wedding, Levitch flew to Las Vegas with a suitcase full of all kinds of gemstones and jewellery pieces for Elvis and Priscilla to choose from – they may have even worn some of them as part of their wedding outfits.
8. Grace Kelly
The third and final member of royalty in this list, but definitely the most iconic, is Princess Grace of Monaco. As the movie star of the moment in 1955, she appeared at the Cannes film festival as a guest of honour. Little did she know her life would change completely when she met another guest; Prince Rainier III of Monaco, who was reportedly searching for an American wife. Whether strategically planned or not, a whirlwind romance ensued and the couple were engaged the next year. It meant Grace giving up her stellar acting career and taking up the role of dignified princess instead. Sound familiar?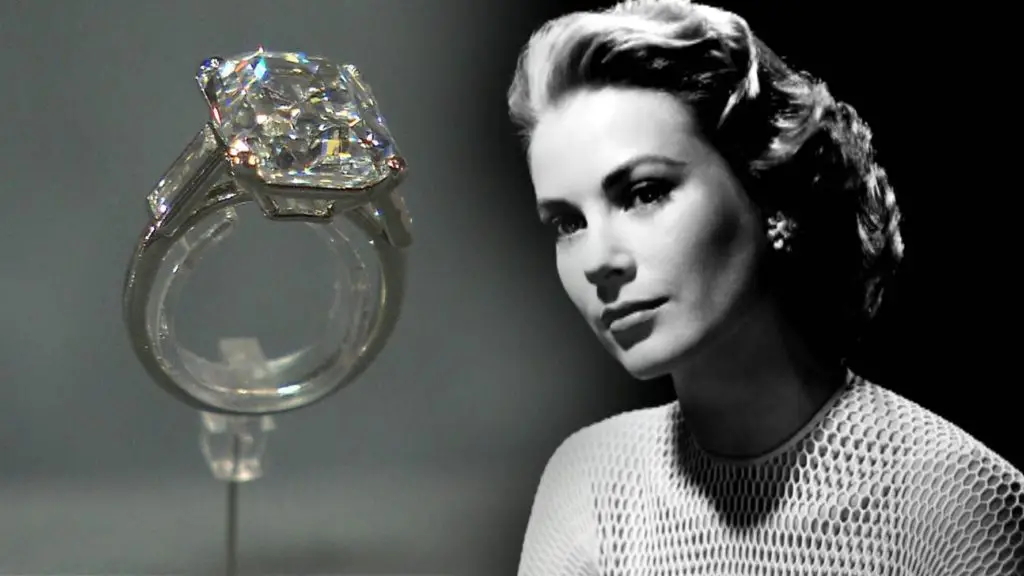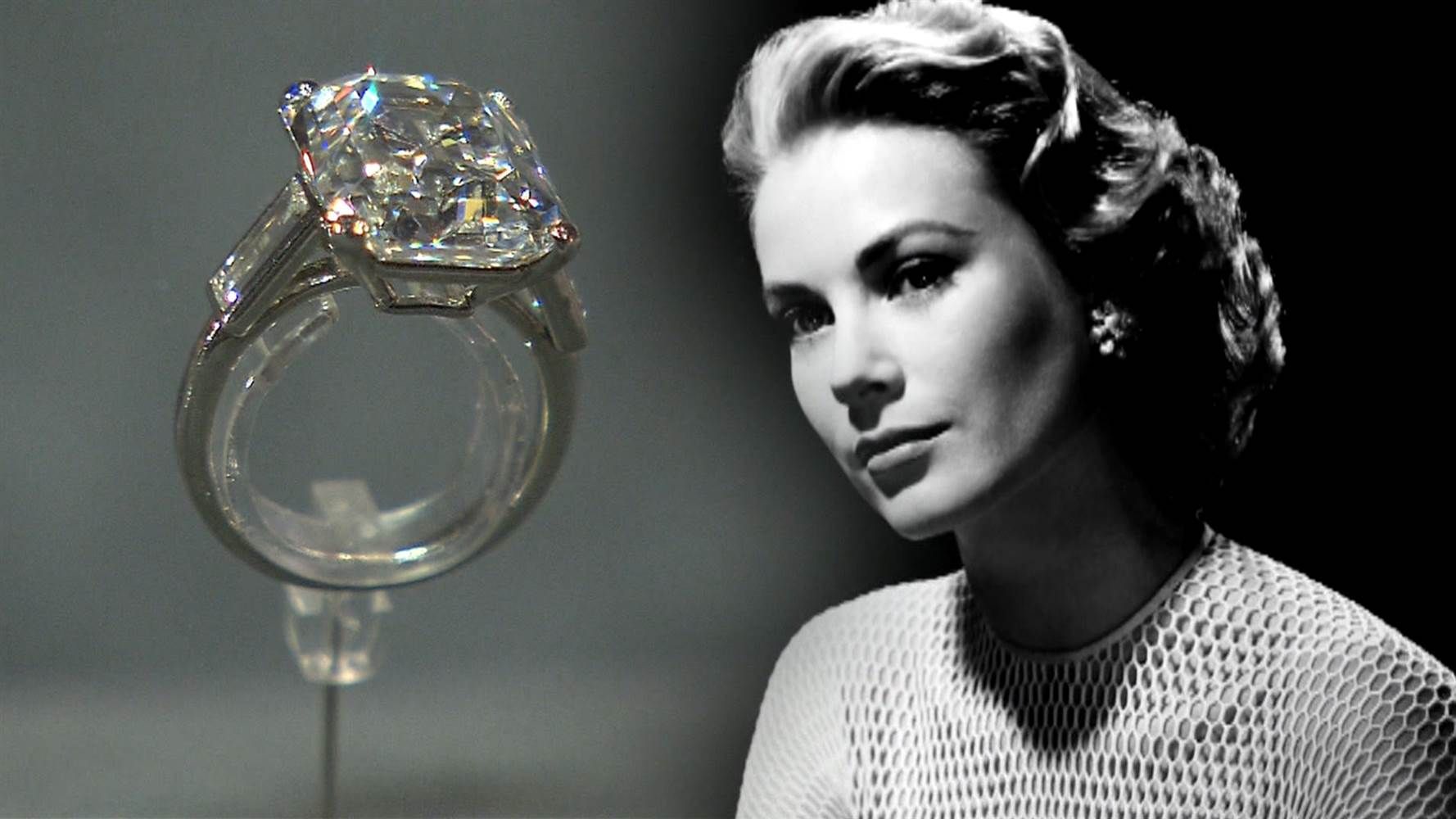 Life in Monaco is a very luxurious affair, so Grace's engagement ring wasn't just fit for a princess – it was fit for a Monaco princess. It's a flawless emerald cut diamond weighing 10.47 carats, set high above the platinum band to catch all the light and all the attention. Flanking it on either side are tapered baguette diamonds, just for an extra shot of glitz and glam. Grace was so taken with it that she insisted on wearing it on camera while filming High Society – her last ever acting role before she married.
9. Amal Clooney
Amal Clooney has achieved a hell of a lot in her lifetime so far. As a high profile human rights lawyer she has made a valuable difference to potentially thousands of lives all over the world. And she also married George Clooney, a man many thought would never ever be 'tamed'. After six months of jet set dating, the eternal bachelor decided to pop the question to Amal over a romantic home cooked meal. He had hidden her ring in a matchbox, and when he asked her to light a candle she picked up the matches, saw the ring, and was so surprised/shocked/bewildered she left poor George on one knee for 25 minutes before she could give an answer!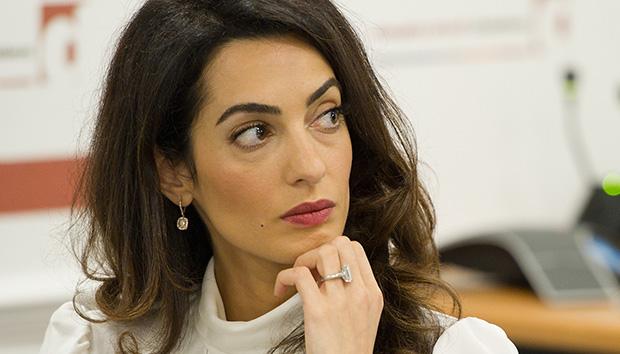 Possibly inspired by Princess Grace, Amal's engagement ring consists of an 8 carat emerald cut centre diamond, again flanked by two tapered baguettes and set in platinum. This timeless style has quite clearly endured through the generations and that's not set to change any time soon. There is one downside, though – after the engagement was announced Amal received so much media attention (including while trying to work) that she had to stop wearing the ring in public.
Jennifer Aniston
We've always been bemused by the scrutiny Jennifer Aniston's love life has come under. When she was married to Brad Pitt, all anyone talked about was when they would have kids. When she got engaged to actor Justin Theroux in 2012, gossip columns were full of headlines stating that she had finally found the love of her life. Justin popped the question on his birthday that year, calling Jen's 'yes' an 'extraordinary gift'. Sadly it wasn't to be and they announced their split last year, and now the tabloids have returned to their old ways. Sigh.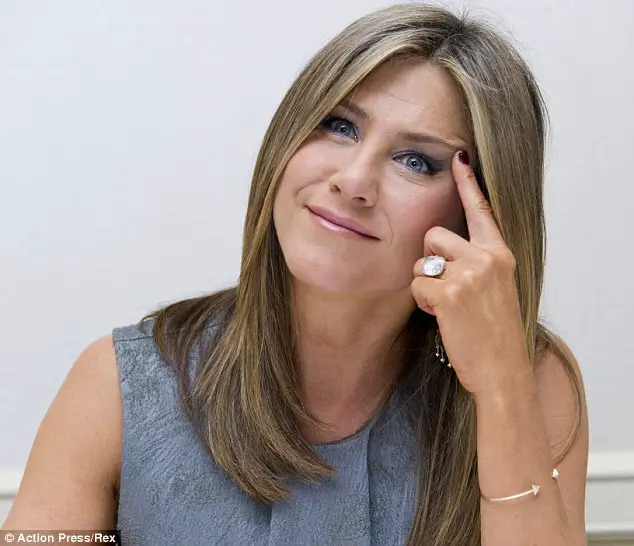 Still, we'll always have Jennifer's stunning engagement ring from Justin to look back on. Just like her 'Rachel' haircut during the early days of Friends, Jen set a whole new trend when she debuted her new bling. It featured a massive 8 carat rose cut diamond, a centuries old diamond cut that looks beautifully vintage and thanks to the proliferation of more modern cuts nowadays, looks totally unique too. It has a domed top with facets all over and a flat bottom, and Jen's diamond is prong set in yellow gold for even more class. Since its first appearance we've seen more and of them cropping up, proving that Jen can still set trends without even trying.