Every week we pick the best and worst engagement rings to emerge from the land of the rich and famous. You may not immediately know the two brides-to-be this week, but you've probably heard of their husbands…
Engagements happen on a daily basis in showbusiness. Naturally, every bride – whether famous or not – thinks that their own engagement ring is the most beautiful in the world. The rest of us, however, may or may not feel the same. We scour the web every week for the latest celebrity engagement news, and choose what WE feel are the best and worst. It's all done in the spirit of fun, we mean no harm – and of course we wish the best to all of the happy couples! Here are our picks for this week.
The Best: Meredith Salenger
Meredith Salenger is a pretty cool lady. She's been acting since she was a teenager, and has appeared in Disney productions as well as hit TV shows including Buffy the Vampire Slayer and Dawson's Creek. Oh, and she has a psychology degree from Harvard and a couple of certificates in family law too. No big deal.
Meredith's new husband to be is Patton Oswalt, comedian, writer, and actor. You'll have seen him in King of Queens, 22 Jump Street, and The Secret Life of Walter Mitty, among many others. More recently however he's become known for his heart-wrenching personal story; his wife of 10 years, writer Michelle McNamara, died suddenly and unexpectedly in her sleep last year. Patton has won praise for speaking openly and honestly about his grief and his struggle to put his life back together after her tragic death.
Now Patton has taken what could well be the hardest step of all; finding love again. He and Meredith have been dating since earlier this year, and last month they decided to make things official with an engagement ring! Patton said 'I put the ring on a marzipan Slave I replica and said "will you be my Padawan of Love?" She maced me but said yes later'. Those are Star Wars references, for any non-nerds.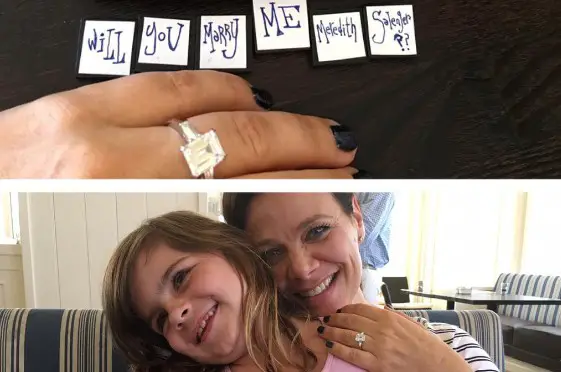 So let's take a look at the bling. Patton chose a stunning and pretty large emerald cut diamond, flanked with two small baguette diamonds either side and set in platinum (we're guessing) or possibly white gold. It's a serious engagement ring, that's for sure.
Our Verdict: Our hearts can't help but melt at this unconventional but beautiful love story. And while we admit this ring is a little too large for our simple tastes, it's definitely deserving of such a strong woman and such a strong man. Big congratulations, Patton and Meredith!
The Worst: Kate Goodland
Another cute love story to make headlines in the past few weeks is that of Kate Goodland and her new fiance, English Premier League soccer star Harry Kane. Unlike some footballer's wives, Kate keeps a low-key profile and doesn't show much interest in being a 'celebrity' (which we can't help but admire, to be honest). She's also super proud of her man, with her social media feeds full of pictures and supportive posts about him.
Harry Kane currently plays for Tottenham Hotspurs, one of the main teams in the English Premier League. He's arguably their star player, scoring the most goals in the entire league for the past two seasons. He has also captained the national English team in two games so far, in a 2018 World Cup qualifier match against Scotland and against France in a friendly game. There are rumours that he could take on the captain role full time sooner rather than later.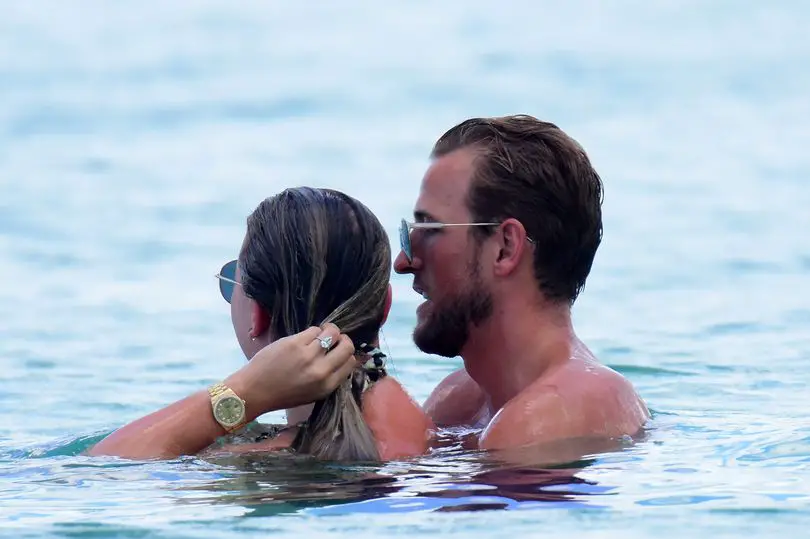 Kate and Harry are school sweethearts, and Kate and has been there since the very beginning of Harry's career, cheering from the sidelines as he rose up the ranks. They had their first child, baby girl Ivy, in January this year and also have two dogs; Brady and WIlson (named after NFL players Tom Brady and Russell Wilson).
During a brief break between football seasons, the family jetted off to the Bahamas for some sun soakage. While there Harry made it even more special by getting down on one knee on the beach! Kate was spotted with some serious bling on her finger for the remainder of the holiday – specifically, a giant pear-shaped white diamond solitaire on what we assume is a platinum band.
Our Verdict: Kate definitely deserves a big, beautiful ring like this one – she is going to be a footballer's wife, after all. And while we're sure she loves it and plenty of other people do too, it's not for us. We're just not a big fan of the pear shape – sorry!