Getting that 'yes' is the least of your worries… the most important thing is to get the engagement ring right! We're joking, of course, but picking out a ring that suits her style and lives up to her dreams is one of those building blocks for a perfect proposal. If you're a little clueless when it comes to women's fashion (don't worry, plenty of men – and women! – are), here are some tips on how to hit the mark…
Stay on 'Style Alert'!
The best way to get a sense of her personal style is to pay more attention to what she wears! If she's a jeans and t-shirt kind of dresser, she'll probably want a low-key, low-fuss engagement ring. If she wears designer labels or likes to follow fashion trends, something with a little more glamour and sparkle is probably what she wants. There are exceptions, obviously, but her day-to-day wardrobe is always a good jumping-off point.
Check the metal
This is very important, and often overlooked. Most women have a couple of jewellery pieces that they wear on a regular basis. Take a closer look at these – are they yellow gold, white gold, rose gold, silver? Since she'll be wearing her engagement ring every day along with these pieces, it's better if the metals match. If they can't match exactly (we wouldn't recommend buying a sterling silver engagement ring just because her favourite earrings are silver!), they should match in tone.

Traditional or contemporary? Engagement rings typically run on a spectrum from traditional to contemporary, with diamond solitaires at the traditional end and ultra-modern, non-traditional designs at the contemporary end. Unless you've only known your fiancee for a few hours (in which case we question your decision to get married!), you'll have a pretty good idea of where her style sits on this spectrum. Stick to your guns here – don't choose something from the opposite end of the spectrum because you think she'll like the surprise, for example. Trust us, this has happened.
To bling, or not to bling?
After traditional vs. contemporary, this is the next biggest divisive style choice with engagement rings. When we say 'bling', we mean pave diamonds, halo settings, or anything else that gives an engagement ring some added, well, bling! Most women either find it irresistible or repulsive. However, halo settings can make a small diamond appear bigger, and pave diamonds can add sparkle to an otherwise lacklustre diamond. If she's on the fence about the bling question, keep this in mind.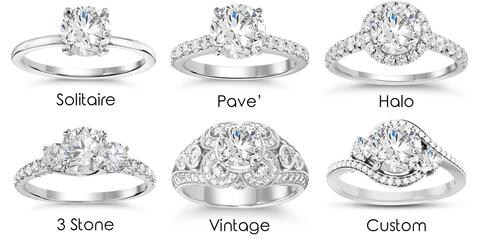 If in doubt… phone a friend
Still at a complete loss? It may be time to enlist a friend's help. She's bound to have a close friend or family member who will be able to guide you in the right style direction. The problem is choosing the right person, and ensuring they can keep the secret. If this is the route you want to go down, then read our post on how to get a friend's help with engagement ring shopping.
Finally, remember at the end of the day, the ring is really not as important as your commitment. Rings can be replaced!