The cube-shaped, velvet black ring box has been used for decades. But let's face it; it may be a classic, but it's pretty bulky if you're trying to hide it in your pocket for a surprise proposal. We say it's time to shake things up a bit. Here are 7 alternatives to the little black box that we think you'll both love.
Ring Stash
So you're wearing clothes that don't easily hide a bulky ring box when you propose. But you don't want to just slip the ring 'naked' into your pocket, because what if it slips out? Ring Stash have created the perfect solution – this slimline box that's discreet in your pocket, but still protects that valuable bling. It stores the ring flat and when you open it, the ring pops up thanks to a clever rotating mechanism and stands proudly aloft, waiting for that 'yes'. A solid investment, if you ask us.
https://www.ringstash.com/about/
The Mrs Box
If you want to give your ring box an aesthetic edge, The Mrs Box is the place to go. Offering custom-dyed velvet ring boxes in 34 shades spanning the full rainbow, this is heaven for brides (or grooms) who love the little details. If you've picked out an engagement ring with a coloured gemstone, you can find a box to match it perfectly here. Likewise if she has a favourite colour or if you're going with a colour theme for the proposal (i.e. red for Valentine's Day, green for St. Patrick's Day, etc.)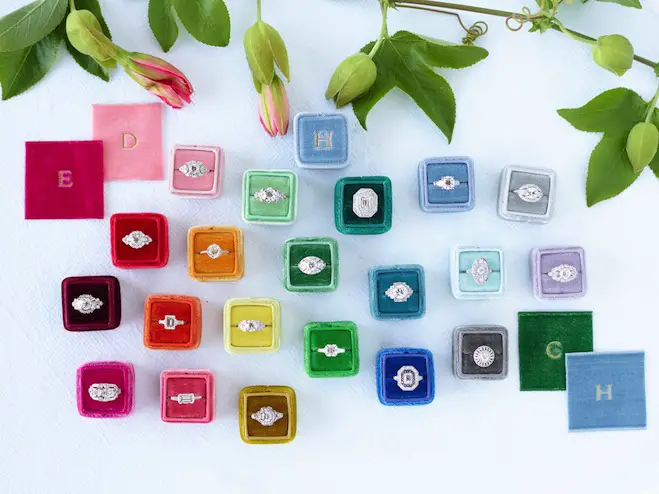 Parker Square
Parker Square's slim ring box takes Ring Stash's innovative idea, then adds a little extra. Again, the ring is stored flat in a box that can be stashed in the skinniest of jeans, and lifts the ring up to a standing position when opened. But this little accessory also comes with a tiny lightbulb at the top to make sure the ring shines bright and the diamond dazzles. Propose at night, safe in the knowledge that she'll still be wowed by that gorgeous ring!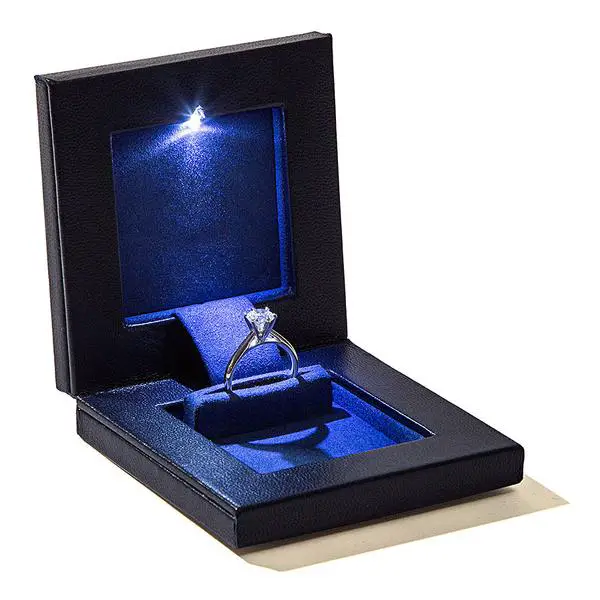 Box Sock
Want to be extra, extra, EXTRA sure that your engagement ring is both safe and hidden? Box Sock could be the way to go. Their socks are designed with a foolproof hidden pocket to stash the ring in, complete with a teeny tiny ring box to ensure it stays protected (and you stay comfortable – who wants a diamond digging into their ankle?). Oh, and they come in a variety of funky patterns too. The only downside is you'll need to wear full length, non-skinny trousers or jeans. But that's easily done, right?
Woodsbury
Another top choice in the slim ring box category, we love Woodsbury's ring boxes for their expert craftmanship and unique shapes. Based in Sydney, each box is made from Australian hardwood and coated with burnishing oil and beeswax, with three core principles in mind; function, nature and minimalist. One of the two founders, Matt Sherwen, created the very first Woodsbury box and used it to propose to his wife in 2015. We love it when a good love story spreads around the world!
https://www.woodsbury.com/pages/engagement-ring-box
Rokshok
If you're a selfie addict who loves capturing every moment on your phone, the Rokshok ring box/phone case is definitely for you. Although it looks like a slightly more bulky phone cover, this handy design actually incorporates a stash to hide the engagement ring pre-proposal. When the time comes, open it from the back, the ring pops up, and it's even perfectly positioned to be in the shot as you capture your girlfriend's reaction. It may not be for everyone, but we still think it's a pretty cool idea.
Don't forget to allow for extra time in your proposal timeline if you buy one of these – it may take a week or two to arrive on your doorstep. Furthermore, make sure it doesn't fall into the hands of your soon-to-be fiancee when it does arrive! Get it delivered to a different address if possible, or make sure you check the mail before she does.
After that, all that's left to do is put the ring in the box and ask the proposal! Read our tips for finding out what kind of proposal she wants here.