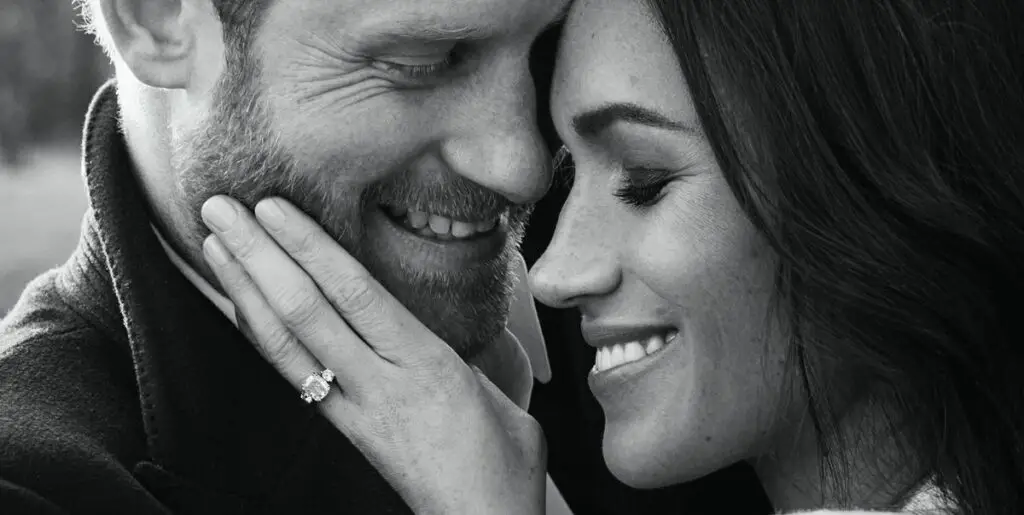 I don't know about you, but we are still firmly under Meghan Markle's spell. Whether you first fell in love with her as Rachel on Suits or the fascination began, en masse, with her foray into the ranks of British royalty one thing is for certain: nothing has been more widely searched, ogled, or admired than Meghan Markle's engagement ring. 
And we're totally here for it.
We've got  everything you need to know about Meghan Markle's engagement ring, as well as her wedding band, eternity ring, and any alterations or additions that were made since the original debut. Read on for all the royal ring tea.
Meghan Markle's Original Engagement Ring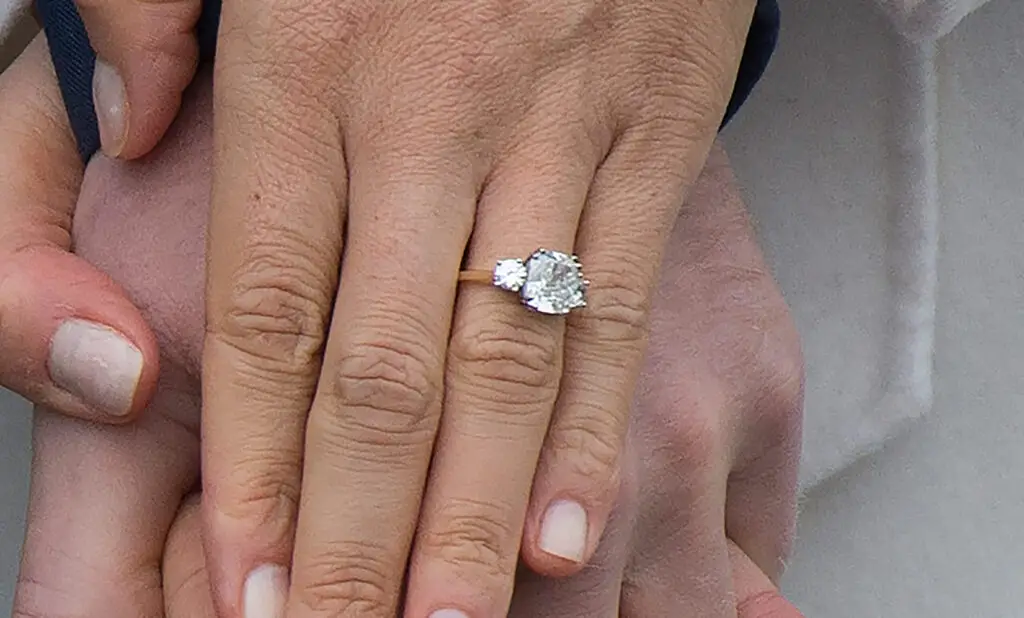 Meghan Markle and Prince Harry announced their engagement on November 27th 2017, just over a year after confirming their relationship. The love-birds posed hand-in-hand for photos in Kensington Palace, where we got a first glimpse at her three-stone stunner.
Harry designed the engagement ring himself, which features a three-carat cushion cut center diamond from Botswana. While Princess Diana's engagement ring became off the market when Prince William proposed to Kate Middleton, Harry followed in his older brother's sentimental footsteps by choosing jewels that once belonged to his late mother. 
The center stone is surrounded by two round diamonds from her personal jewelry collection. The design is set on a gold band, Meghan's favorite, made by royal jeweler Cleave and Company. 
While color and clarity of the diamond influence the price and value, it's almost certain that Harry would pick a stone that is close to flawless. If that is the case, the center diamond could cost about $155,000. As for the side diamonds, these would have an intrinsic value of about $5,000 each, but are most likely worth significantly more because they belonged to Princess Diana. Anything belonging to the 'People's Princess' is almost priceless.
The Redesigned Engagement Ring
Shortly after Harry and Meghan's pregnancy announcement, it became evident that the Duchess of Sussex wasn't wearing her engagement ring. 
While many speculated this was due to Meghan's pregnancy-induced fluctuations in ring size, it was later revealed that the ring had undergone a significant alteration. 
Harry had enlisted celebrity jeweler Lorraine Schwartz to resize and reset the ring so that the original simple band was replaced with a thin, yellow gold band set with micro-pavè diamonds. 
Meghan's Wedding Ring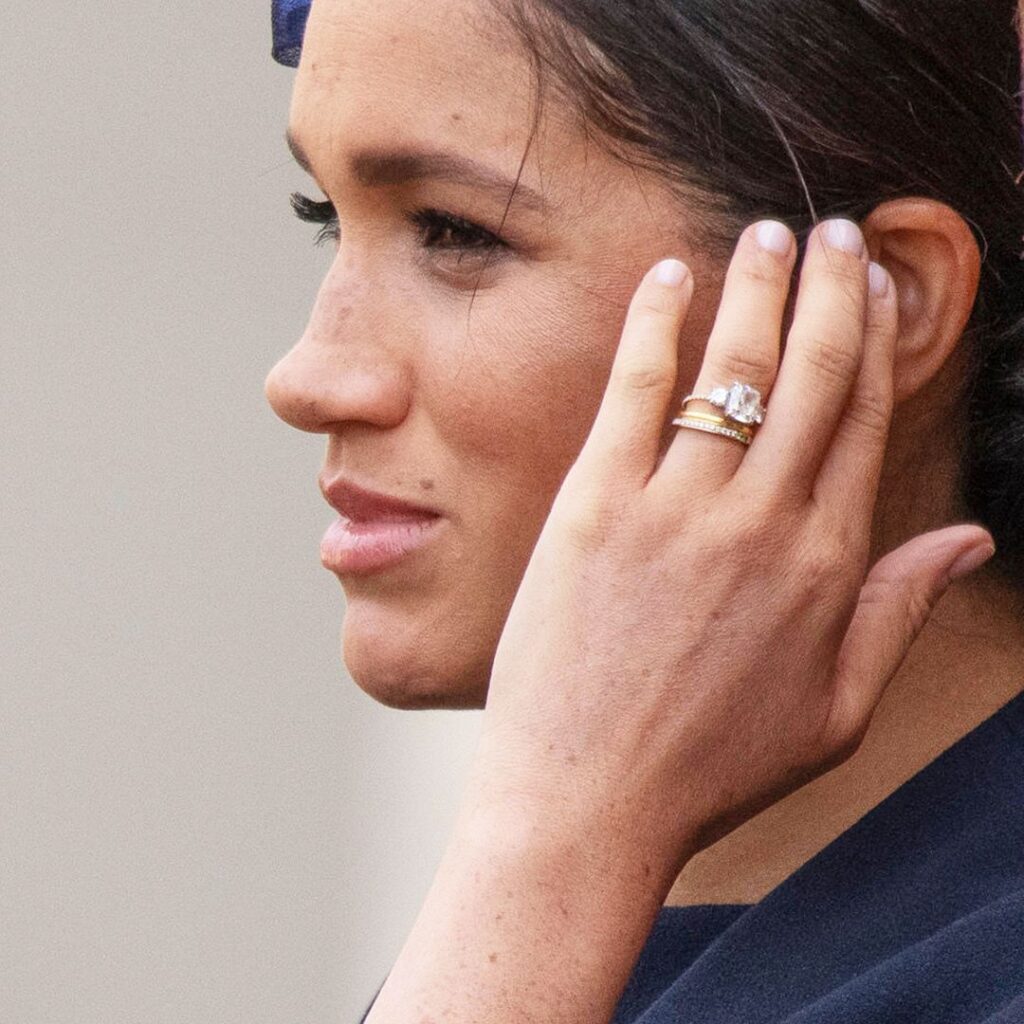 Meghan Markle and Prince Harry tied the knot on May 19th 2018 at St. George's Chapel at Windsor Castle. The fairytale nuptials took place before our very eyes (via TV screen, of course) and no moment was more widely anticipated than the wedding ring exchange where the newly-minted Duchess of Sussex was presented with a yellow gold band by  Cleave and Company.
This ring was a gift from the queen herself and carried on the century-old royal tradition of being crafted from Welsh gold. Welsh gold is currently the rarest type of gold and, not surprisingly, the most expensive.
Meghan's Eternity Band
The 2019 Trooping the Color Parade also made headlines for the public debut of another piece of jewelry adorning the duchess's ring finger. 
This time, a sparkly eternity ring joined the newly-altered engagement ring and original wedding band to form the holy trinity of ring stacks. The conflict-free diamond infinity band was also designed by Lorraine Schwartz, a favorite of Meghan's, and appears to feature a channel setting with gold trim flanking each side of the ring. The ring signifies their young family of three and is inlaid with each of their birthstones — peridot, emerald, and sapphire —- on the underside.
Talk about a holy trinity of diamonds. Which is your favorite?