Halloween is fast approaching, then it's Thanksgiving and Christmas, then before you know it, 2018 is over. So we figured now is as good a time as ever to begin reflecting on this year's biggest engagement rings. When we looked back on the rings that caused the biggest sensations this year, it became clear that one ring ruled them all…
We officially crown the coloured gemstone in a flowered design 'the' engagement ring of 2018.
We're talking about the engagement ring seen on the hand of Lady Gaga, Princess Eugenie, the Duchess of Cambridge (aka Kate Middleton), Eva Longoria, Penelope Cruz, Miranda Kerr, and a host of other vintage-loving brides everywhere. Whether you love it or hate it, the style was everywhere this year. It nails two major engagement ring trends; coloured gemstones and vintage-inspired styles, so we're not surprised it's been so popular.
Here's a look at our favourite coloured/floral engagement rings.
Lady Gaga
The newest member of the floral engagement ring club, Lady Gaga's engagement to celebrity agent Christian Carino has long been rumoured, but was finally confirmed earlier this month when she referred to her 'fiance Christian' in an acceptance speech. And that means that the huge bling Gaga was spotted wearing several times over the past few months is, in fact, her engagement ring. The centre stone is oval-shaped, pink in colour, and estimated to weigh between six and seven carats. We don't know if it's a pink sapphire or a pink diamond, but either way, it could make the ring worth up to $1 million. The centre stone is surrounded by 12 round white diamonds and it all sits on top of a silver-toned (we assume platinum) band.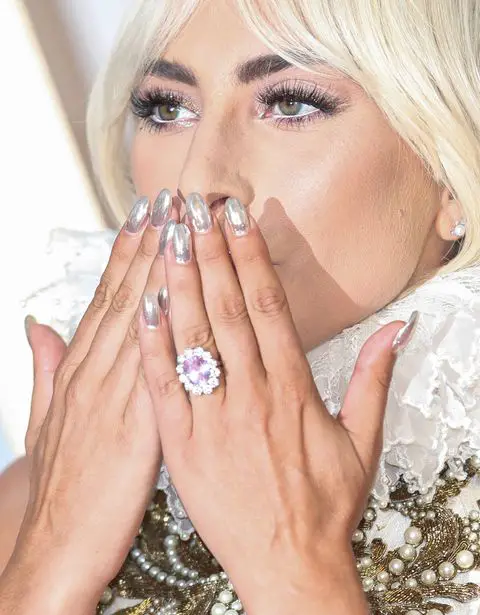 Princess Eugenie
Her romantic wedding in Windsor Castle earlier this month may not have made quite as many headlines as her cousin Prince Harry's back in May, but Princess Eugenie's engagement ring is way better than Meghan Markle's if you ask us. Her fiance Jack Brooksbank gave her a gorgeous padparadscha sapphire surrounded by white diamonds, on a classy yellow gold band. It's definitely befitting of a princess, and it pays a beautiful homage to the engagement ring of her mother, Sarah Ferguson, who wore a similar ruby ring. Padparadscha sapphires are extremely rare and their pink hue is unrivalled in beauty. Word has it this ring may even be worth almost twice as much as Meghan's.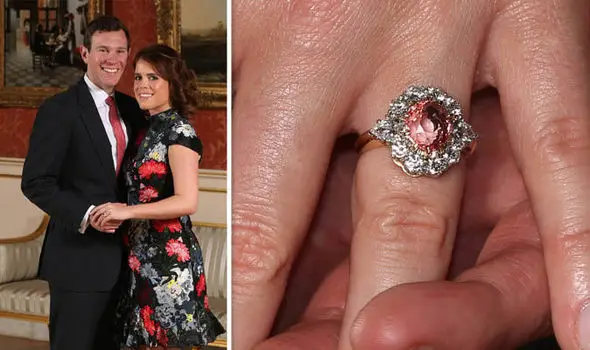 The Duchess of Cambridge
Kate Middleton's engagement ring once belonged to the late Princess Diana, who picked it out from a jewellery store in London in 1981. 37 years later, the ring is as current now as it was then, with Kate sparking a huge trend for sapphire jewellery when her engagement to Prince William was announced in 2010. It's a deep blue oval-shaped sapphire surrounded by round white diamonds, on a band of white gold. This ring is an anomaly within the royal family, because free-spirited Diana picked it from a jeweller's display case instead of having it specially made. At the time, anyone with several thousand pounds to spare could have walked in to the same jeweller's store and picked out the same one.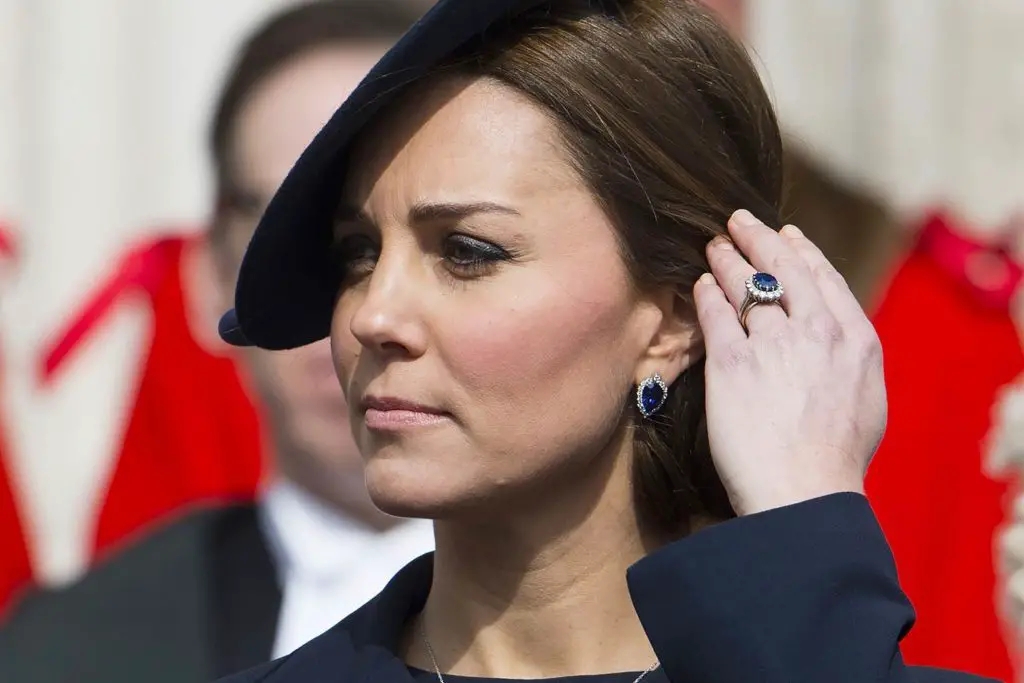 Penelope Cruz
One of our favourite holiday romances is that of Penelope Cruz and her husband Javier Bardem. They first met on set in 1992, but their relationship didn't kick off for another 15 years, when they worked together again on the set of Vicky Cristina Barcelona. When they got engaged, Javier gave Penelope a simple but beautiful sapphire floral ring – think a much more pared-back version of Kate Middleton's. The centre sapphire is oval-shaped and surrounded by white diamonds, all in a bezel setting on a yellow gold band. In fact if we had to pick our favourite from the bunch, this one would be it.