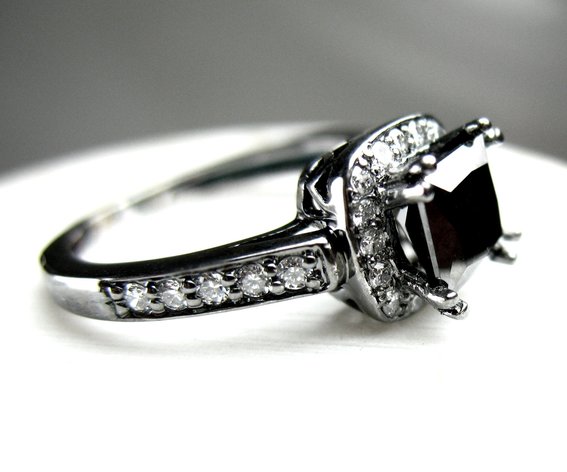 Black is back…
Yellow gold and diamonds was the favourite engagement ring combination for decades. Then the world turned its attention to white gold and platinum, and recently rose gold has been enjoying the spotlight too. Coloured gems have also been slowly catching up with diamonds. But now there's something entirely new on the scene, and we think it's very interesting indeed:
Black engagement rings!
They're futuristic and gothic at the same time, they're full of drama, they look great on guys and girls, and they're definitely unique. Here are some of the choices on offer if you fancy having a jet black rock on your ring finger…
Enamel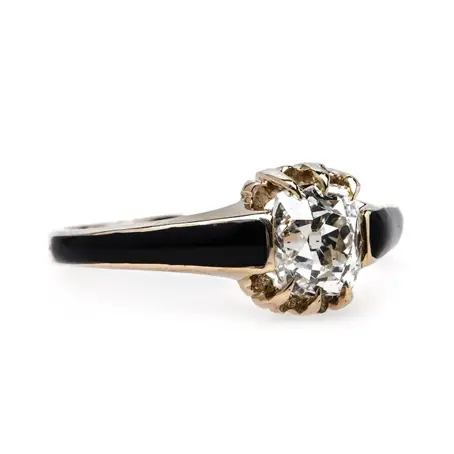 Enamel has been used to create jewellery since way back in the 1900s and was popularised by the world's leading jewellers like Tiffany and Co, Faberge and Lalique. It's created by fusing coloured glass powder to a surface – usually metal, glass or porcelain – leaving a permanent colour with a glossy finish. It's relatively budget-friendly, but can be prone to scratches.  
Black Rhodium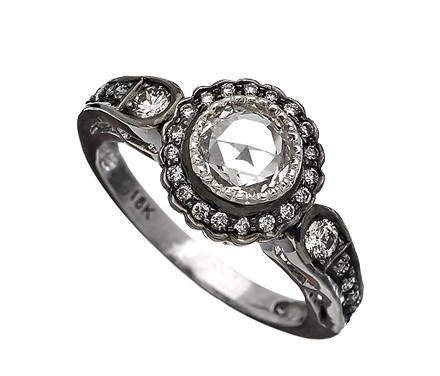 Rhodium is a very, very durable metal that has a similar colour, sheen and texture to platinum. In fact, rhodium plating on gold or silver is often used as a cheaper yet identical alternative to a pure platinum band. Black rhodium however has a very earthy, charcoal-y feel to it that works extremely well on detailed bands. Keep in mind you will have to get it replated every so often.  
Oxidized Silver
We all know that silver naturally tarnishes with time – that's why it's generally not seen in engagement rings. However, purposefully oxidising (the science word for tarnishing) silver is becoming more and more popular; it enhances the design details of your ring, makes the diamond appear even more perfect by contrast, and lends an antique vibe to your jewellery.
Onyx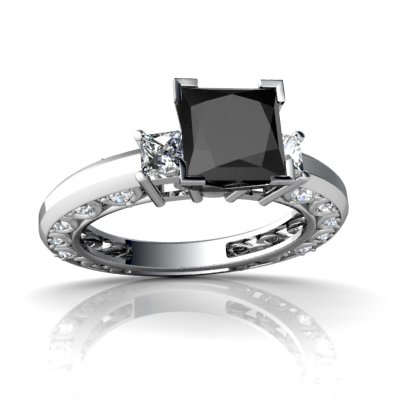 If you love the idea of a black gemstone then Onyx is the obvious choice. While it comes in a range of colours black is the most common, and some stones also have bands of contrasting colours (often white). It's opaque rather than transparent like a diamond, but has a stunning polished finish that gives it an otherworldly feel. Looks great with a diamond halo setting too.
Black Diamond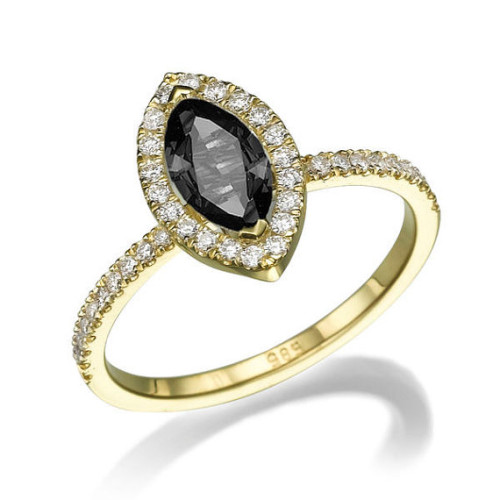 If money's no object you can find a genuine black diamond and pay an obscene amount for it – but they're very rare. More common however are treated black diamonds, which started out as white diamonds deemed too imperfect for jewellery use but were then treated to add a dark colour, thus hiding the flaws. Their colour can range from dark green to grey to jet black, and they look pretty magical when teamed with yellow or rose gold.