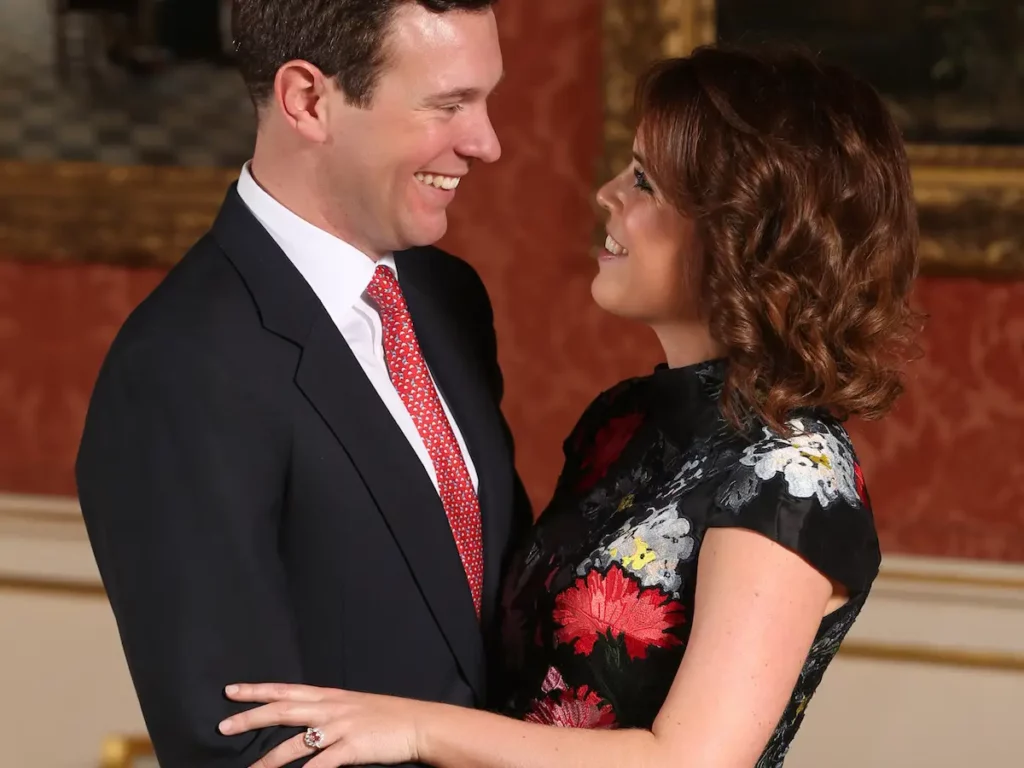 When it comes to royal engagements, the world watches with bated breath for a glimpse of the breathtaking engagement ring. We saw it with Princess Diana's engagement ring, Meghan Markle's and Princess Kate's. People go crazy for a royal engagement ring.
When Princess Eugenie, granddaughter of Queen Elizabeth II, announced her engagement to Jack Brooksbank in January 2018, it was no exception. 
The spotlight immediately fell on her ring — a stunning pink sapphire.
Here's everything you need to know about the beautiful ring.
What Kind Of Ring is Princess Eugenie's Engagement Ring?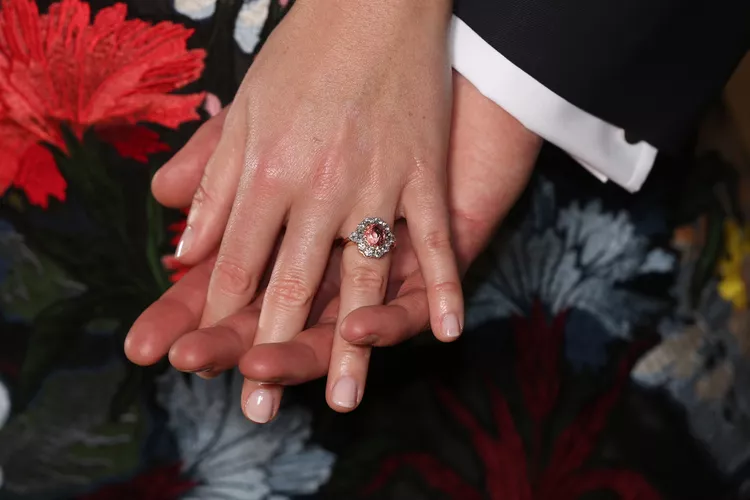 Princess Eugenie's engagement ring features a oval padparadscha sapphire, flanked by two pear-shaped diamonds alongside a halo of smaller nestled brilliant cut-diamonds.
It's a lot, but it works.
What's a Padparadscha Sapphire?
The padparadscha sapphire derives its name from the Sinhalese word for "lotus blossom," a fitting description, as the gems are particularly prized for their blend of pink and orange tones.
However, what really sets the padparadscha sapphire apart is its rarity. While blue sapphires are more commonly known, padparadschas are significantly scarcer. Their scarcity, combined with their extraordinary beauty, makes them highly coveted.
The elegant centerpiece is surrounded by a halo of dazzling diamonds, which create a striking contrast against the warm tones of the gemstone.
Set on a yellow gold band, the ring is the perfect combination of timeless and contemporary, which represents Princess Eugenie to a tee.
How Much Is Princess Eugenie's Ring Worth?
In short, a lot.
While it is challenging to assign a precise value to the Princess Eugenie engagement ring, it is undoubtedly expensive. Of course, the rarity of the padparadscha sapphire, coupled with its quality and size, contributes to the ring's overall value. Although the ring's price tag has never been shared, experts have appraised it at well over $100,000.
But the ring's historical significance and its association with the British royal family make it priceless.
When Jack proposed to Eurgenie her in Nicaragua in January 2018, he presented her with the pink sapphire ring for an unbelievably sweet reason: "Why I loved it so much is it changes color from every different angle that you look at it, which is what I think of Eugenie. She changes color, and it's just so amazing."
Come on, you can't put a price on that.
A Lasting Legacy
Princess Eugenie's engagement ring holds it's own in the incredible world of Royal engagement rings. The padparadscha sapphire serves as a constant reminder of the enduring power of love and the beauty that can be found in the rarest of gemstones.