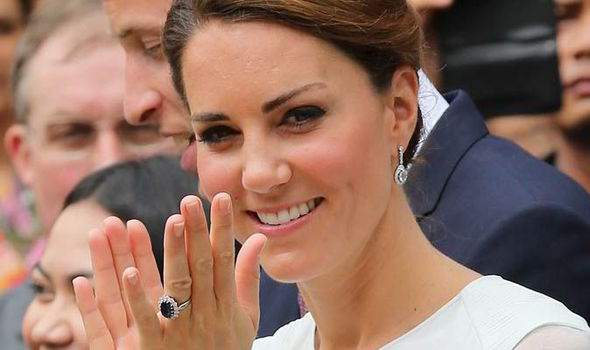 You can always count on the royal families of the world to have some engagement rings that are, well, fit for a princess. They're often antique, always made with the finest of jewels and craftsmanship, and usually worth a fortune. Here are a few of our favourite royal rings from the past few decades…
Queen Elizabeth II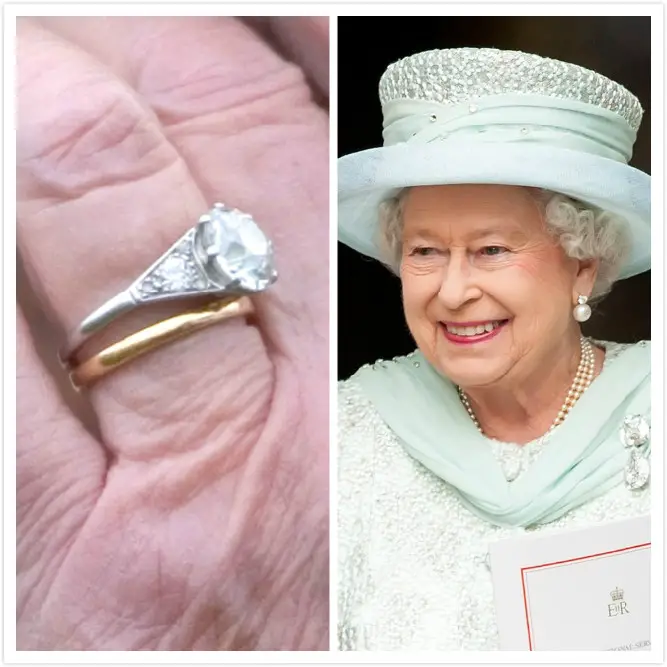 Queen Elizabeth II of England met her husband of 69 years in 1939, when she was just 13 years old and not yet a queen. They met regularly at various royal engagements over the years, and in 1946 while strolling through her family estate in Balmoral, he proposed. Apparently she accepted immediately without consulting her family (not the done thing in royal circles), but her father thankfully agreed – on condition that the engagement be kept secret until her 21st birthday.
Elizabeth's ring is estimated to be worth around £100,000, which is a lot less than some of the others on this list. It's a brilliant cut diamond with an 8-claw coronet platinum setting. It has a large shoulder encrusted with 4 smaller brilliant cut diamonds. She wears it with a simple gold wedding band. Pretty understated considering she's the head of the British empire!
Duchess of Cambridge (Kate Middleton)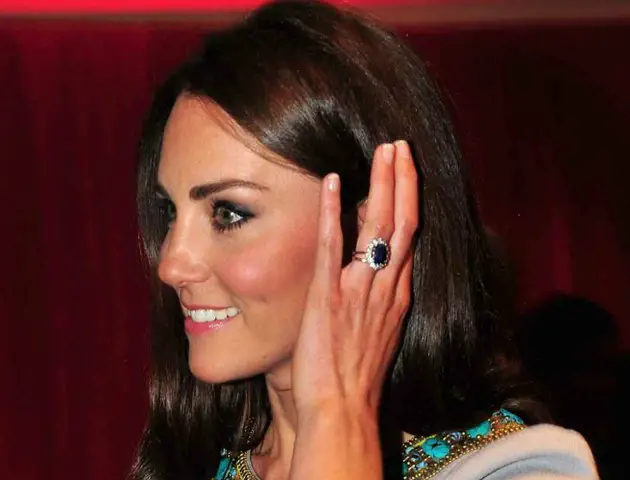 Pretty much everyone has seen Kate Middleton's ring, because there's a beautiful story behind it. As you probably know, Prince William's mother Princess Diana tragically died in a car crash when he was a boy. After her death, William and his brother Harry received two of her most loved possessions; William got her watch, and Harry her engagement ring. When William met Kate and realised he wanted to spend the rest of his life with her, the brothers swapped their gifts and William used the ring to propose to Kate, as way of honoring his mother's memory.
The ring consists of a stunning 12 carat ceylor sapphire surrounded by 14 small brilliant cut diamonds. It all sits on a white gold band. When Prince Charles presented it to Diana in 1981 it was said to be worth around $40,000. Now, it's estimated value is over $400,000. It's also a unique ring in this list because it's the only one that any member of the public could have bought, since it was sold in a public – although very exclusive – jewellery store in London.
Princess Grace of Monaco (Grace Kelly)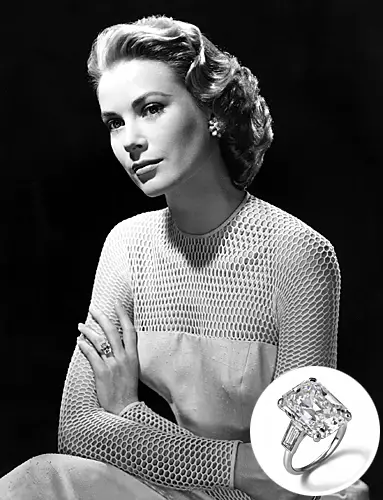 Style icon Grace Kelly probably never suspected she would end up marrying a prince and becoming a princess loved by the entire world, but that's exactly what happened. The movie star met Prince Rainier of Monaco in 1955 at the Cannes film festival. She visited him at Christmas that same year, and three days into the visit he proposed. The story goes that he initially proposed with a much smaller ring, but after seeing the type of jewellery her and other Hollywood actresses were wearing, he upgraded it to a more dazzling model.
It's an emerald cut diamond that weighs in at a whopping 10.47 carats, set on a platinum band in a basket setting, with diamond baguette flanks on either side. Today, it's worth around £3 million. You can catch a glimpse of it in the film High Society – it became the engagement ring of Grace's character because she was never supposed to take it off.
Princess Charlene of Monaco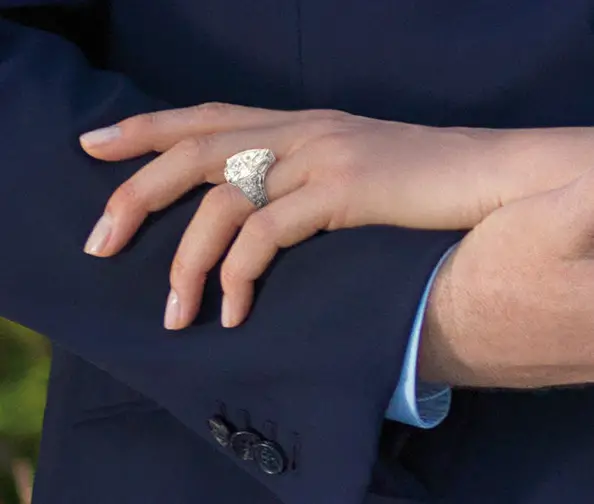 This is one of the more recent weddings to happen in the land of the royals. Married in 2011, Prince Albert and Princess Charlene of Monaco are regarded as one of the most stylish high-profile couples out there. They certainly have a lot to live up to considering that Prince Albert's mother was none other than Grace Kelly. Although valued at only £50,000, it packs a huge punch despite its small price tag – for a royal, that is.
This giant of a ring features a 3 carat pear shaped diamond with wide shoulders covered in smaller brilliant diamonds to accentuate its size. We're guessing it's a platinum band. Trust us, this piece is so huge you can't help but notice it in every photo or every appearance Charlene makes.
Crown Princess Mary of Denmark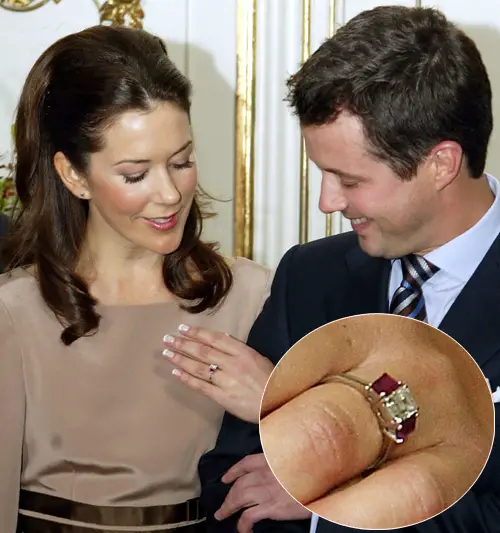 Another 'normal' lady who became a princess, Australian born Mary Donaldson met Prince Frederik of Denmark in the Slip Inn in Sydney during the Summer 2000 Olympics. Not knowing who he was at first, the pair began a long-distance relationship. She eventually moved to Denmark to be with him and their romance was made known to the world. He proposed in October 2003, and they married the following May.
Frederik chose a stunning ring for his bride featuring a central emerald cut diamond flanked by two ruby baguettes. He chose the ruby and diamond combination to reflect the colours of the Danish flag and to symbolise his citizens welcoming Mary into their country. She wears it with a white gold wedding band covered with 24 princess cut diamonds.
Crown Princess Sofia of Sweden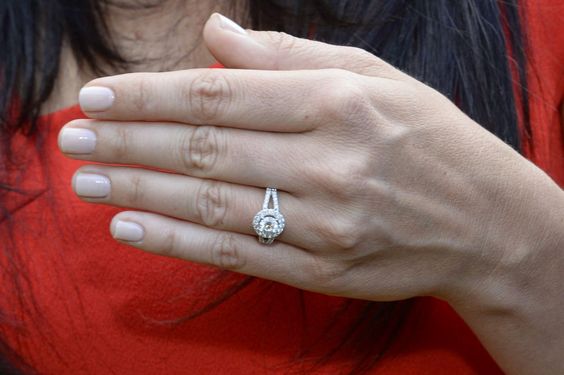 Another recent royal engagement was that of another Scandinavian country, Sweden. Prince Carl Philip caused a lot of controversy when he began dating his now wife, Sofia, a former glamour model and reality TV star who most regarded as 'beneath him'. Nevertheless their love endured and the couple got engaged in 2014 and married in June 2015.
Since it's a very recent engagement, it's no surprise that Sofia's engagement ring is very contemporary in style. A 1 carat round brilliant diamond is surrounded by a diamond halo and a split shank covered in more diamonds. It's estimated to be worth somewhere between £5,000 – £10,000 and would fit right in with some of Hollywood's A-listers. Sofia wears it with a diamond encrusted wedding band, naturally.
Duchess of York (Sarah Ferguson)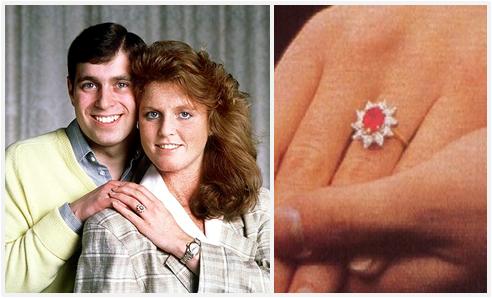 Another classic engagement ring from another British royal! Sarah Ferguson and Prince Andrew (son of Queen Elizabeth) had been friends since childhood, seeing each other at various events like polo matches every so often. In 1985 at the Royal Ascot, they reacquainted as adults and began a romance. By mid-1986, they were engaged. Although the marriage showed signs of strain by 1991 after the birth of their two daughters and they divorced in 1996, we're still pretty envious of 'Fergie's stunning ring.
Echoing the style of her in-law Princess Diana's ring, Prince Andrew chose an oval cut Burmese ruby because it reminded him of his love's fiery hair. It's surrounded by ten brilliant cut diamonds in a floral arrangement, and sits on a yellow gold band.