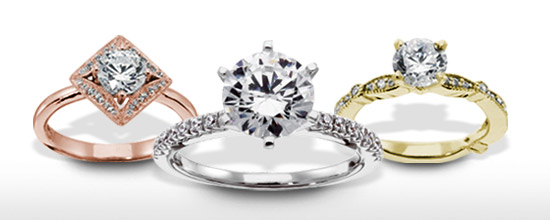 Long ago there were only two metal choices for their engagement rings; gold or silver. Nowadays there's much more variety on the market, allowing brides to choose a metal that fits their style, reflects their personality, and of course, is a meaningful representation of their relationship with their other half. Here are our top picks for engagement ring metals.
Platinum
Platinum is what many regard as the 'modern classic'. Contemporary and prestigious, this white metal never loses its shine, is virtually indestructible, and doesn't require re-plating every few years like its more affordable counterpart, white gold. It's heavier than most other metals so for those who don't wear rings as a habit, it may take some getting used to. Although it's one of the most costly rings out there, its dazzling shine really adds that wow-factor to a diamond.
Yellow Gold
Traditional and romantic, yellow gold has proved itself to be timeless. An ever popular choice for centuries, gold is measured in karats – the higher the karat number, the more pure gold is in the ring (resulting in a warm yellow colour) and the more expensive it is. Gold is a naturally soft metal, so it may tarnish slightly over time – but if you ask us this will only give a unique antique look.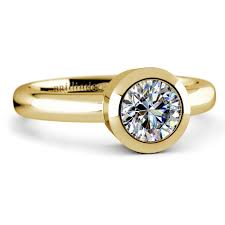 Rose Gold
'The' metal of the moment, Rose Gold has exploded in popularity and is set to be everywhere for the next few years. It's made from gold mixed with copper and has a stunning pinky, orangey colour that flatters every and any skin tone. Depending on the amount of each, the tone can vary from pastel pink to rich ochre. It looks great with either diamonds or coloured gemstones (another rising trend) too; an all-round winner!
Titanium
The strongest naturally occurring metal on earth, Titanium is truly invincible to everyday wear and tear, and is extremely lightweight too. It's also 100% hypoallergenic and so is perfect for brides who have had reactions to other metals (believe us, it happens). It comes in a variety of colours, although the usual choice is shiny bright silver. The one drawback? It's near impossible to resize and extremely difficult to modify. Oh, and it's pretty expensive too.
Palladium
Another luxurious option, palladium is quite similar to titanium. Naturally white, extremely durable, lightweight and with no chance of discoloration, it's quite rare and so adds a little extra special something having it as part of your engagement ring. It's a naturally hard metal so requires no alloys or plating. It'll last forever, just like your love for one another! Again, this is more of the one more expensive options, sadly.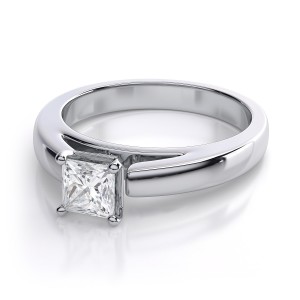 White Gold
More contemporary than yellow gold but less expensive than platinum, white gold is an alloy of gold, nickel, and usually some other white metals. Although naturally shiny, the vast majority of jewellers add rhodium plating to it to increase it's shine and dazzle. Unfortunately, this plating naturally wears away over time and will need to be replaced every few years. However, if you want the shine and sparkle that comes with platinum but can't afford the price tag, it's the best compromise around.
Tungsten Carbide
Tungsten Carbide is a compound of tungsten and carbon, which makes for a super tough material that will look as good as new in 50 years no matter how much you put it through. Their polish is also permanent, so there is zero maintenance involved. Like titanium and the other durable metals listed here, it can't be resized or modified once it's made, so you'll need to get an accurate sizing of your finger. The real reason why people love tungsten however is because of it's alluring black colour – definitely a talking point.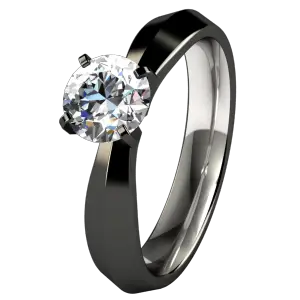 Cobalt
Another bright white metal, cobalt is scratch resistant, tarnish resistant, will not shatter or chip and is hypo-allergenic to boot. Four times harder than platinum and five times harder than gold, it looks and feels just like white gold, but is usually a little lower in price. Its polish may fade a little periodically, but a quick trip to the jewellers will have it looking good as new in no time and at little cost.