Diamonds are a girl's best friend… especially pink diamonds.
In case you hadn't heard, coloured engagement rings are enjoying some time in the spotlight right now. Designs showcasing sapphires, rubies, emeralds, or even rare fancy colour diamonds are in ultra high demand, and the pace doesn't seem to be slowing down anytime soon. While pretty much any colour is 'in', we're seeing one in particular of late… pink!
It all started when rose gold exploded back onto the scene a few years ago. This alluring metal is made from yellow gold mixed with copper, lending it that rosy, pinky, feminine hue. Ever since, brides to be have been going further and further into a candy floss world of pink hues.
Whether it's rose gold, pink diamonds or pink hued gems like Morganite, this is one trend we can get on board with. It's feminine, it's romantic, it's really unique and it can do both traditional and non-traditional engagement ring styles equally well. Plus there's a wide range of pink gemstones to choose from, including diamonds, sapphires, morganite, spinel, kunzite and tourmaline.
Here's some pink engagement ring ideas from around to spark your inspiration.
Rose Gold and Morganite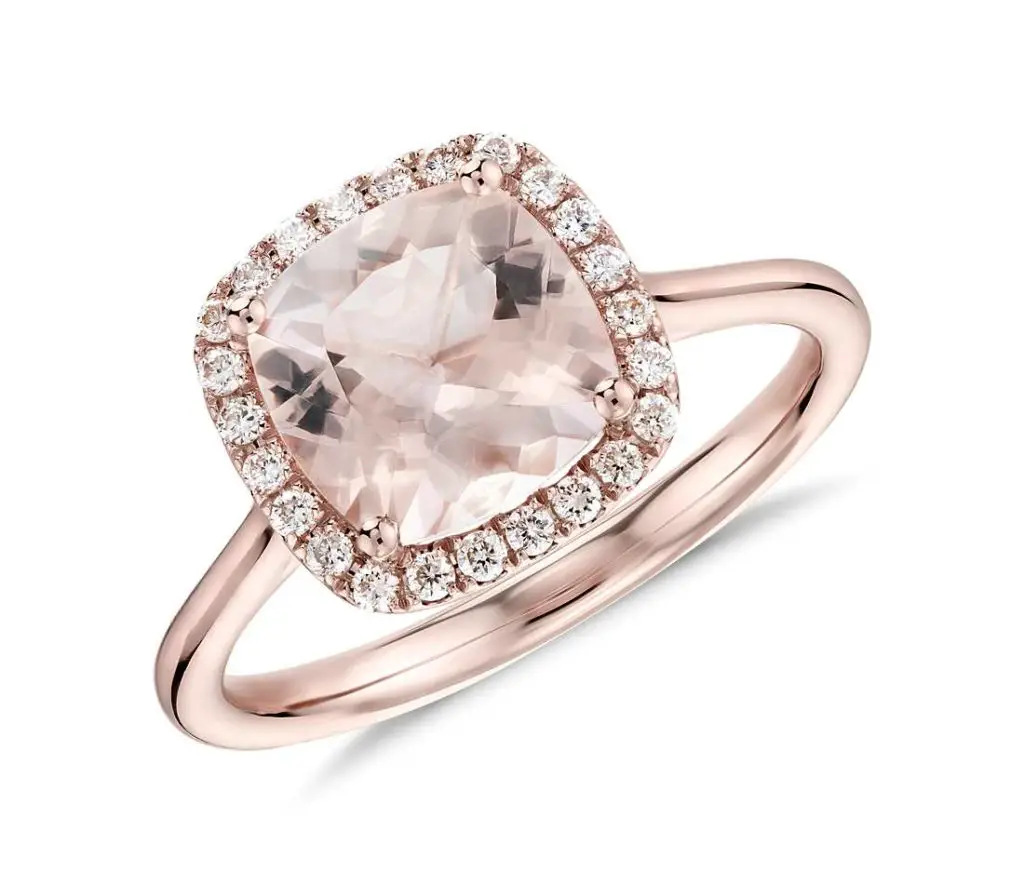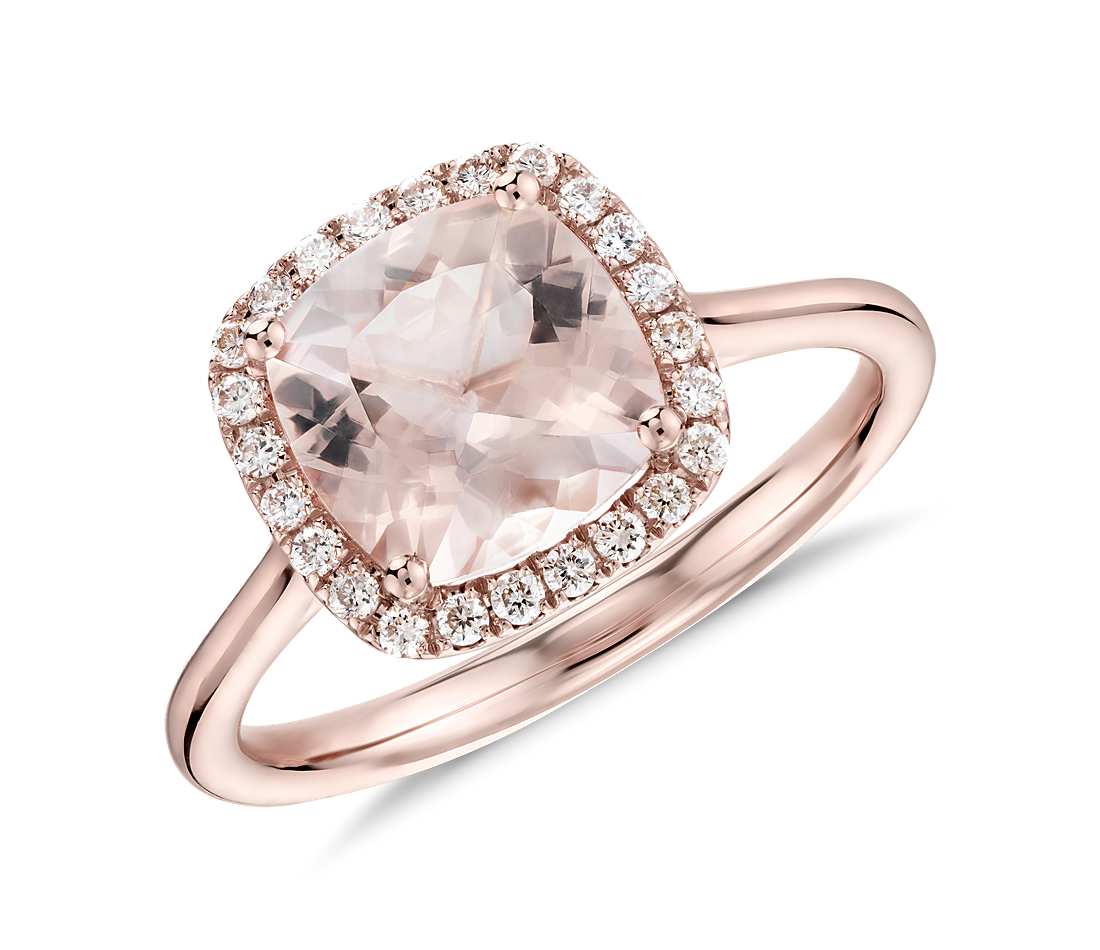 The dream team of pink metal and a matching pink gemstone. This pastel gem has decent durability and ranges from soft blush to salmon in tone, and when paired with rose gold it makes for a truly modern marvel. We love this cushion cut design with a white diamond halo from Blue Nile.
The Pink Halo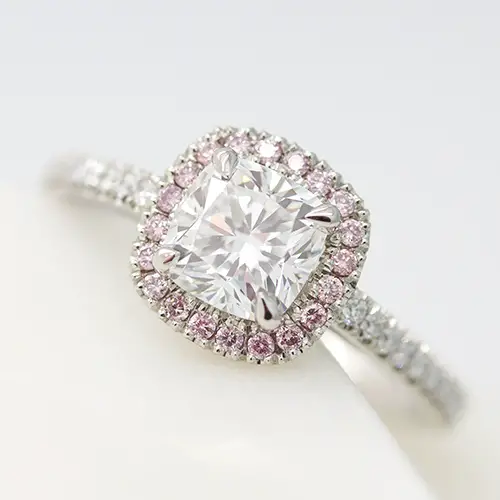 If you're a non-traditional and a girly-girl bride, this is the ultimate choice. A halo of pink diamonds lends a traditional style some modern oomph as well as a hint of femininity, while the pave band and cushion cut cranks up the glamour in effortless style.
The Pink (Diamond) Lady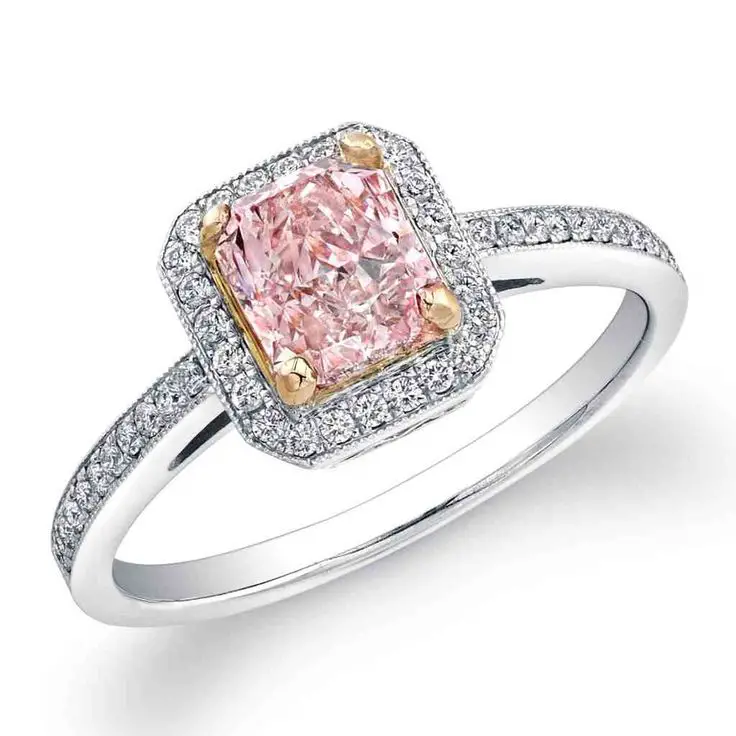 You'll need to hand over a significant chunk of your bank account for a pink diamond, but if you can afford it it's well worth it. These rare gems have an unmistakable sparkle and look especially breathtaking when paired with traditional white diamonds. For maximum impact, choose a non-traditional cut like the princess stone below.
Pink Engagement Ring Tips
The darker your skin tone, the more vibrant you can go with your shade of pink. Fair skinned brides can make pale, peachy hues look beautiful and ethereal. Olive or dark skin looks great with hues at the bold end of the scale like fuschia; the shade really pops against your fingers.
For a really eye-catching design, choose a pink gemstone in an unusual cut like marquise, pear or trillion. It adds an extra 'wow' factor to the piece and is guaranteed to turn heads wherever you go.
Remember to read up on your chosen gemstone before you make a purchase. Diamonds have a hardness rating of 10, meaning it's basically impossible to chip or scratch them during day to day wearing. The majority of other gems are lower than that however, so you should consider the overall durability of your engagement ring before taking the plunge.