Every week we pick the best and worst engagement rings to emerge from the land of the rich and famous. In this edition, one engagement ring is not quite what it seems to be…
Engagements happen on a daily basis in showbusiness. Naturally, every bride – whether famous or not – thinks that their own engagement ring is the most beautiful in the world. The rest of us, however, may or may not feel the same. We scour the web every week for the latest celebrity engagement news, and choose what WE feel are the best and worst. It's all done in the spirit of fun, we mean no harm – and of course we wish the best to all of the happy couples! Here are our picks for this week.
The Best: Kelly Ripa
Kelly Ripa has been a regular on TV screens since the late 1980s. You'll have seen her on All My Children, as a host on daytime TV show Live!, and as herself making cameo appearances on pretty much every big show in the past decade. She's often cited as one of the most powerful people in the US media industry. Basically, she means business.
Despite her enormous talent, fame and power, Kelly has managed to stay grounded throughout her 30-year career. She has been married to husband Mark Consuelos for over 20 years, and the pair met when Mark auditioned for a role on Kelly's breakout show, All My Children. Mark mistakenly thought he would never had a chance with Kelly – but he was wrong! After a few months of dating, he proposed and the pair eloped to Vegas in 1996. What may have seemed like a rollercoaster romance at the time has proved its staying power, because here we are 20 years later.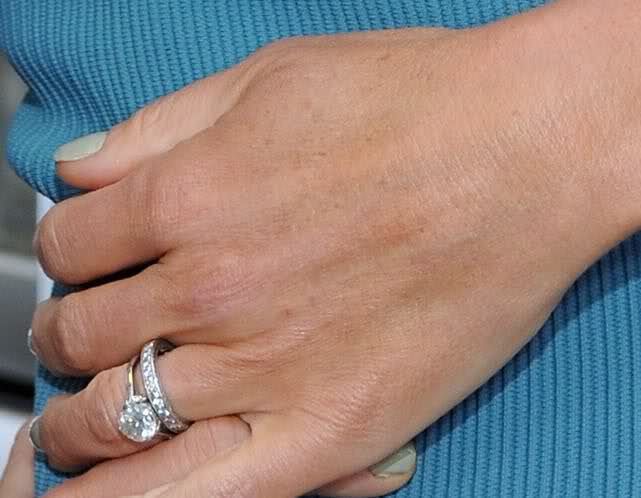 So what about the ring? Kelly still wears the original engagement ring Mark proposed with way back when. It's a round diamond (we're guessing around 3 carats) on a thin and delicate yellow gold band, with what looks like small half-moon accent diamonds at the sides. Simple but beautiful.
Our Verdict: This engagement ring is truly beautiful, and so is the love story that comes with it. As well as the elegant and traditional style, we're also seriously in awe of Kelly and Mark's loving marriage. You go, guys.
The Worst: Sienna Miller
Beautiful Sienna Miller is a well known star of screen and stage, who you'll recognise from films like Layer Cake, Stardust, American Sniper and Alfie. The latter is where her romance with fellow British actor Jude Law began, as well as the start of some intense paparazzi attention. After their on-again, off-again relationship ended for good in 2011, Sienna got together with another actor, Tom Sturridge, and had baby girl Marlowe in 2012. Of late, she has been dating director Bennett Miller.
Sienna has always been on the receiving end of lots of media hype around her romantic partners and personal life. So when she headed out in London recently with a large ring on a certain finger, everyone automatically assumed she had gotten engaged to Bennett. The ring is stunning even in grainy tabloid pictures; a huge round diamond in the centre surrounded by a floral-inspired halo of smaller round diamonds.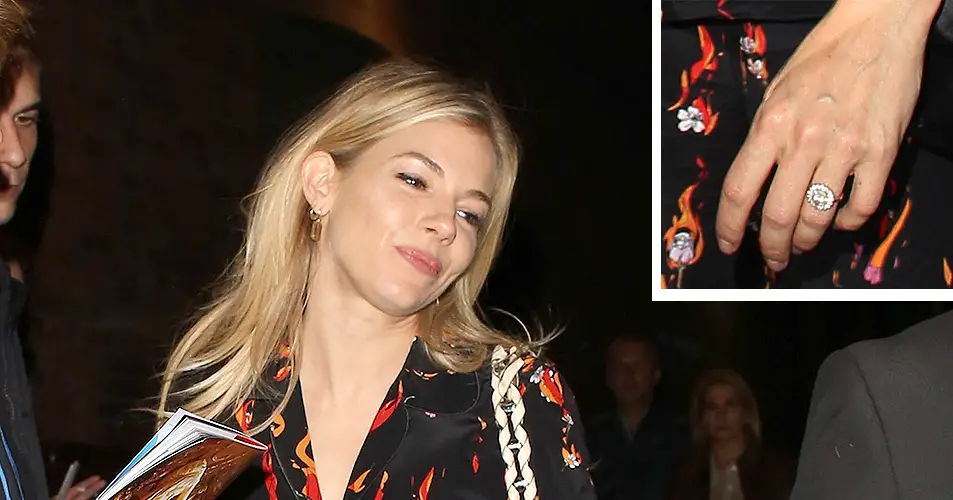 It would've made many, many more headlines… if it was real! It turns out Sienna had accidentally left on a prop ring which was part of her costume in the stage show she was starring in, Cat on a Hot Tin Roof. She was in a rush to make a dinner reservation after her performance, and forgot to take off the bling. Her publicist later rained on the parade by stating 'there's no engagement – just a silly mistake she won't be making again!' Oops!
Our Verdict: As with Allison Janey's would be engagement ring, we can't legitimately consider Sienna Miller's bling. Although beautiful, it's most definitely not a 'real' engagement ring. If it was, it probably would've been to big and brash for our tastes anyway.