Thinking of popping the big question? Time to go hunting for the perfect engagement ring. There's a plethora of jewellers in every corner of the world, so you'll be spoiled for choice. In fact, you'll probably be overwhelmed. To help you narrow down your search, we've picked out some highly recommended jewelers across the world – for every kind of budget. We're not saying you'll definitely find her dream ring here, and we can't guarantee top notch service (although it's a pretty safe bet). But if you're looking for the best starting point in your engagement ring journey, these places have you covered.
Best For Luxury Engagement Rings
If you have plenty of cash to splash on her engagement ring, there are a couple of places where you simply can't go wrong. Tiffany & Co., Graff, Cartier and Harry Winston are all household names for a reason – they create some of the most beautiful (and most expensive) diamond engagement rings in the world. For a piece of bling with celebrity appeal – and if you have a few million dollars to spare – check out the jewelers who cater to Hollywood's elite; designs by Neil Lane and Lorraine Schwartz are two of the most coveted on the red carpet.
Best For Budget Engagement Rings
If you're working with a strict budget for her engagement ring, Signet Jewelers has your back. Never heard of them? That's because they're the umbrella company in charge of a whole host of different jewelers. Do Kay Jewelers, Zales, H. Samuel, or Ernest Jones ring any bells? We thought so. With 3,600 stores all across the United States and also available online, there's bound to be at least one of them somewhere near you. Go forth and find bargains!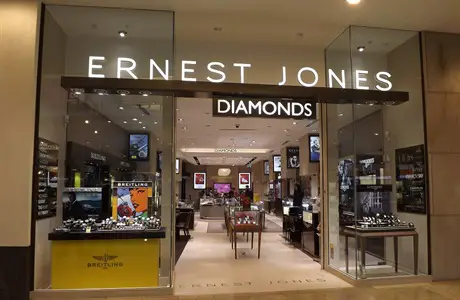 Best For Vintage Engagement Rings
Here's the thing with vintage engagement rings – there's no nationwide vintage chain store. It very much depends on where you are. However, there are some jewelers specialising in vintage or vintage-style engagement rings that have garnered praise from across the country. If you're in Los Angeles, Trumpet & Horn is the place to go. If you're an east-coaster, Erstwhile Jewelry have made a name for themselves in New York City. Victor Barbone is another NYC outlet to add to the list. Closer to America's heartland, the Whitehouse Brothers have been creating Edwardian-style rings for over 100 years.  
Best For Buying Engagement Rings Online
If you have your doubts about buying her engagement ring online, don't. E-commerce is a highly developed industry and shopping online has never been easier, more convenient or more secure. The only cause for concern is choosing a reputable retailer you can trust. We can confidently recommend James Allen, Blue Nile, and Brilliant Earth – all are online-only jewelers who specialise in engagement rings, selecting only diamonds that meet strict ethical and environmental standards. Plus, prices can be 20% cheaper than 'traditional' jewelers. What's not to like?
Best For All Rounder Engagement Rings
Not sure what kind of engagement ring she wants? Want to take a look at a wide range of rings at a range of different price points? You can probably find what you're looking for at Helzberg, Hamilton or Michael Hill. While you'll have to be near either New Jersey or Florida for Hamilton, the other two have stores throughout the States with everything from plain and simple bands to luxury diamonds. Even if they're out of your budget, they'll give you a good idea of what you can get for your buck.
We hope this helps!