The Bachelor is easily one of our favourite guilty pleasure TV shows. From jetting around the world on romantic dates to the always dramatic rose giving ceremonies (i.e. eliminations), there's never a dull moment – and there's always a jaw-dropping selection of engagement rings to look at in the season finale.
Last month this season's bachelor, Nick Viall, had to choose between special needs teacher Vanessa Grimaldi or fashion boutique owner Raven Gates. And as always, jeweller to the stars Neil Lane was on hand to help Nick select the perfect engagement ring for his new fiancee. At the season finale of each series, Lane personally meets with the bachelor and presents a selection of six different diamond engagement rings in six different cuts.
Look away now if you haven't seen the finale yet, because spoilers are coming…
This year, Nick chose Vanessa as his bride and picked out a simply dazzling engagement ring that suits her perfectly. It's a platinum ring with a four carat round diamond as the centrepiece. In typical Bachelor style, it's heavily detailed with a pave border, baguette diamond accent stones, and even more diamonds adorning the bands (that's 164 diamonds in total). Oh, and it's worth a cool $100,000. It may not be everyone's cup of tea, but we adore it (on television, at least). Vanessa certainly felt the same, accepting Nick's proposal AND his final rose through tears of joy.
There have been some other very covetable engagement rings in past seasons of The Bachelor – almost too many to count, in fact. Over the years the designs have become even more ornate and beautiful, so here are a few of our favourites.
Lauren Bushnell
Bachelor Ben Higgins proposed to Lauren Bushnell in season 20 (2016) with the largest engagement ring in the history of the series. This Art Deco style engagement ring weighs in at 4.25 carats and features a radiant cut centre diamond surrounded by 240 – yes, 240 – round and baguette diamonds.
Jen Schefft
Jen's engagement ring from Bachelor Andrew Firestone dates all the way back to season 3 of the show, but it's one of the most unique we've seen throughout the seasons. It's a huge oval diamond in an right prong setting, with delicate baguette diamonds either side. Simple and beautiful.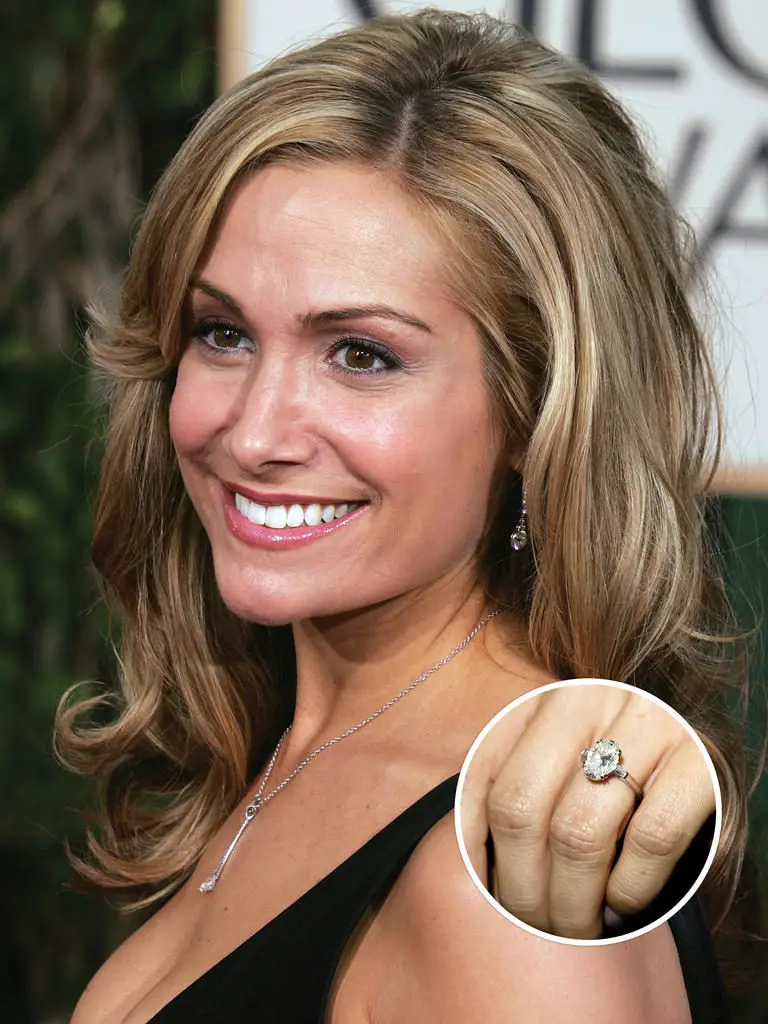 Tessa Horst
Back in season 10 the engagement rings featured on The Bachelor were a LOT more subtle. This engagement ring given by Andrew Baldwin to Tessa Horst is the epitome of classic traditional style, featuring a round brilliant diamond solitaire in a simple four prong setting. Better yet, the ring was conflict free.
Sarah Brice
This one isn't technically an engagement ring because bachelor Charlie O'Connell didn't actually propose. Instead he gave it to Sarah Brice as a promise ring, but it's still pretty damn beautiful. This ring uses three princess cuts each with its own diamond halo, along with a diamond encrusted band for extra sparkle.