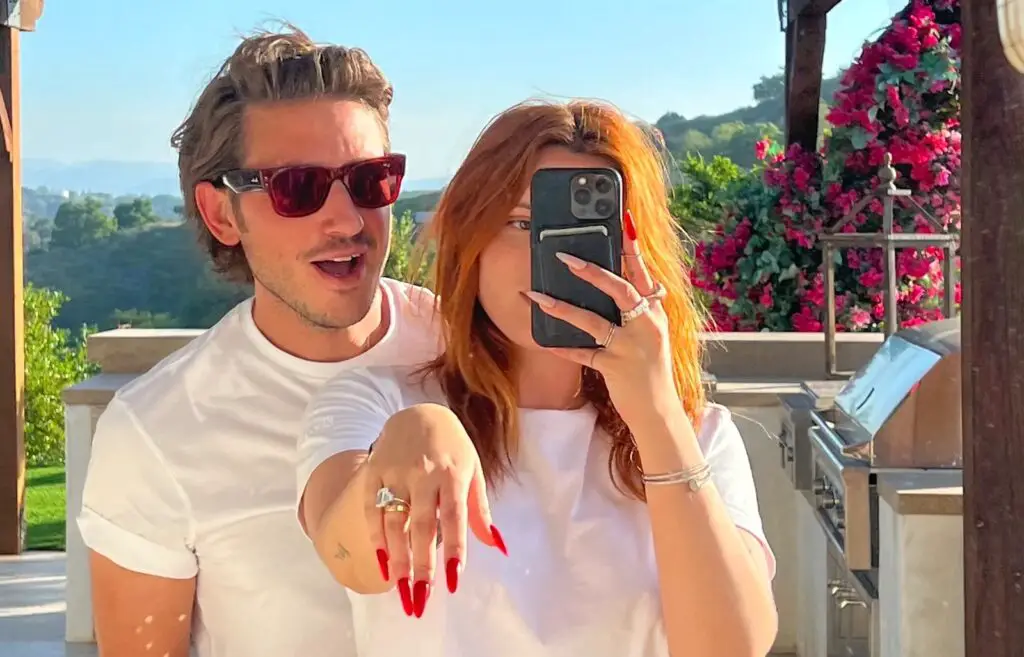 Bella Thorne is headed for the altar. The 'Midnight Sun' star and her boyfriend, producer Mark Ms, have announced their engagement. The couple confirmed the news to Vogue and shared an Instagram photo of themselves cuddled up, Bella's emerald-cut diamond engagement ring in clear view. The actress also shared a series of Instagram snaps of their journey thus far and captioned it, 'My love.'
The pair first met at Cara Delevingne's birthday party on the beach in Spain last year, and the connection was immediate for Bella. She shared, 'It was love at first sight as the sun rose.' Fast forward one year, and Mark proposed to Bella at her home in California the day before Mother's Day. 
And let me tell you, he proposed with a ring that we wouldn't be forgetting any time soon.
Here's everything you need to know about Bella's emerald cut engagement ring. 
What kind of ring is Bella Thorne's engagement ring?
Bella's ring is a beautiful three stone ring with tapered baguettes on the side of the center stone, set in a trapezoid style. 
In the world of engagement rings, three stones represent the past, present, and future of a relationship, making them a sentimental choice. Additionally, the tapered baguettes add a sleek and modern touch, enhancing the overall aesthetic appeal. The combination of classic symbolism and contemporary design make this a perfect design for the disney girl with an edge. 
Did we mention the center stone is a 10 karat emerald cut diamond? Casual. This cut emphasizes the diamond's clarity and transparency, giving an almost mirror-like appearance. The elongated shape of emerald cuts can also create an illusion of length, making the fingers appear more slender and elongated.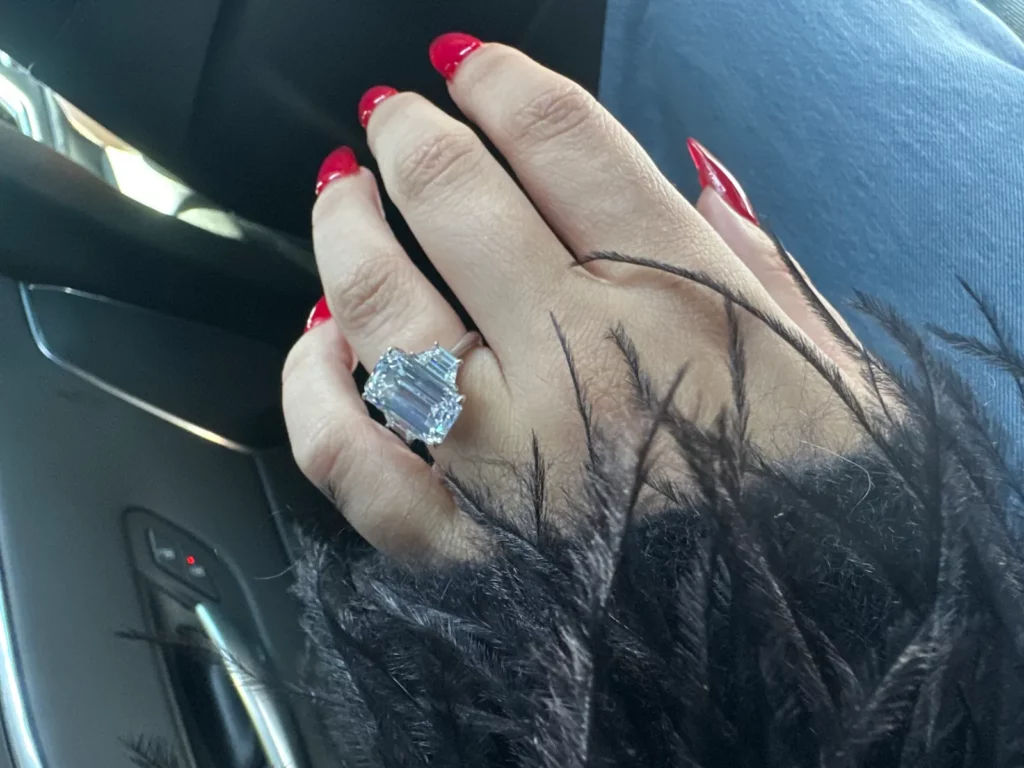 Source: Vogue
Who designed Bella Thorne's engagement ring?
We don't yet have the details on who designed Bella's engagement ring from Mark, but given the quality, we can only speculate that it was from a top-tier jeweler, with a top-tier price tag to match.
But it was worth every penny for the beautiful bride-to-be. 
Bella's mom shared her own thoughts on Instagram, 'From the day you met, you knew, and from the first time I saw you two together, I knew. You have an amazing gift to give each other, which is the pure and honest love that comes once in a lifetime. Bella, we are so ecstatic to welcome Mark into our family. Well, he was always welcome, but now it's official. Mark, we thank you for treating Bella like the infinite and pure light of love that she is.' 
And it looks as though Bella is already thinking about her wedding dress, or rather, multiple… she quipped to Vogue, 'Everybody does not need one gown, but four.' 
Now that's an approach to a wedding that we can definitely get on board with.