Karl Lagerfeld is a busy man. At 82 years of age, he's still the head designer and creative director of two of the fashion world's most prestigious labels – Chanel and Fendi – as well as his own fashion house. Although there have been reports suggesting otherwise, he shows no signs of slowing down. He's even turned his ever creative mind to the humble engagement ring. As you might expect, the designs are pretty special…
Lagerfeld is known for closing each of his Chanel Couture shows with a fantasy bridal collection, but up until now he has never created a specific engagement ring (although he has designed jewellery on more than one occasion). This collection has been created in partnership with Frederick Goldman with millennials in mind; which means the rings are actually pretty affordable.
Ranging in price from $1,000 – $10,000, the collection includes three ring styles..All are available in 18-karat white or yellow gold as well as platinum, and can be found in the UK, US, Canada and Australia from this autumn. That's an impressive range of styles and a wide variety of choice. To say we're excited is an understatement.
The first of the three rings is a classic round brilliant diamond with a halo setting and pave diamonds on three sides of the band. Unique shape detailing on the shoulders and setting were inspired by the curves and arches scene throughout Parisian architecture. Definitely one for the classic, romantic bride who likes a hint of elegant sparkle.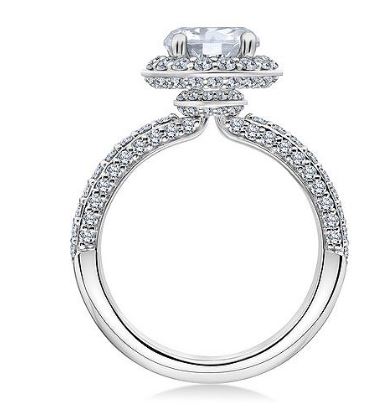 The next design is trademark Karl Lagerfeld. It's another traditional round brilliant with a simple prong setting. The band is where all the action is however; it's got the trademark metal studs that crop up regularly in Lagerfeld's collections, plus another square cut, bezel set diamond at the bridge.
The final design is our personal favourite. Very contemporary yet still feminine and sophisticated, it's a round diamond with a floral shaped setting filled with cluster diamonds. The side view is spectacular, featuring vintage-inpsired gothic arches encrusted with diamonds; it looks like an enchanted forest of diamond trees…. Seriously!
Karl himself had this to say about the collection; 'the rings had to express something that concerns the heart and feelings. It has to be a symbol and a sign of a real wish of engagement. It has to be elegant but not bling-bling'. It's pretty good advice for anyone looking for an engagement ring, we think.