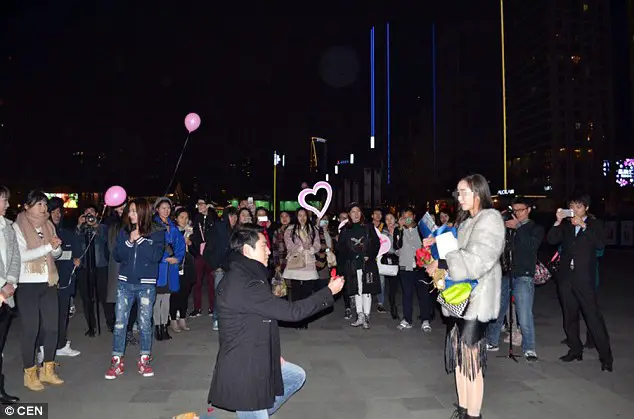 You're planning the ultimate romantic proposal for your sweetheart. You have everything planned down to the smallest of details. You have a lump in your throat and you're a ball of nerves, hoping you'll get a yes when you pop the question. What could go wrong? Well, we bet this is one scenario that you hadn't planned for…
A recent story emerged from Chinese media outlets about a woman who rejected a marriage proposal from a man because… wait for it… the ring he presented her with was too small.
But that's not all. The man in question had planned a hugely elaborate event for the special moment. It all happened on the streets of Chengdu, the capital city of the Sichuan province and one of the more well known cities in China after the big hitters like Shanghai, Beijing, Hong Kong, etc. It's a very busy city, and this man shut down one of its streets – no easy task!
That's still not all. He lined the street with dancers and street performers, who performed a special routine for her complete with roses, balloons and 'marry me' signs. Impressed? We are!
The bride-to-be was pretty impressed too at first, so much so that she burst into tears of joy when she saw the spectacle. When the performers reached their finale, the man emerged from the crowd of performers and got down on one knee to open up a jewellery box in front of his love. At that point, reports say her face fell, she put her hand over her mouth and walked off, leaving her hopeful boyfriend desperately running after her!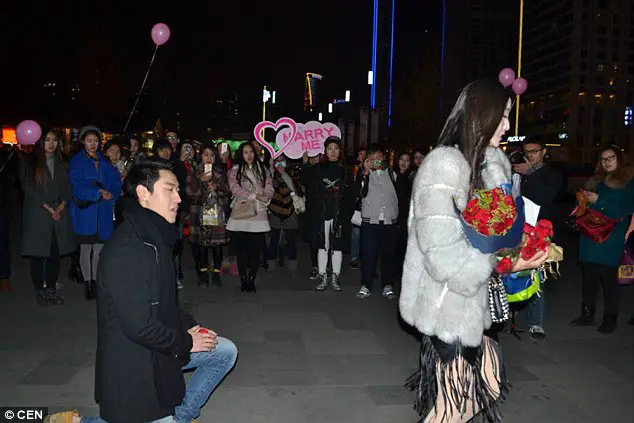 Text messages between the woman and a friend later circulated, with her saying 'He agreed to buy me a diamond as large as one carat. Why was this one so small? Is he so careless, or has he ever cared about me?' The friend suggested that maybe a bigger one was on its way, and that her other half just didn't have it yet.
Sadly we don't know what happened since then, but we hope the not so happy couple managed to work things out. Or at least, that they were able to return the ring!
If you fancy watching the cringeworthy action unfold, you can do so below.