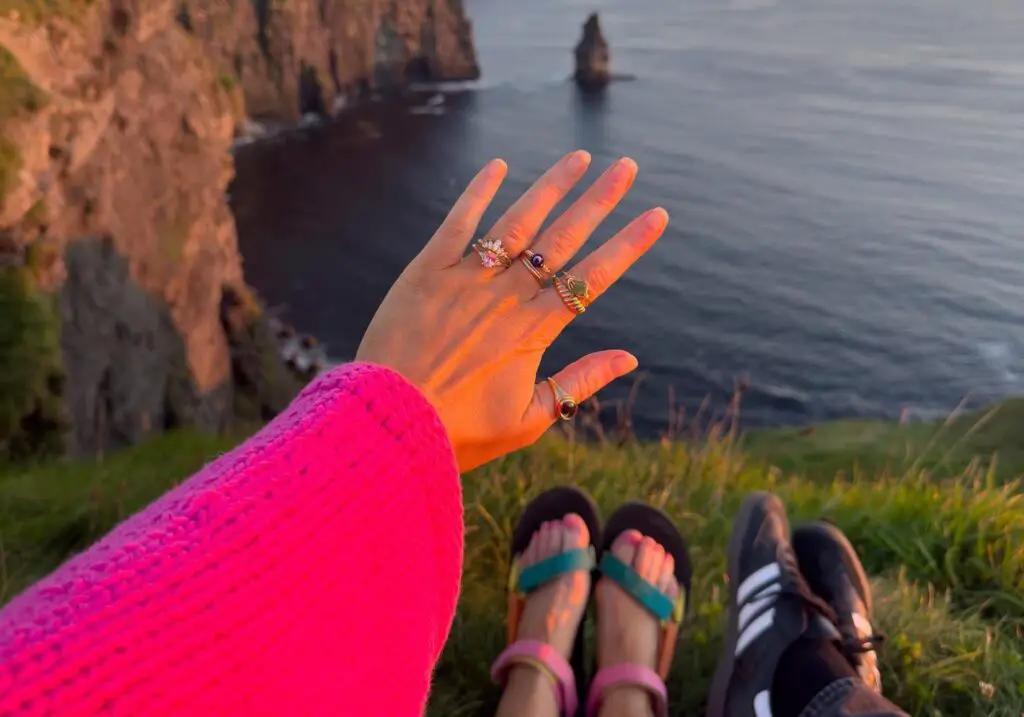 Our favorite Irish power couple are tying the knot. 
Roz Purcell, RTÉ 2FM radio host and a former Miss Universe contestant, has unveiled a dazzling gem from her longtime partner, Zach Desmond. In a series of idyllic snapshots posted to her Instagram, Roz and Zach stood at the edge of the Cliffs of Moher. While the view is great, we're too busy looking at the seven (yes, seven) beautiful rings that adorn her hand. 
Their journey as a couple began in 2016, so many eagle eyed fans have speculated that each ring represents a year in their story. There is one clear start of the show: a blush pink oval cut diamond that takes pride of place on her engagement finger.
Here's everything you need to know about Roz's engagement ring.
What Does Roz Purcell's Engagement Ring Look Like?
Roz's breathtaking engagement ring features a blush pink oval cut diamond, contrasted with two white trillion cut diamonds on either side. The oval cut is known for its timeless elegance and elongated shape. It combines the brilliance of round cuts with a flattering elongation that can visually elongate the wearer's fingers (important for Roz, who broke her ring finger earlier this year — it's never quite healed right).
Blush pink diamonds possess a subtle and unique form of brilliance due to their color. The interplay between the pink hue and the diamond's facets creates a mesmerizing play of light, setting them apart from colorless diamonds and adding to their allure.
In this case, these diamonds weren't just chosen for their beauty, but their ethical credentials too: all three diamonds are lab-grown and carbon neutral. 
To top it off, the band is modeled after a twig, creating a uniquely faceted texture cast in carbon neutral recycled 14k solid gold. Safe to say, the perfect ring for a nature loving lady.
Who Designed Roz's Engagement Ring?
Roz's engagement ring was designed by Chupi, a renowned Irish brand. Founded by Chupi Sweetman in 2013, the brand has gained prominence for its nature-inspired and ethically crafted engagement ring designs.
Chupi's engagement rings are distinguished by their unique blend of fine craftsmanship and sustainable practices. Each ring is meticulously created using ethically sourced materials, including precious metals like gold and silver, as well as conflict-free gemstones. The designs often incorporate delicate motifs inspired by leaves, twigs, and other natural elements. 
As a result of their nature-inspired designs and ethical practices, Chupi has become a sought-after choice for couples seeking engagement rings that exude beauty, meaning, and a deep connection to the natural world. For Roz and Zach, it was truly a match made in heaven.
How Much Did Roz's Engagement Ring Cost?
Roz's engagement ring retails for just over $31,000, which is fairly pricey for lab grown diamonds. But then again, it's not often you find a blush pink oval perched on a nature inspired band: the price tag reflects the design elements that go into a ring of this detail. 
With an unconventional engagement ring, we can't wait to see what the couple pulls out for the wedding. Roll on the big day!