Hollywood celebrities are well known for having big bank accounts, big cars… and VERY big engagement rings. In many cases the bigger the diva, the bigger the rock. And Hollywood has a lot of divas!! We've chosen 20 of the biggest, most beautiful engagement rings we've seen splashed across the tabloids, from the golden era right up until today. Use it for inspiration, or just for gawping… the choice is yours!
Elizabeth Taylor
We've talked about Elizabeth Taylor's world famous ring from Richard Burton many times before, but it's always worth taking another look! There's just one small problem… this isn't actually an engagement ring. Elizabeth received many engagement rings during her 8 marriages, but Burton didn't present her with this baby when they got engaged (either time). He gave it to her on May 16, 1968, just because. It's a 33-carat asscher cut diamond set in platinum, and it's internally flawless (Liz would never accept anything less than perfect, obviously). She wore it every day and it was widely regarded as her all time favourite piece in her mammoth jewellery collection. It's worth $3.5 million and then some.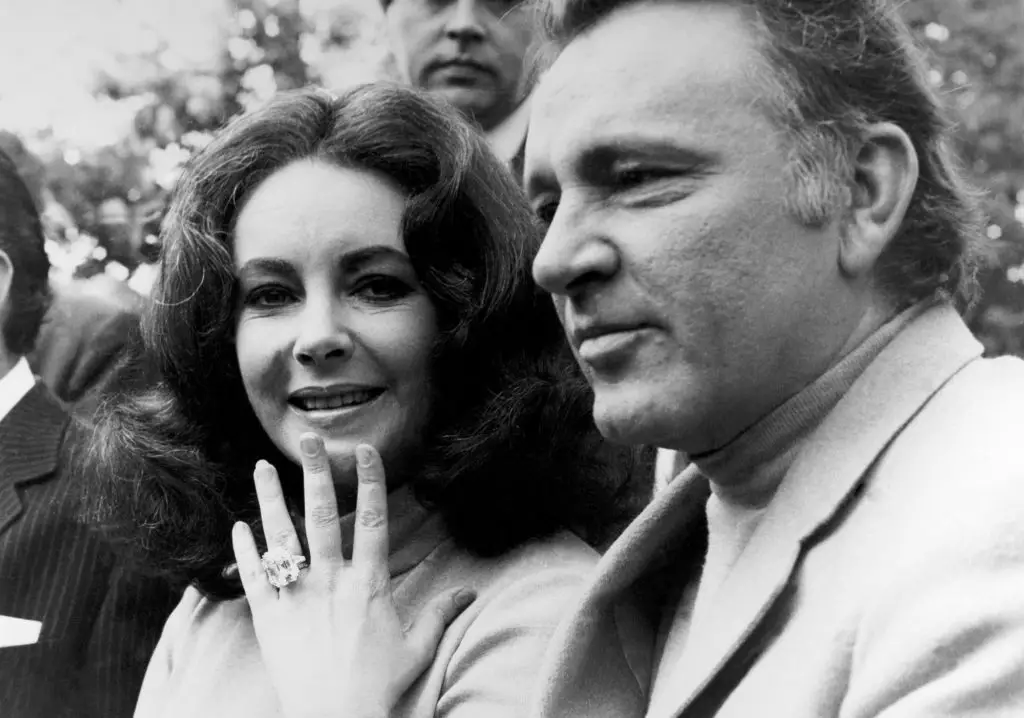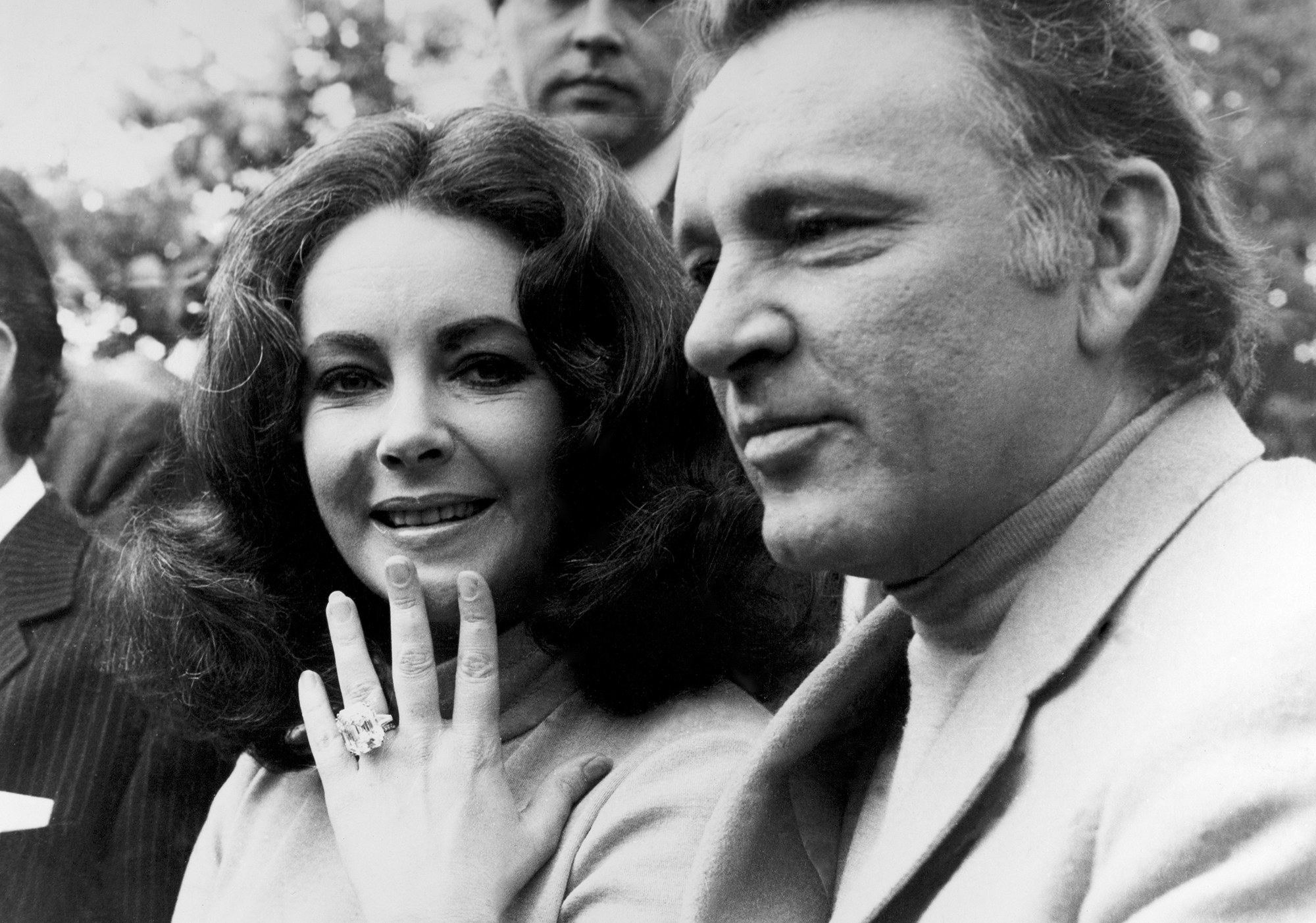 2. Mariah Carey
Is there any diva who could possibly top Liz Taylor's jaw-dropping, 33-carat bling? Just one… Mariah Carey. When she got engaged to Australian billionaire James Packer in January last year, he wowed the world and probably made Mariah faint at the sight of this unforgettable engagement ring. It's a 35-carat emerald cut diamond – yes, THIRTY FIVE – set in platinum. It's worth $10 million apparently, and was designed by luxury jeweller and Mariah's close friend Wilfredo Rosado. "I took the standards super high, and I wanted to create a ring that could not be measured up to," Rosado told Vogue at the time.. "I wanted to create the most gorgeous ring for my dear friend, but I also wanted to create the most stunning ring for one of the most iconic divas of our generation." Mission accomplished.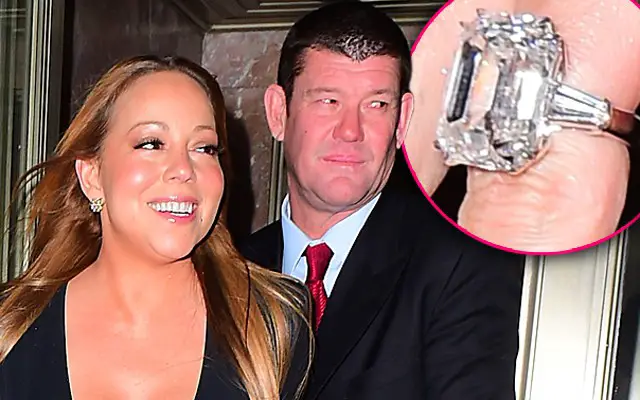 3. Beyonce
Beyonce and Jay-Z's marriage has made headlines for lots of reasons, but before the alleged infidelities, tragic miscarriages, joyful births, elevator fights and musical personal confessions, Bey's engagement ring was what everyone wanted to talk about. Designed by Lorraine Schwartz (aka jeweller to the stars), Jay-Z picked out an 18-carat emerald cut diamond set on a platinum split base. It's worth at least $5 million and according to some sources has been certified as an internally flawless diamond. Only the best for Queen Bey, naturally. This stunning engagement ring is as beautiful as Beyonce and as rock solid as her and Jay-Z's 15+ year relationship (despite the rumours).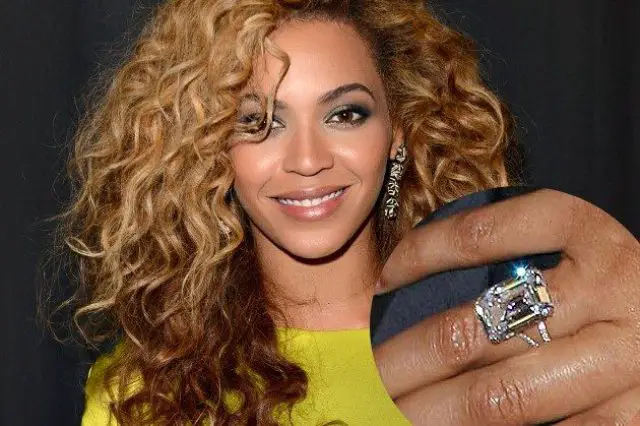 4. Kim Kardashian
Kim Kardashian's engagement ring has been in the news more than anyone could have predicted, but for some pretty negative reasons. Last year while the social media star was in Paris, she was held up at gunpoint in a hotel room and her engagement ring and plenty of other jewellery was stolen. Since then, the star and her family have been notably less active on social media – but that's no reason to stop admiring Kim's gorgeous bling! The one that was stolen is actually an upgraded ring given to her by hubby Kanye West. He had just signed a lucrative deal with Adidas and decided to surprise his love. So, he bought this 20-carat, radiant cut, Lorraine Schwartz diamond (as we all do) with a delicate pave-diamond band and setting and had it engraved with the word 'Adidas'. All so he could turn to Kim and say 'hey babe, I got you something special from Adidas.' Sounds like typical Kanye humour to us.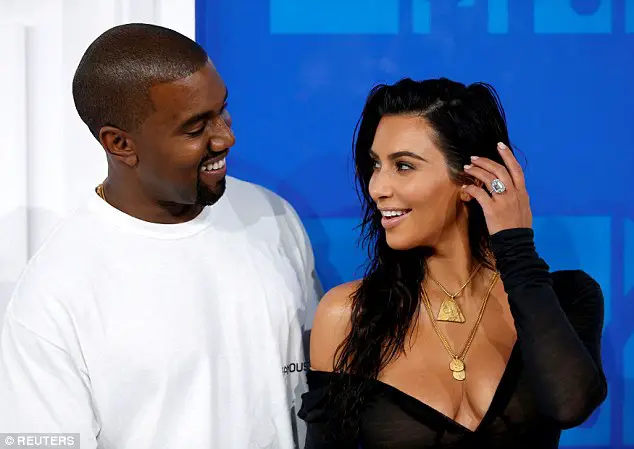 5. Paris Hilton
Remember in the 2000s when Paris Hilton was literally everywhere? Back then, the hotel heiress was in a relationship with her Greek counterpart and namesake, socialite and heir Paris Latsis. In April 2005 they got engaged, and for the next six months or so until they called it off, Paris (the female) was sporting some very impressive bling on her ring finger. Her engagement ring was a 24-carat emerald cut diamond set in platinum that was reported to be worth $4.7 million. When the couple parted ways later that year she kept the ring, and ended up auctioning it off to benefit the victims of Hurricane Katrina, raising over $2 million. Whatever the motives behind the move (i.e. doing some good or hitting back at her ex, depending on which tabloid you read), it's good to know that there was a silver lining for a lot of people.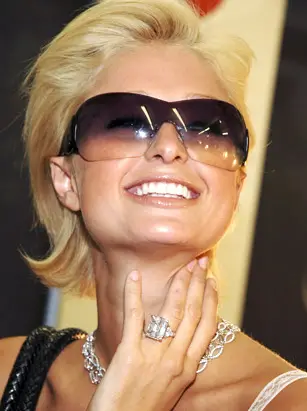 6. Ciara
As big engagement rings go, Ciara's is probably the biggest we've seen in the past year. The singer songwriter got together with Seattle Seahawks quarterback Russell Wilson back in 2015, and we knew straight away if their romance lasted, some pretty impressive bling was on the way. They got engaged in March 2016, welcomed a baby girl together in April 2017, and got married last month… it's been a whirlwind 18 months for this power couple, and it all started with this giant rock. Russell chose a cushion cut, 16-carat diamond that according to gossip columns is internally flawless. It's flanked by one trillion and one pear shaped diamond on both sides (four side stones in total) and set in simple platinum. Contemporary and classy, this is an engagement ring that really means business.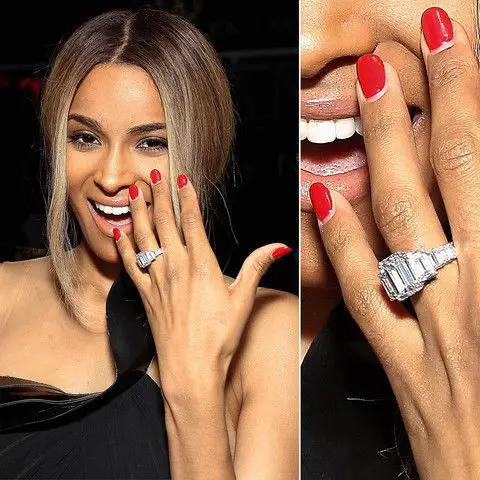 7. Avril Lavigne
For one-time teenage rockers, the romance of rock chick Avril Lavigne and Nickelback frontman Chad Kroeger was a match made in heaven (or hell, depending on your music tastes). The Canadian duo got together in 2012 while working on Avril'd 5th album together. Love blossomed, and they married a year later on Canada Day in the south of France. It may have been a roller coaster relationship, but Chad proved just how serious he was with this proposal bling. It's a 14-carat pear shaped diamond flanked by a half-moon diamond on either side. Just one year later for their first anniversary, he went even bigger with a 17-carat emerald-cut diamond. If their marriage had lasted long term, who knows how big Avril's bling would be by now!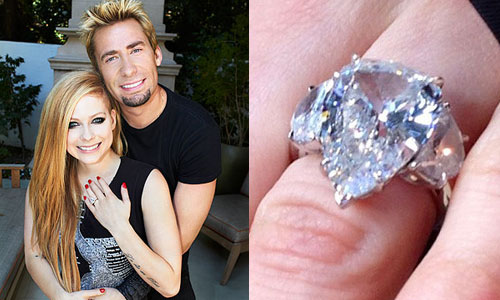 8. Hilary Duff
Child TV star turned pop singer Hilary Duff is just 29 years old, but she's already achieved so much. From her days at Nickelodeon to her triple and quadruple platinum albums to her roles in big budget Hollywood movies, we're surprised she's found the time for a relationship, let alone a marriage and a baby! Hilary was married to Canadian ice hockey star Mike Comrie from 2010 to 2016, and he chose to propose with this fabulous – and humongous – engagement ring. It's a 14 carat princess cut diamond on top of a thick band studded with a pave diamond band and accent stones at the sides. Those in the know say it's worth a hefty $1 million, and we're inclined to believe them. Just look at that baby sparkle!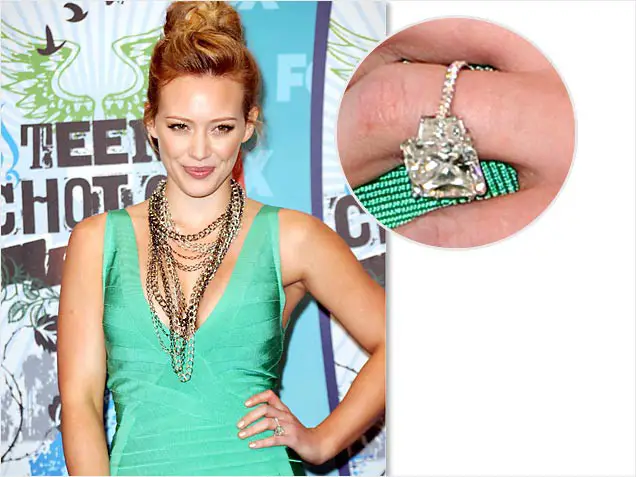 9. Jenny McCarthy
Jenny McCarthy has had quite the ride since her days as a Playboy model and MTV presenter. After a very high profile relationship with Jim Carrey, she began dating Donnie Wahlberg (yep, Mark Wahlberg's brother) in 2013. They began engaged in 2014, and boy did Donnie bring the goods. He co-designed the engagement ring with the help of Newport jewellers, taking elements of several different designs to create a custom ring. It's a 10+ carat yellow sapphire, with a pave diamond band and halo setting. When viewed from the side, there's a gallery of diamonds that adds even more sparkle. It's bold and beautiful just like Jenny, and the coloured gemstone is shows that she was ready to jump on the biggest engagement ring trend looong before the rest of us were even thinking about it.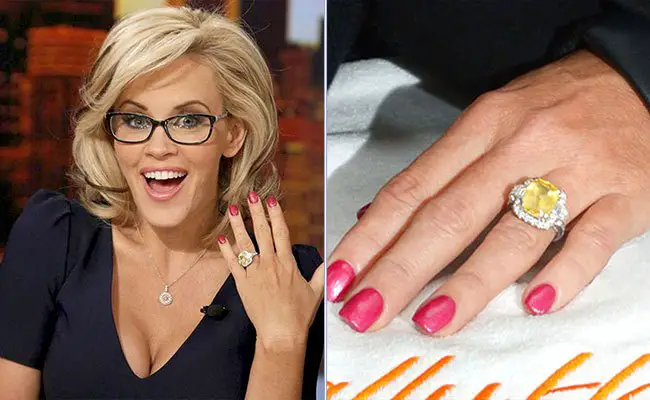 10. Grace Kelly
A fairy tale love story that met a tragic end, Grace Kelly and Prince Rainier of Monaco's romance is one that has gone down in history. The pair met at Cannes Film Festival in 1955, and the Prince instantly loved her from afar. He travelled to Philadelphia to see Grace and her family a few months later, and proposed while he was there. In true Monaco style, this timeless and inspirational ring displays a 10.47 carat, emerald shaped diamond as the centrepiece, accented with baguette diamonds on the shoulders and set in platinum. More than any other engagement ring, this one has set the bar for classic style that transcends generations. For an up close look, you can see Grace wearing her ring in High Society.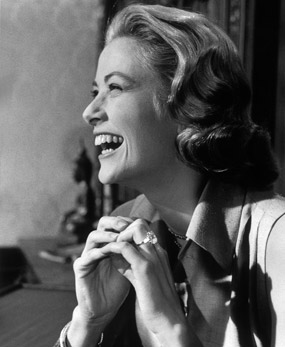 11. Catherine Zeta Jones
It's not the biggest engagement ring on the list (although at 10 carats it's definitely not to be sniffed at), but Catherine Zeta Jones' wedding jewellery is one of the most unique big rings we've seen. The actress met fellow actor Michael Douglas in 1998, and the married a year later in 1999 in a lavish ceremony in New York. Having been through physical and mental health troubles together and a temporary separation, they reconciled in 2014 and now seem stronger than Catherine's stunning rock. Michael picked out an engagement ring with a 10-carat marquise diamond, set horizontally in a unique design. It's surrounded with a 28 smaller stones in a micro pave-style setting. Definitely one to covet.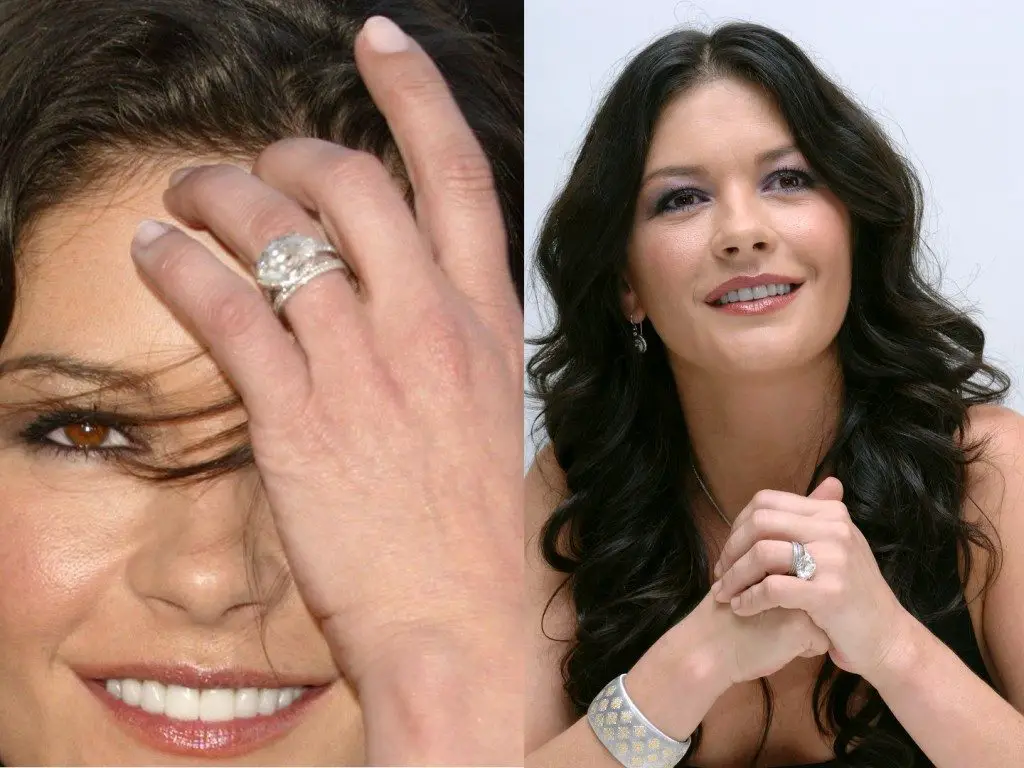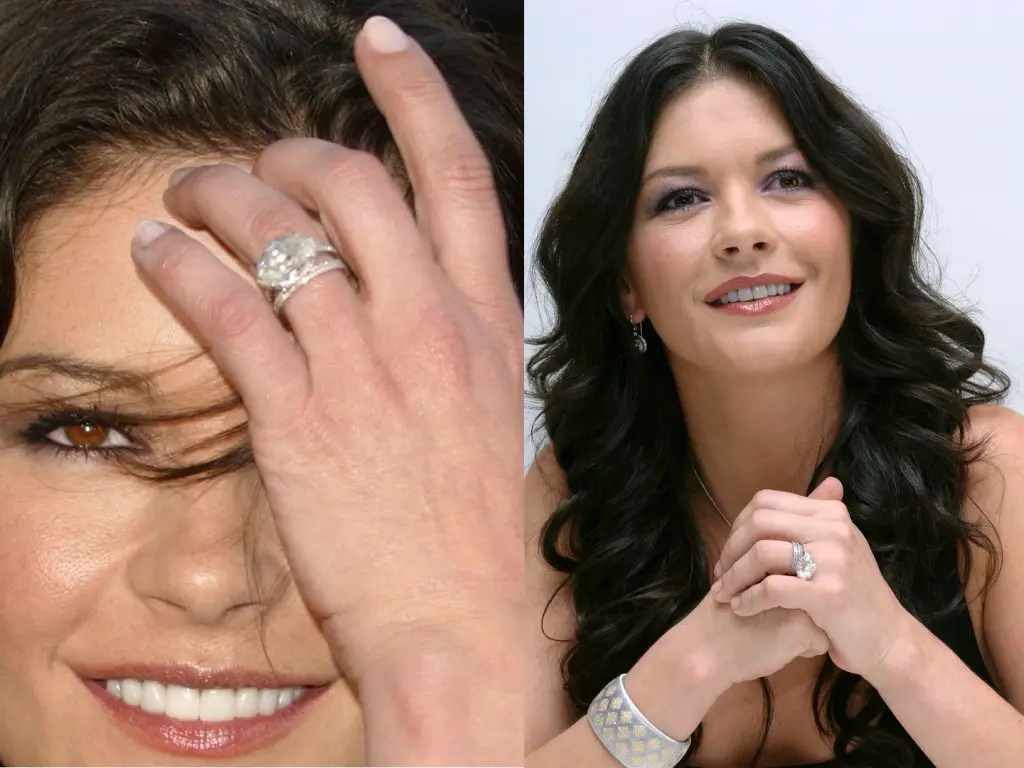 12. Heidi Klum
Heidi Klum and Seal cannot be beaten with their extravagant proposal story. Singer Seal took model Heidi to the Canadian Rockies, hired a helicopter, flew her to the top of a mountain, and showed her into their own private igloo with champagne, flowers, and this unbelievable engagement ring inside. If you didn't think he'd already done enough by that point, wait until you hear the details of this ring; it's a 10-carat, radiant shaped, canary yellow diamond. You don't need us to tell you how much that's worth (just know that it's a LOT). The centre stone sits on a matching yellow gold band that's encrusted with micro pave white diamonds for a touch of fairy tale sparkle. We can't help but feel a little – or a lot – jealous.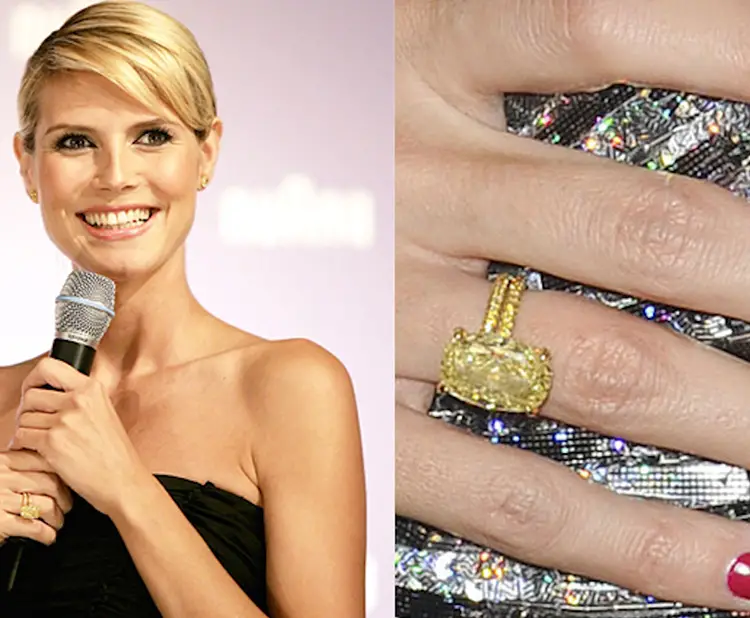 13. Khloe Kardashian
Her older sister Kim may steal most of spotlight, but Khloe Kardashian's engagement bling is a strong competitor for our favourite KUWTK (Keeping Up With the Kardashians) bling. Khloe got engaged to NBA star Lamar Odom back in 2009 just four months after they first met, and he presented her with this jaw dropping beauty. It's a 12.5 carat cushion cut centre diamond, adorned with a halo setting and a pave diamond triple band. Estimated to be worth $850,000, it uses only the finest quality gems and craftsmanship and is the epitome of modern day bling. Sadly the couple separated in 2013 and we don't get to see this ring as much as we'd like to. Rumour has it Khloe is set to tie the knot again, so we can't wait to see her next rock!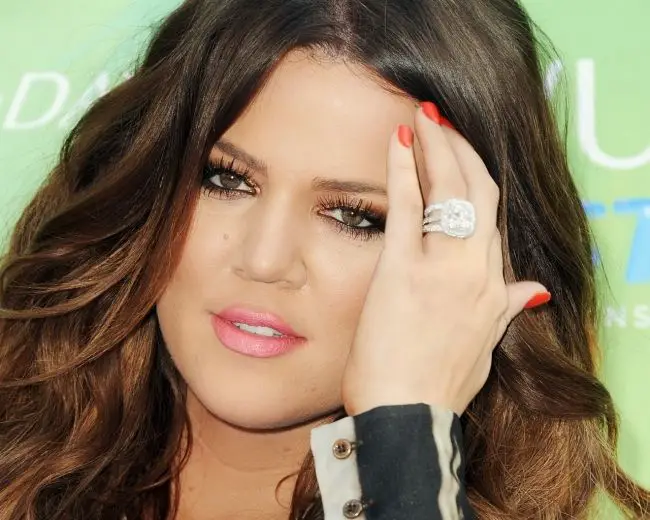 14. Gabrielle Union
There's traditional engagement rings, and then there's Hollywood's version of traditional engagement rings. Actress Gabrielle Union's rock is a lesson in the latter. She got engaged to her boyfriend of four years, Miami Heat star Dwayne Wade, back in 2013. Dwayne kept things plain and simple with his choice of engagement ring; he opted for a classy diamond solitaire in a plain and simple prong setting. Where does the Hollywood part come in? Well, it's an 8.5 carat diamond and it came from luxury jeweller Jason of Beverly Hills. Its estimated worth is somewhere around the $1 million mark, too. The band is plain metal (we're guessing platinum) so the stone takes all the attention, making for a timeless, elegant, and understated design – despite the giant rock size.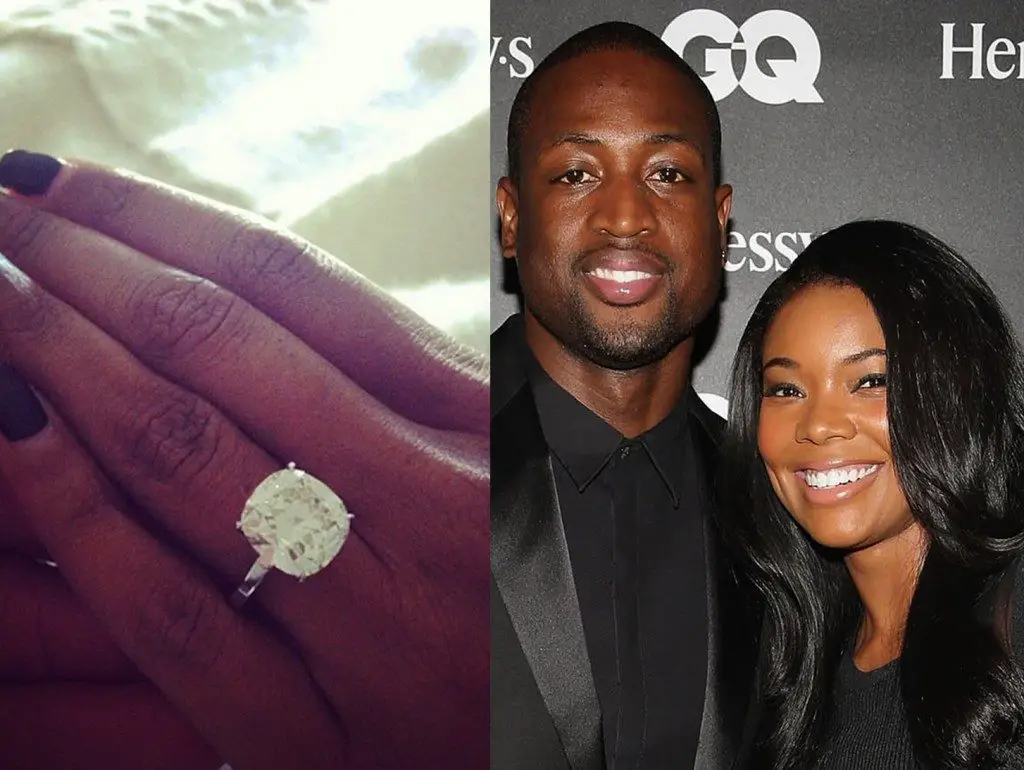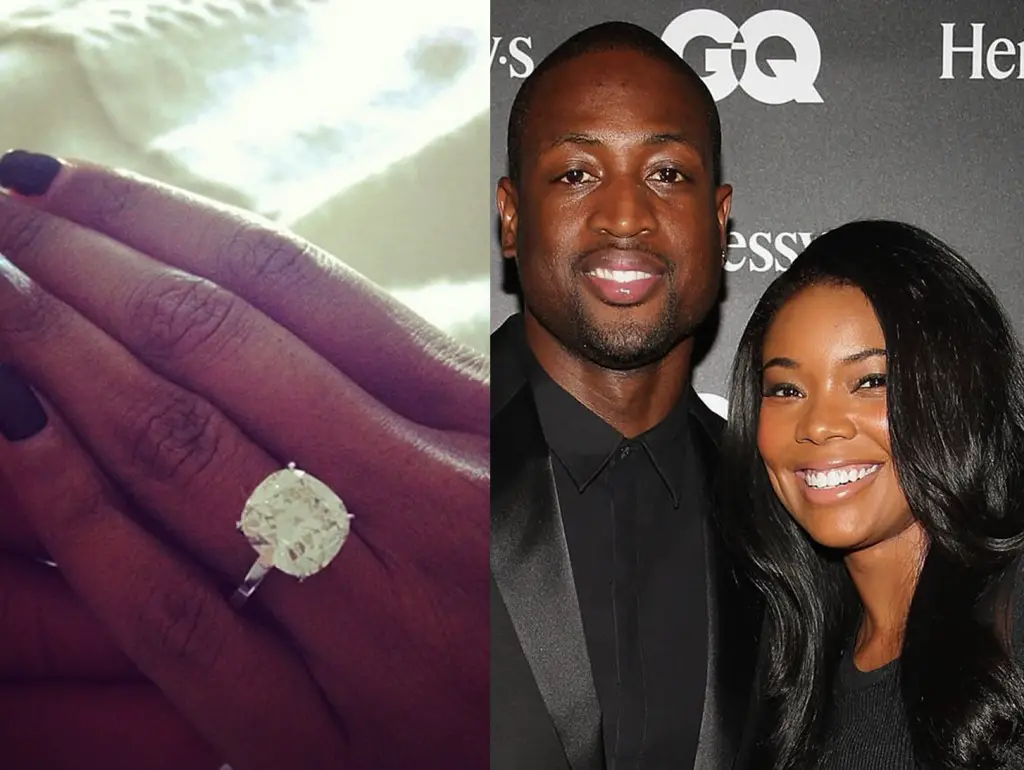 15. Kate Hudson
It's one of the smaller rings on this list, but Kate Hudson's engagement ring from Muse frontman Matt Bellamy is one of our favourite big-but-not-too-big celebrity rings. After meeting at a music festival where Muse were playing a set, the blonde bombshell actress got separated from her friends, so Matt took her under his wing. From there love blossomed, and a baby and engagement ring followed. Matt chose a stunning 9-carat emerald cut diamond set in platinum. Classic, timeless and exuding glamour, it's finished off with baguette diamonds at the shoulders for an extra hit of glitz. We love this one, and the big-but-not-too-big size means we'd actually wear it in real life, too.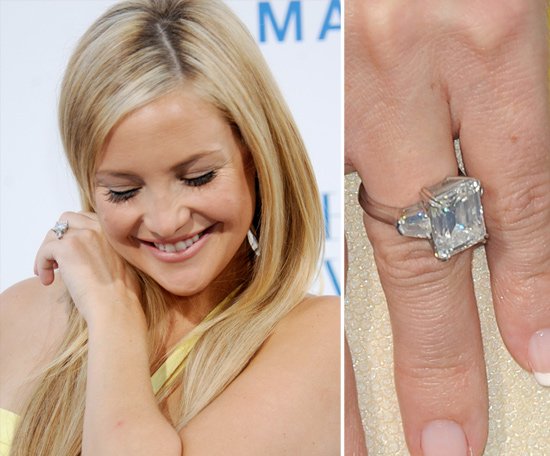 16. Janet Jackson
Janet Jackson keeps her private life private, so we're pretty surprised we ever caught a glimpse of her engagement ring. Her hubby is Qatari billionaire Wissam Al Mana, and they got engaged way back in 2012 (it was news to us, too). Rumours swirled at the time that the couple were planning a $20 million ceremony and that Janet's engagement ring was too big for her to wear, so she had to keep it securely stored instead. More recently however, pictures have surfaced of the bling that, while definitely huge, is definitely being worn on Janet's finger. Details are scarce, but by the looks of it her engagement ring is a hefty princess cut diamond with mixed metal (yellow gold the platinum). The setting looks pretty elaborate, encrusted with diamonds all around and sitting high so the centre stone takes all the attention. Definitely worthy of a billionaire and a superstar.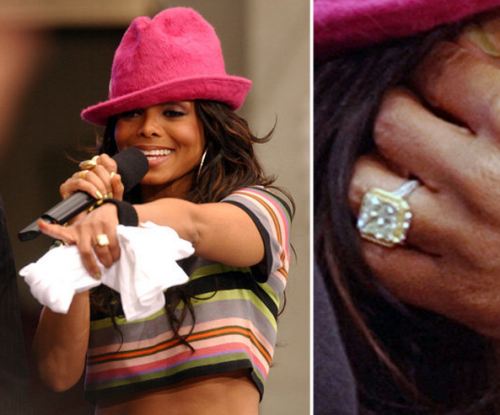 17. Jennifer Aniston
For some reason, media outlets have focussed on Jennifer Aniston's love life more than any other Hollywood actress. From her marriage and divorce to Brad Pitt, to speculating over her desire to have kids, to her engagement and wedding to fellow actor Justin Theroux, she's held the title of 'unlucky in love' for a long time. It's a little bit ridiculous if you ask us. Firstly, have you seen Justin Theroux? Because he's a smart, talented and handsome guy! And secondly, have you seen her engagement ring? We don't see any reason to pity Jen. At all. Justin proposed in 2012 with what Jen herself calls a 'rock'. It's an 8-carat rose cut diamond said to be worth $500,000, and it's held in place with a simple prong setting and a yellow gold band. You can't get more classy than that.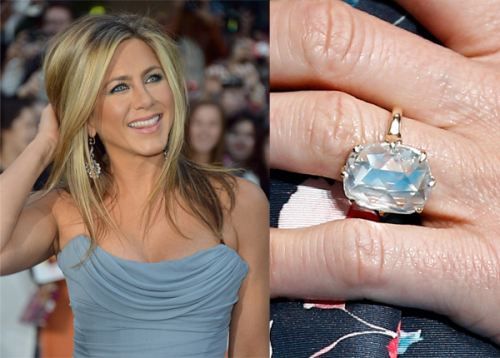 18. Serena Williams
The latest newcomer to the giant engagement rings club is Serena Williams, one of the best tennis players and sports stars in the history of the game (and the world). She got engaged to Reddit co-founder Alexis Ohanian earlier this year, and is about to give birth to their first child any day now. Alexis whisked his love off to Rome where they first met for the proposal, and the star – who is usually very protective of her private life – took to Reddit to announce the news via a poem. Sadly she hasn't been so forthcoming with details on the engagement ring, so this is mostly guesswork. But we do know that it's very big, with a huge diamond (possibly oval, cushion or round) as the star of the show. If only she could wear it on the tennis court so we could get an up-close look!
19. Jerry Hall
Jerry Hall and Rupert Murdoch have to be the surprise couple of the year so far. The media mogul and former model (and former wife of one Mick Jagger) announced their engagement last year, stunning the most of the world who had only heard of the romance a few weeks previously. Since Rupert is one of the richest men in the world – and definitely the richest man in the media industry – a huge, sparkling engagement ring was always a sure thing. Jerry got a 20-carat marquise diamond set in platinum, internally flawless and colourless. A marquise diamond of this size is incredibly rare, so it shouldn't surprise anyone to hear that this rock is worth at least £2.4 million.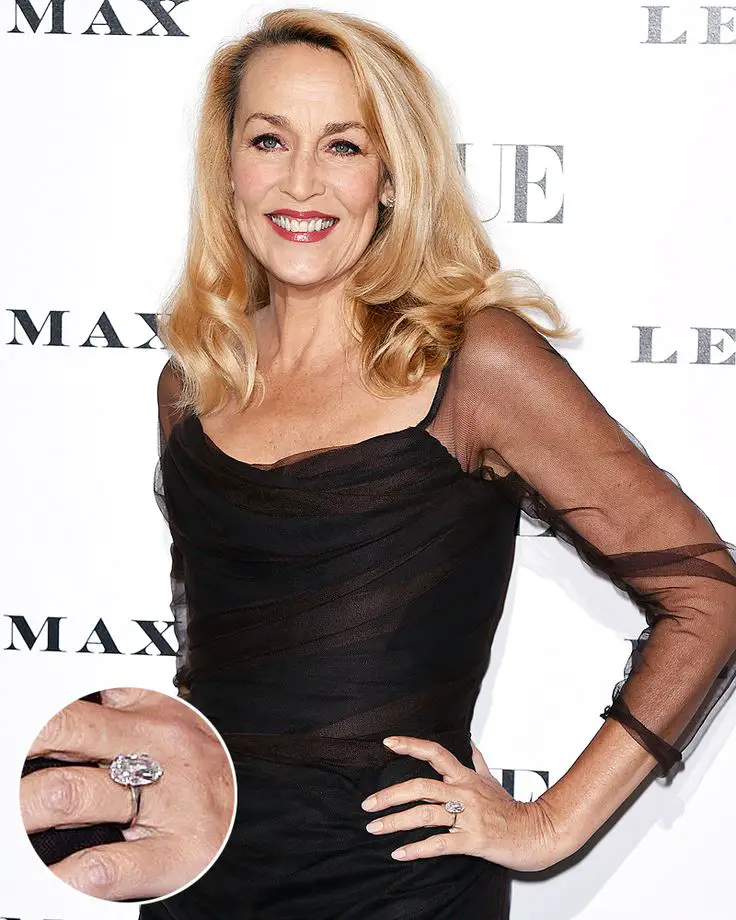 20. Blake Lively
Last but not least is Gossip Girl Star Blake Lively's engagement ring from Deadpool himself, Ryan Reynolds. Together since 2011 and married since 2012, the term 'relationship goals' is often used when talking about this pair. The day after their wedding at Boone Hall Plantation and Gardens in South Carolina, Blake and Ryan were snapped leaving the venue with some sizeable diamonds in tow. Ryan chose an exquisite oval diamond engagement ring clocking in at 12 carats. It's paired with a simple prong setting and a rose gold band, which is paved on three sides with tiny round diamonds. It's modern and timeless all at once, rocking the oval diamond and rose gold trends years before the rest of us knew about them. Definitely one of our all time favourites.