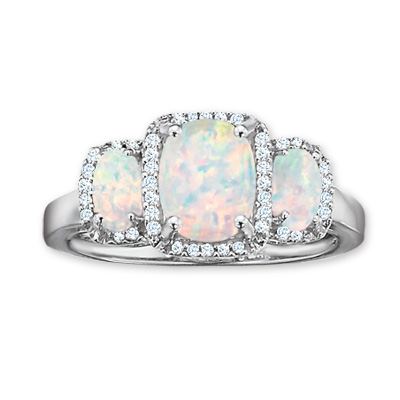 Just like anything else you wear on your body, engagement rings are subject to changing fashion trends. Here's what you can expect to see more of this autumn/winter season…
Oval Diamonds
We're in love with oval cut diamonds! This is a trend that's gaining popularity at a very fast rate. It's more unusual than the classic round cut, and the oval proportions can make your centre stone look bigger (if it's a rounded opal) or can elongate your fingers (if it's a more 'pointy' opal). Plus it harks back to vintage engagement ring styles – but more on that later. One thing to remember; all oval diamonds have a 'bow-tie', a small dark area in the shape of a bow-tie that runs left to right across the centre of your stone. If it's too obvious or not present at all, that's a bad sign. If you can see it but only when it's pointed out to you, you have a perfectly proportioned oval diamond on your finger.
Opals
This is another rising trend that we could not be more excited about. Opals are magical, endlessly beautiful and downright captivating. We could talk about them forever! From fire opals to blue and black opals to the traditional milky white opal with flashes of rainbow colours, this gem makes for a truly unique engagement ring perfect for the non-traditional bride. If you've heard tales of opals being bad luck, pay no heed; that myth comes from a popular fictional novel in the 19th century. Vogue has been talking about opals almost non-stop recently (okay, that may be a slight exaggeration) and Jane Fonda's auctioned opal engagement ring fetched a very significant lump of cash. So watch out, opals are about.
Vintage Styles
You could argue that the solitaire engagement ring is itself a vintage style since it has been around for decades! But what we're talking about here is new engagement rings inspired by vintage details.Think shoulder accents, unusual settings, intricate detailing like beading and filigree, scrolls and leaves… basically anything romantic, feminine or with that hand-crafted kind of feel. If you're a traditionalist the good news is that platinum and round cut diamonds tend to be the norm with vintage styles, and the accents are usually very subtle and complement the overall design. It's not a new trend, but we've slowly been seeing more and more of this kind of thing in recent years and pretty soon it will be everywhere. Trust us.
Rose Gold
Rose gold completely exploded onto the jewellery scene a few years back after a very long hiatus. You'll find it in watch, bracelet and pendant form and now engagement rings too. The best part about rose gold? It flatters every skin tone from pale ivory to rich mahogany and everything in between. You can also choose your desired rosy tone: rose gold is yellow gold mixed with copper, and the more copper, the more red/orange the colour. Why is rose gold a trend for autumn/winter if it's already been a trend for the past year and counting? Well, for one thing it's not going away anytime soon. But also, it's autumn! All those falling leaves is bound to inspire plenty of brides to choose an autumnal themed ring.
Hexagon Settings
Remember back in 2011 when Prince William and Kate Middleton got engaged? He proposed with his mother the late Princess Diana's engagement ring, a stunning oval sapphire surrounded by white diamonds. It quickly became the most popular engagement ring style in the world, and sapphires are still the most popular coloured gem choice. This summer, Kate's sister Pippa got engaged with a similarly wow-tastic ring. It's an art deco piece with white diamonds and platinum in a gorgeous hexagonal setting. Jewellers are already reporting a sharp increase in the number of customers requesting similar designs, as much as 400% according to some. Expect art deco styles in general, and hexagonal settings in particular, to be especially popular over the next few months (and maybe longer).