You wouldn't be seen dead wearing those giant shoulder pads that were popular in the '80s, would you? It's the same deal with (some) engagement rings. Here are 7 engagement ring trends that could soon be as out of date as perms and pigtails…
The plain, yellow gold solitaire
If ever there was an engagement ring style that transcended generations, the traditional yellow gold ring with a single diamond on top is it. However, it's rare to find an engagement ring these days without some added details. Be it a halo setting, pave diamonds on the band or a coloured gemstone on top, brides are definitely choosing rings with embellishments. There will always be those who love tradition, of course, but we reckon this style of engagement ring will become exceedingly uncommon in the coming years.
The costume jewellery look
Chunky coloured gemstones, elaborate settings and thick bands are on the way out. Unless you're an especially exuberant millionaire, that is. A few years ago we were seeing crazy Art Deco style engagement rings everywhere – think Ashlee Simpson and Scarlett Johansson – but now, not so much. Modern brides are going still for vintage looks, but with a much more romantic and delicate twist. The demand for top quality coloured gemstones means brides are choosing precious stones like sapphires and rubies, but because of the cost, they're choosing them in smaller sizes. Say goodbye to the big, bold engagement ring.
The four (or five) stone ring
A row of four or five equal sized diamonds was a big trend back in the 1980s, but it's almost never seen today. A fantastic option for getting plenty of sparkle without the expense (five small diamonds can be much cheaper than one big one), this style was often seen with detailed prong settings and sometimes mixed metals for added visual interest. But here's the thing; we think this style could see a resurgence in popularity at some point in the future. Watch this space!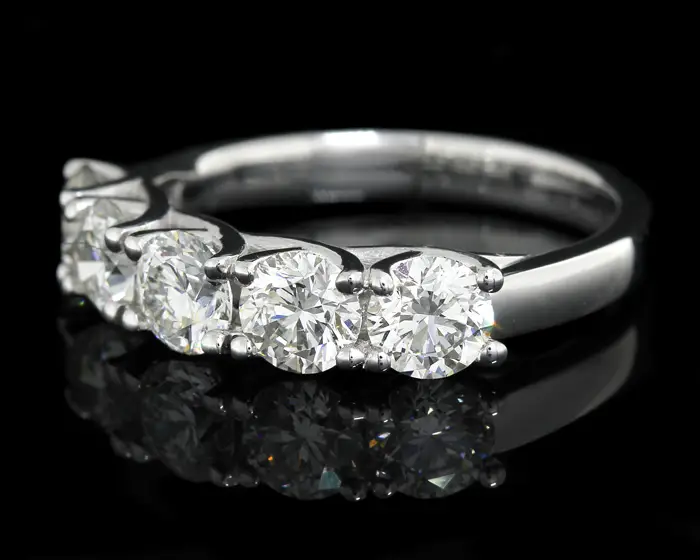 The tiny diamond
Let's face it; when it comes to diamonds, bigger is always better. At least, it is according to today's newly engaged brides-to-be. With so many celebrities rocking diamonds that clock in at a minimum of 15 carats – Beyonce's is 18 carats and Kim Kardashian's is 20 – it's no wonder that the trend for big and dazzling diamonds continues. Smaller sized diamonds just won't cut it for the centrepiece of an engagement ring anymore – but they're still perfect for pave bands or halo settings, so it's all good.
In fact… just diamonds
Take a gander at any jewellery store window these days and you won't see just diamonds. You'll see sapphires, rubies, emeralds, and a whole rainbow of other gemstones. That's right, coloured gemstones are back with a bang. Diamonds are slowly starting to relinquish their spot at the top of engagement ring fashion, and we think it's a looong time coming. More colour means more variety, more creative designs, and more unique engagement rings for everyone! Who wants their engagement ring to look like everyone else's? Nobody, that's who.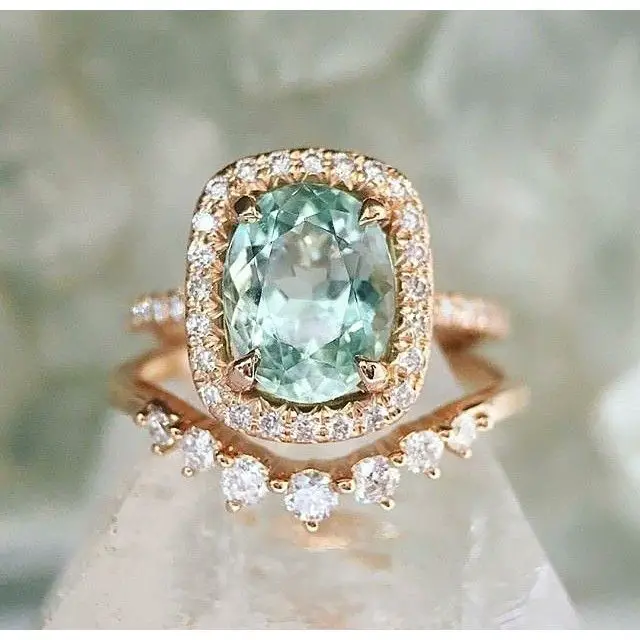 White gold bands
Since some time in the 1970s, silver toned metals were favoured over yellow gold for engagement rings. Yellow gold was deemed dated and old school, while silver toned metals such as white gold and platinum were considered modern and elegant. Now the tables appear to be turning again. White gold is everywhere and no longer unique. Yellow gold has a classic and vintage feel, and don't even get us started on the metal of the moment – rose gold. It looks like white gold will be taking a back seat for the next few years.
The halo setting
This is a contentious one, but we feel it's warranted. A hell of a lot of brides own and love halo engagement rings, and that's kind of the point. Newer brides are seeking out looks that are more unique. And with the latest addition to the royal family (Meghan Markle) sporting a beautiful three stone engagement ring sans halo, we think this is set to become the next big trend. Halos are out, accent stones are in. Don't say we didn't warn you.