You can't more alternative than a signet engagement ring…
Signet rings have been around for centuries, but lately we're seeing them worn in entirely new, and entirely untraditional, contexts. Usually known as family heirlooms today and always considered a gentleman's accessory, fashion forward women are now taking the signet ring and making it their own. But what exactly is a signet ring, anyway?
Historically signet rings were worn by important men like heads of houses, leaders and royalty. They were worn on the little finger of the non-dominant hand and had a flat surface engraved with the family crest, initials or house sigil. When signing documents or sealing letters, they would drip some hot wax onto the paper then press the surface of the ring onto it, so that the symbol would display in the wax.
This seal was considered to be even more legitimate than a signature at the time. They were proof of authenticity, because each ring's design has unique markings on it to identify the person or family. Signet rings were also made in a mirror image so the document seal would appear the right way around – this meant they were tricky and expensive to make, and were either destroyed when the person died or handed down for the next generation to use.
With the onset of mass literacy, signet rings eventually became more of a style choice than a functional item. Prince Charles still wears his elaborate design on a daily basis, but we're guessing he doesn't use it too often for signing letters with a wax seal. Which brings us up to today!
Style icons like Kate Moss, Cara Delevingne, Rosie Huntington Whiteley and Pippa Middleton have all been spotted wearing signet rings on their pinky fingers. And once that happens, it won't be long before everyone else follows. With such high profile females wearing them, this also means we're likely to see much more diversity in the designs on offer too.
So if you're looking for a totally unique,  on-trend, and non-traditional engagement ring, why not choose a signet ring to wear on your engagement finger? Replace the coat of arms with a symbol that's meaningful to you as a couple, or opt for a traditional take and go for an array of diamonds and gemstones instead. Here's some inspiring designs we've seen around the web to get your thought process rolling…
The Floral Diamond Signet Ring
The mixed metal and combination of diamonds with coloured gemstones is a beautiful touch to this feminine and super stylish signet. Better yet, you can pick your own custom design too.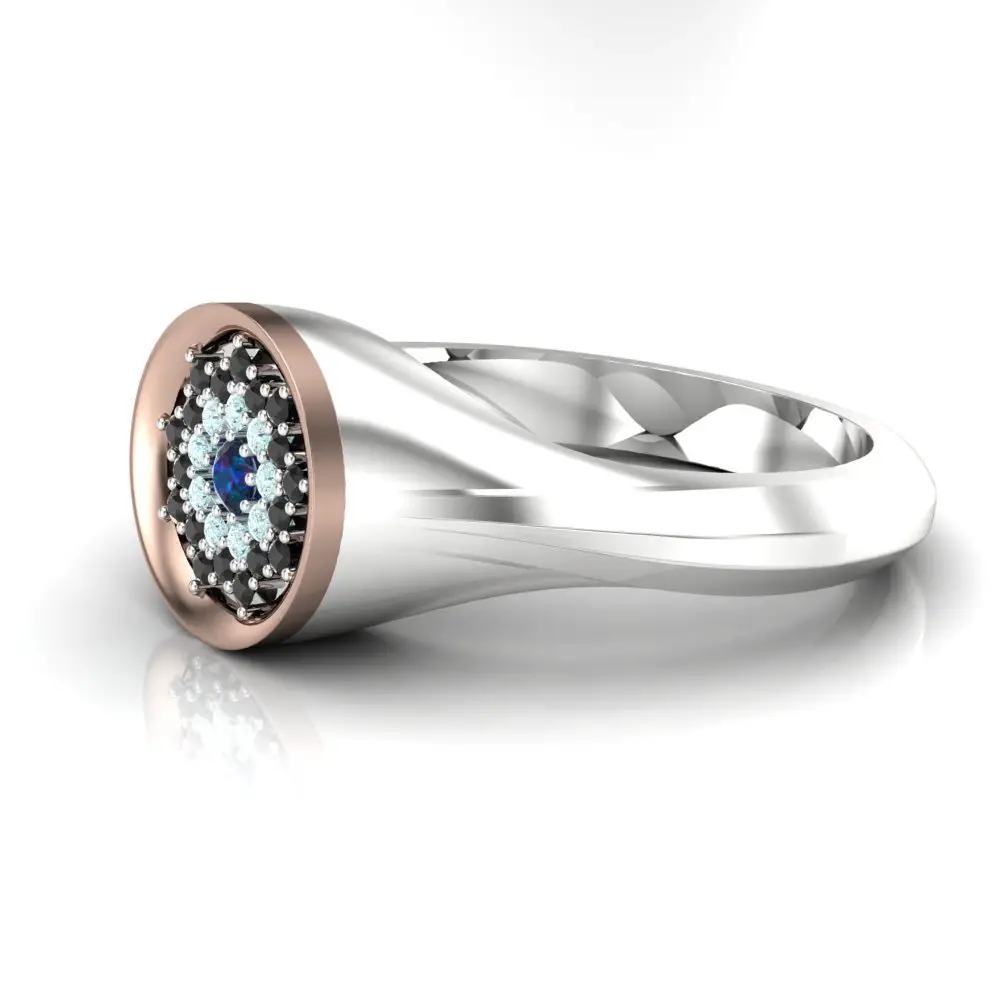 The Rose Gold Signet Ring
Pave diamond shoulders and a starburst design in the centre gives this design a delicate finish. And of course, rose gold looks good on any kind of ring. We really love this one.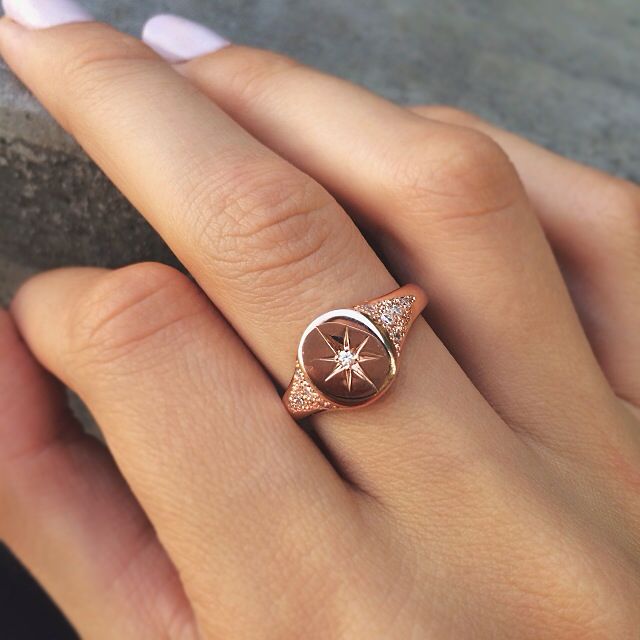 The Art Deco Signet Ring
Two non-traditional styles in one, this art deco signet took our breath away. We love the strong shapes, diamond detail in the centre and vintage aesthetic.