Everything you need to know to get that Meghan Markle style engagement ring…
It's official. Three stone engagement rings are back, and they're bigger than ever. When the dashing Prince William proposed to his now wife Kate Middleton (known to us these days as the Duchess of Cambridge), he used his late mother Princess Diana's gorgeous sapphire ring. Cue a huge spike in brides looking for sapphire engagement rings. Now it's his younger brother Prince Harry's turn. He proposed to actress Meghan Markle with a beautiful three stone diamond ring – with the two accent diamonds coming from his mother's personal collection. So once again, brides are choosing this style in their droves.
Here's what you need to know…
If you're looking for something that's not a diamond solitaire engagement ring, but you still want something with that traditional feel, a three stone ring could be the perfect choice for you. This is a classic design that has been around since forever, enjoying brief moments in and out of the fashion trend spotlight. This design offers a lot of versatility and there's plenty of opportunity for customisation, whether that's choosing coloured gemstones, a unique setting, or adding other intricate details.
The Meaning of the Three Stones
When the three stone engagement ring design was first spearheaded by DeBeers, they put forth the symbolism of 'past, present and future'. The two stones either side of the centre gem are the past and future, while the bigger one in the middle is the present. For the religiously inclined, this could also be interpreted as the father, son and holy spirit. For those that don't really care either way, the stones can represent friendship, love and loyalty respectively. Or they could just be, you know, three pretty gems.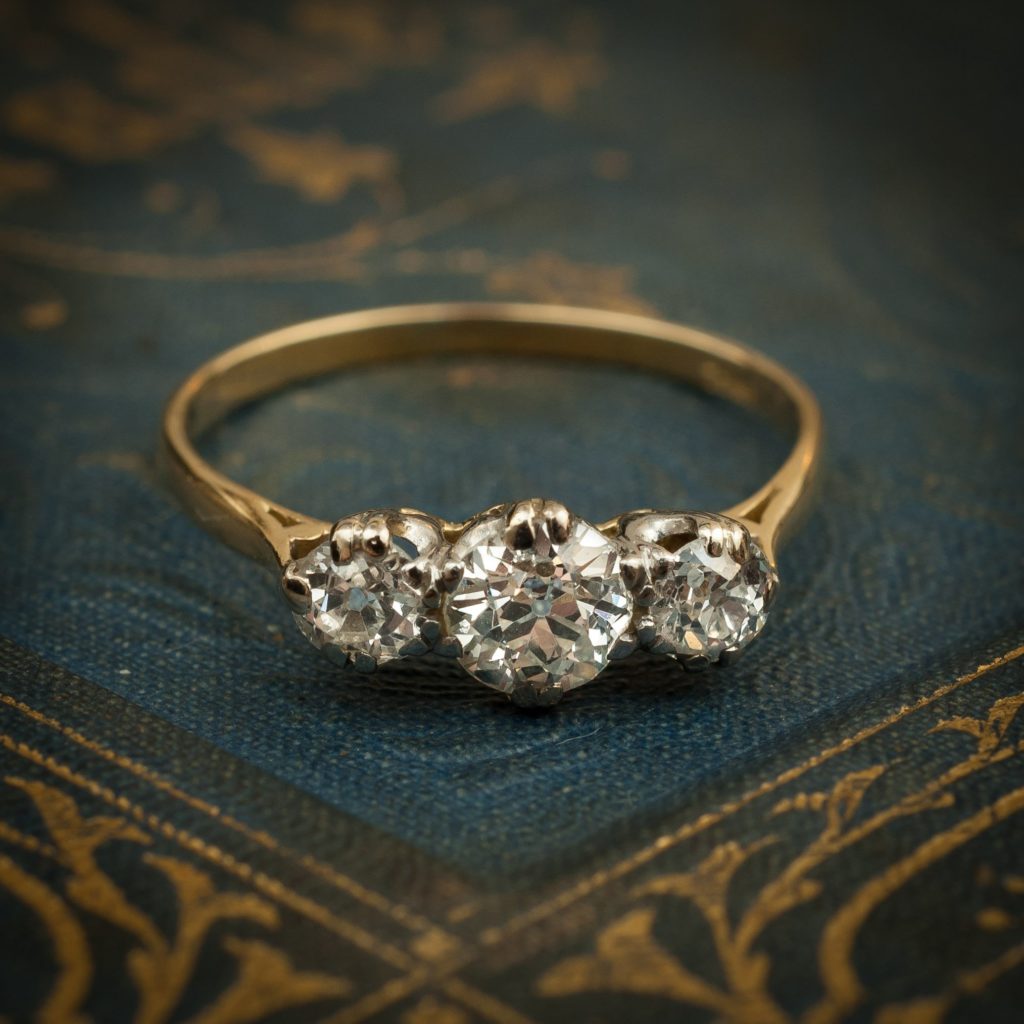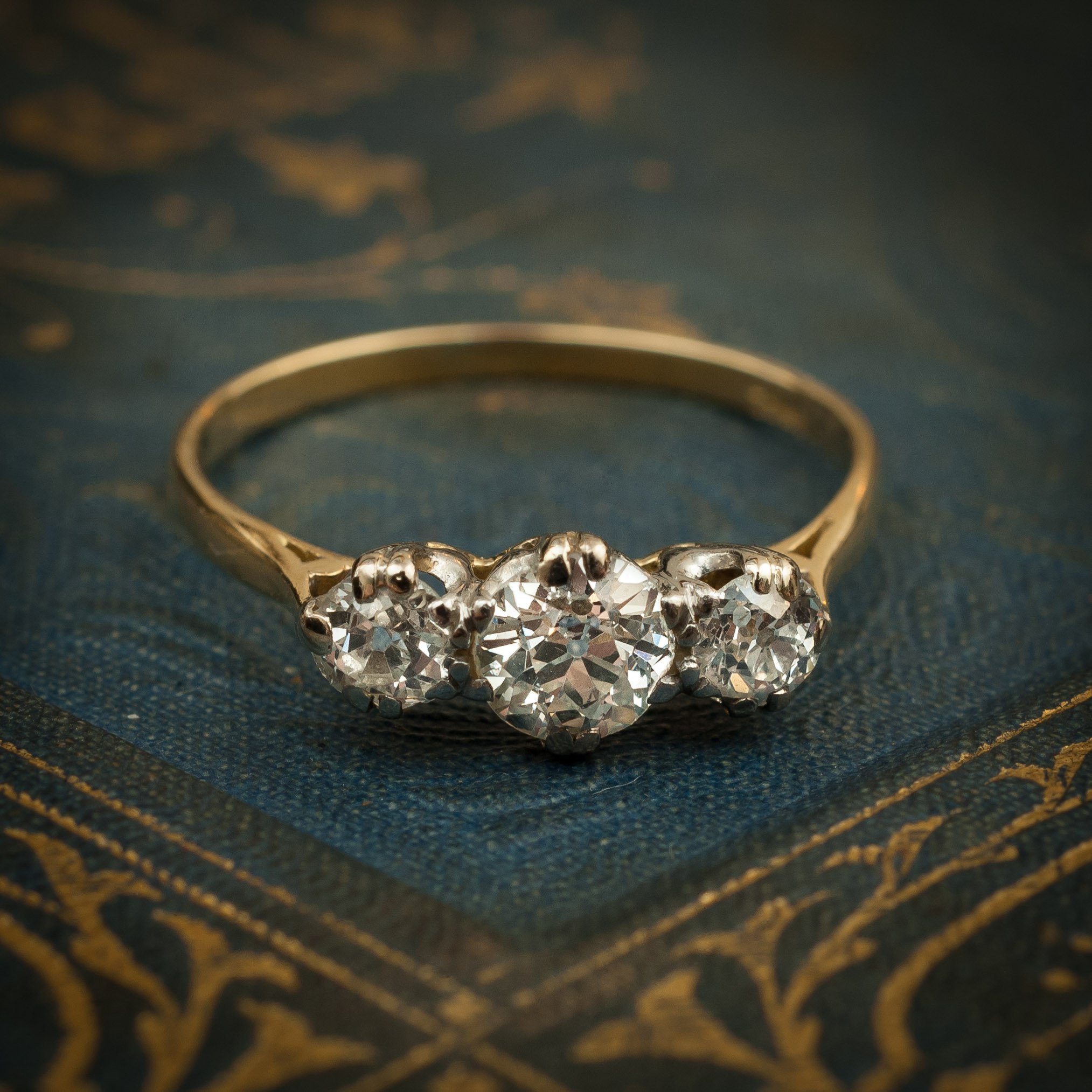 Let's Talk Money
Remember that there are a lot of variable factors involved here… but if you're on a budget, it's feasible that a three stone engagement could actually cost you less than a solitaire diamond ring. It depends entirely on the diamonds you're choosing, where you're buying, whether you're going for a custom made design, and plenty of other stuff too. But if your chosen ring has, say, a 1 carat centre stone with two half-carat side stones, depending on the quality of the diamonds it could work out cheaper than a two carat solitaire would. Plus, three diamonds means tqo additional opportunities to sparkle!
What Else Should You Know?
Not a whole lot. If your two accent stones are small or if your setting is elaborate, you may need to get your three stone ring cleaned slightly more regularly. As always, watch out for prong settings – over time they can become loose or bent, meaning your stone may not be totally secure. Remember you could have three times as many prongs to check, too. And don't be afraid to get creative – try out rings with coloured accent stones, with unusual shapes like trillions or pears, or with cool art-deco settings. There's so much you can do!
Celebrity Inspiration
Besides Meghan Markle, who else has a three stone engagement ring? Actress Cristina Ricci has a classic three stone design with white diamonds, on a traditional yellow gold band. Sofia Vergara's three stone ring from ex Nick Loeb is a little more blingy – it's a large princess cut diamonds with two baguette diamonds either side. Perrie Edwards, one member of girl band Little Mix, sported a gorgeous all-diamond design with an intricately detailed band when she was engaged to former One Directioner Zayn Malik. And Jessica Simpson chose the colourful option, with a round ruby flanked by two pear shaped diamonds.
If we're being honest, though, we still think Meghan Markle and Prince Harry knocked it out of the park.