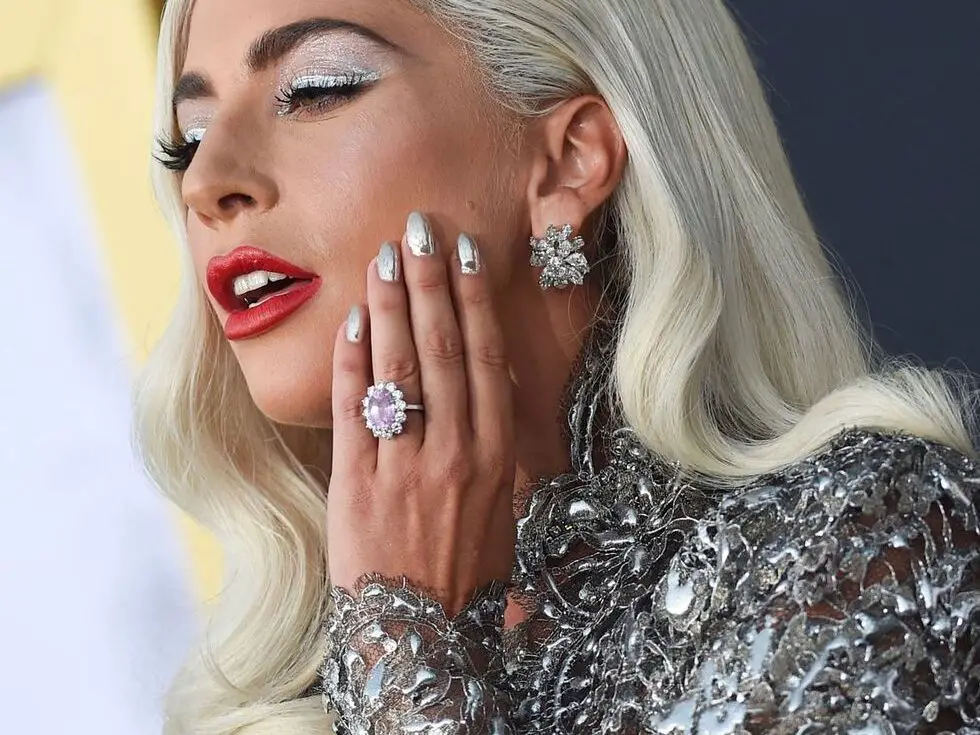 Lady Gaga — real name Stefani Germanotta — is a world-renowned singer, actress, and philanthropist known for her bold fashion choices and unique style. From meat vests, to crime-scene tape bandage dresses and telephone wire skirts, we've seen it all. She may have calmed down in recent years, but she's not stopped shocking us. 
This time, it's her engagement ring.
During her acceptance speech at Elle's 25th annual Women in Hollywood event, Lady Gaga announced her engagement to Christian Carino. The couple began dating in 2017 and was spotted wearing an engagement ring at the premiere of A Star is Born.
The ring? A 6-7-carat pink sapphire with a diamond halo. It's a show-stopper, that's for sure.
Let's take a closer look at everything you need to know about Lady Gaga's engagement ring.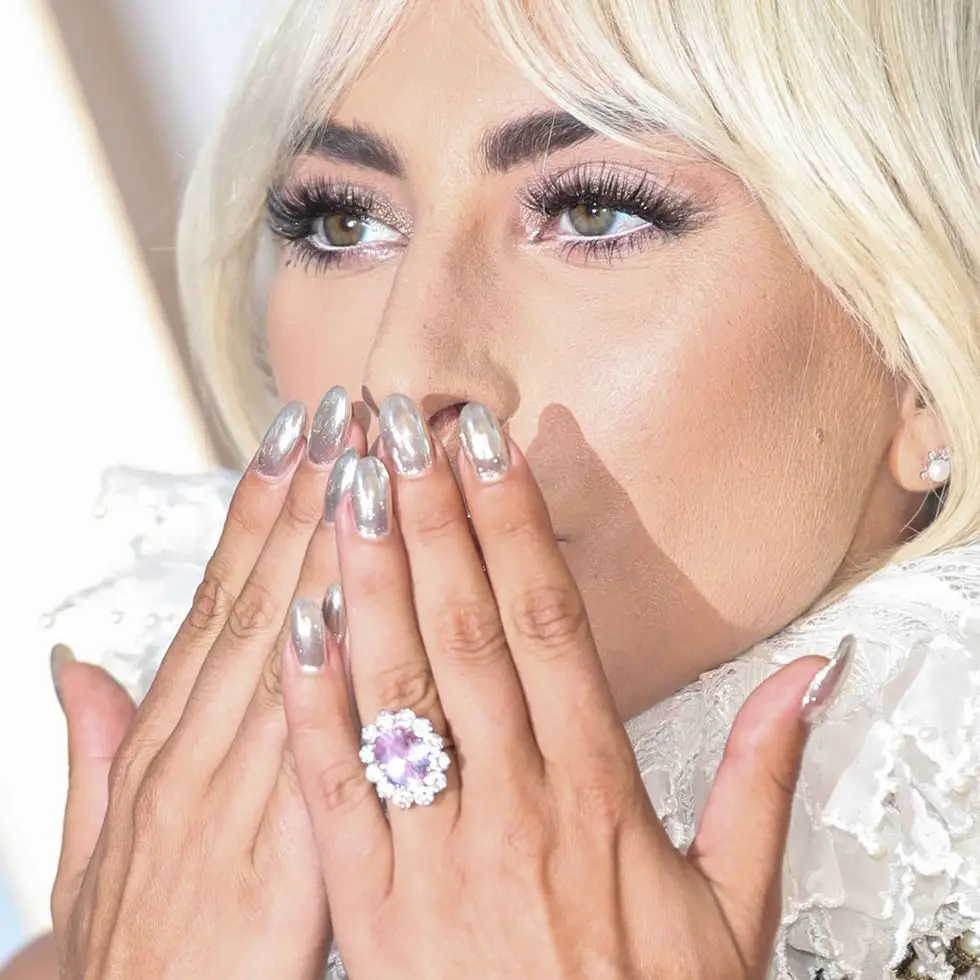 Source: The Adventurine
What does Lady Gaga's engagement ring look like?
Lady Gaga's engagement ring is a stunning pink sapphire that is approximately 6-7 carats. It's surrounded by a floral halo of 12 colorless round diamonds, set in white gold with a yellow gold band. 
The ring is unique: the pink sapphire is a rare and unusual choice for an engagement ring, but it complements Lady Gaga's style perfectly. While not confirmed, from the naked eye it looks to be a Padparadscha sapphire. A Padparadscha sapphire is a rare and valuable variety of corundum, which is the mineral that produces sapphires. The name "Padparadscha" is derived from the Sanskrit word for "lotus flower", which is a pinkish-orange color similar to that of this unique gemstone.
The color is often described as a blend of salmon and sunset, and the most prized examples exhibit a vivid saturation and a delicate balance between pink and orange tones. 
The color of the sapphire is both romantic and feminine, but also out of the box compared to most engagement rings.
The piece is similar to Princess Eugenie's engagement ring, which is a three-carat Padparadscha sapphire that includes a vintage-inspired halo of pear and round diamonds.
How much did Lady Gaga's ring cost?
While the cost of Lady Gaga's engagement ring has not been publicly disclosed, experts estimate that given the large center stone could be either a natural pink diamond, or a pink Padparadscha sapphire the ring could be worth anywhere between $400,000 to millions. 
Yes, that big a range.
The ring can easily cost over $1 million if the center stone is a natural pink diamond. If it's a pink Padparadscha sapphire, the ring's value would still register upwards of six figures.
But in our eyes, it's well worth it (and in Lady Gaga's too)…
In a recent interview with InStyle, Lady Gaga shared her thoughts on her engagement ring, saying, "The engagement ring is so beautiful. I love it. It's a representation of our love and commitment to each other. It's also a symbol of Michael's love for me and his willingness to go above and beyond to make me happy. I feel very lucky to have him in my life."
Source: Hollywood Reporter
Who designed Lady Gaga's engagement ring?
We actually don't know who designed Lady Gaga's engagement ring, and unfortunately, it's unlikely we'll ever find out. Lady Gaga and Christian Carino split in 2019, less than a year after they announced their engagement. A representative for the couple said that "It just didn't work out. Relationships sometimes end. There's no long dramatic story."
Lady Gaga was rumored to have returned the ring, and our best guess is that she won't be doing any in depth interviews about where it came from anytime soon. 
While the engagement is no more, the beauty of the pink sapphire lives on. Lady Gaga's engagement ring was a stunning piece of jewelry that reflects her unique style and personality, and we'll be talking about it for years to come.