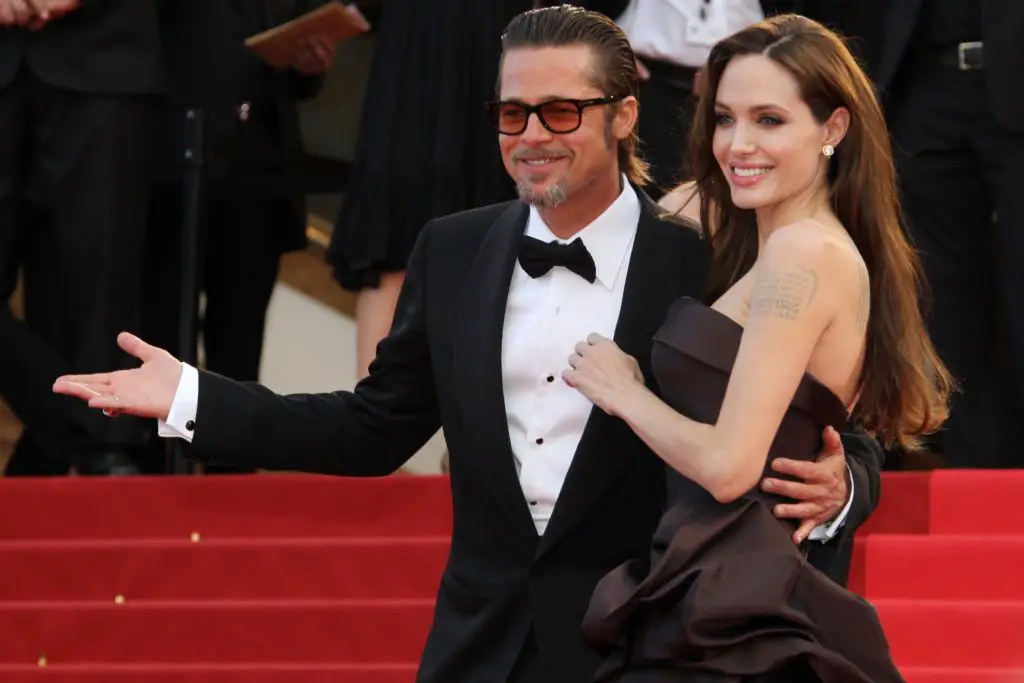 Every week we pick the best and worst engagement rings to emerge from the land of the rich and famous. One particular Hollywood leading man has been making news headlines of late; Brad Pitt. We've chosen to compare the engagement rings he chose for his two former leading ladies…
Engagements happen on a daily basis in showbusiness. Naturally, every bride – whether famous or not – thinks that their own engagement ring is the most beautiful in the world. The rest of us, however, may or may not feel the same. We scour the web every week for the latest celebrity engagement news, and choose what WE feel are the best and worst. It's all done in the spirit of fun, we mean no harm – and of course we wish the best to all of those featured! Here are our picks for this week…
The Worst: Angelina Jolie
Gossip columnists all over the world were shocked when the news broke that Angelina Jolie and Brad Pitt are divorcing. After 10 years as a couple and 6 children, it seemed like their 2014 marriage was set to be rock-solid and everlasting. Just two years later however, the unthinkable happened.
While the rumour mill is in overdrive speculating on what caused the break-up, we decided to take a look back at Angie's engagement ring. Known for being one of the most beautiful women in the world, Brad had his work cut out for him when choosing a piece worthy of his bride. He worked with the couple's private jeweller, Robert Procop, for over a year creating the design, sourcing the best materials and putting the finishing touches to the piece.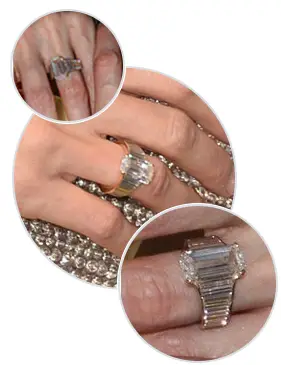 The result? An emerald diamond surrounded by a thick ribbed band – custom made to fit Angelina's finger perfectly – covered in more, smaller emerald diamonds. The entire piece is allegedly worth $250,000 and it's safe to say those stones are probably 100% conflict-free given Jolie's humanitarian work.
Our Verdict: We love that Brad was so creatively involved in the making of this ring, and the design is definitely unusual and unique. Perfect for Angie. But that's exactly the problem; her iconic status and the one-of-a-kind nature of this ring means nobody else could wear this style without being deemed a copycat. So we're gonna have to pass.
The Best: Jennifer Aniston
Brad Pitt and Jennifer Aniston were undoubtedly the biggest Hollywood power couple of the late 1990s/early 2000s. Their wedding in 2000 was featured in every celebrity magazine in existence, as was their break-up four years later in 20014 (which, if you believe everything you read in said magazines, happened around the time Brad met Angelina). Jen is happily married to Justin Theroux now, so we don't know what happened to her first engagement ring. But we do know some other facts about it…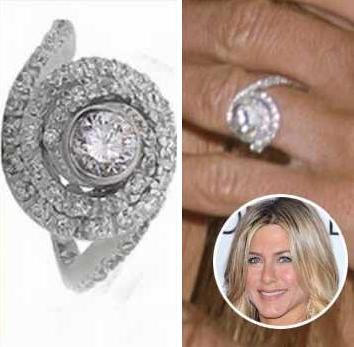 Brad's engagement ring for Jennifer was designed by Italian jeweller Silvia Damiani and apparently cost in the region of $500,000. He was also involved in the creation of this one, wanting it to be tactile and to have stones set on different levels. The shape was inspired by the concept of a heart and is a symbol of eternity.
What you're looking at is a round diamond set in the centre of a metal spiral, which is encrusted with yet more tiny diamonds – kind of like a triple halo. The band reaches out from each side adding a unique twist (and we're guessing representing the veins of the heart, or something)
Our Verdict: It may be a little ostentatious for some, but we love the contemporary design of this engagement ring. If you shaved off one or two of the concentric circles, you could easily have a more practical design for everyday wear. It's a little more romantic too. You win, Jen.