Okay, we admit it; pink diamonds are our new favourite. If this gem is anything to go by however, we'll be saving for another couple of centuries before we can afford one…
Every couple of months, the biggest auction houses in the world hold the biggest auctions in the world, with absolutely jaw-dropping pieces that only the richest people in the world can hope to get their hands on. This month Christie's held a jewellery auction in Geneva, and the Pink Legacy Diamond was the star of the show.
This astounding diamond rarely makes a public appearance, and it's rarer still for it to actually change hands. It was previously owned by the Oppenheimer family, who were the founders of DeBeers way back when. (If you don't know DeBeers, they're basically the company that made the diamond engagement ring a thing). Who is the new owner, we hear you ask? None other than the king of jewellery, Harry Winston.
So why is this diamond so special?
The Pink Legacy, now renamed the Winston Pink Legacy, clocks in at 18.96 carats and is 'fancy vivid pink' in colour – a privilege bestowed upon just 1 in every 100,000 diamonds. While most pink diamonds exhibit a colour modifier like purple, orange, brown or grey, the Pink Legacy shows no trace of a secondary colour.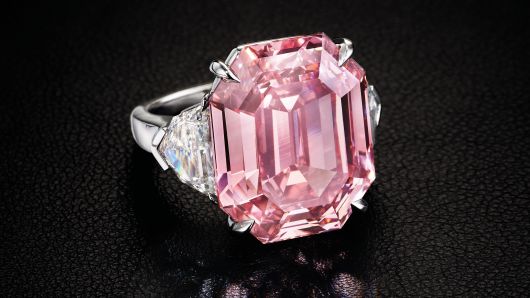 It's an anomaly in the world of pink diamonds for more than just its colour, however. It's among the most chemically pure type of gemstones, with little if any nitrogen present. And since 90% of pink diamonds weigh less than 0.2 carats, this 18.96 carat giant is truly something special. It's not just a one in a million kind of gem – it's one in a billion.
It's no wonder then, that Winston bought it for a record-breaking $50 million, the highest price ever recorded for a pink diamond. Christie's expected it to fetch around $30 million, so naturally the room erupted in applause when the hammer was struck down. You can bet that Harry is pretty happy with himself right about now.
Here's what Christie's have to say about the Pink Legacy:
"The saturation, the intensity of this stone is as good as it gets in a coloured diamond. To find a diamond of this size with this colour is pretty much unreal. You may see this colour in a pink diamond of less than one carat. But this is almost 19 carats and it's as pink as can be. It's unbelievable."
In other pink diamond news, Riverdale star Camila Mendes gave the Winston Pink Legacy a run for its money recently. At the People's Choice awards in LA, she walked the red carpet wearing the world's largest lab grown pink diamond on her hand. Created by sustainable jewellery company Clean Origin, the 'American Beauty' pink diamond has a square radiant cut and weighs 5.01 carats. She wore it on a rose-gold band, and if you like it, it's yours for just $175,000.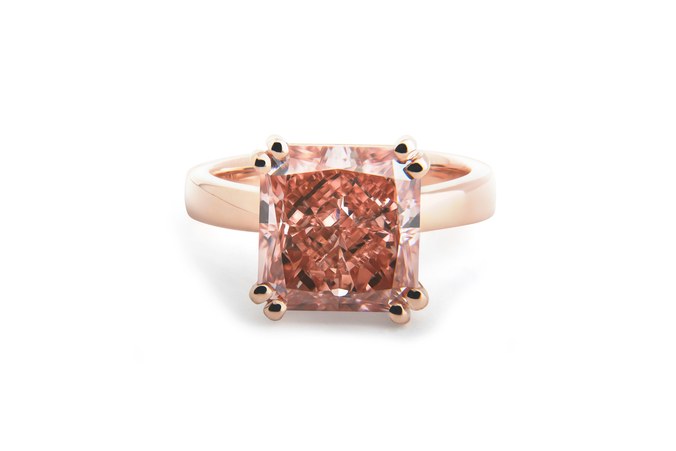 At least with this one, we'll only have to save for several years instead of several centuries…